by B.B. Pelletier
I had a great day at the range. Shot two rifles for record and tested two other products – one of which you'll read about tomorrow!
What looks like the next day to you was actually a separation of nearly a week since I last shot the Hammerli Storm Elite, so a lot of things had to be remembered. One was the lousy too-heavy trigger on this beast. It feels like it may lighten up but I don't have the thousand shots to invest. However, I think some of you may want to do it, based on what I saw.
When we last talked…
The short-range sight-in you read about yesterday saved me bundles of time at the big range. The rifle was already on target and I knew one good pellet, the Crosman Premier 7.9-grain, as well as five that weren't worth trying again. Also, the barrel was clean, so I was ready to shoot in no time.
At the range
The day was perfect. No wind and clear skies. I had an additional "helper" I will tell you about tomorrow that really aided me in getting the groups I got. I set the target out at 30 yards, and you will remember that the gun is scoped with a Leapers Bug Buster 2 6×32 scope.
First shots
The scope was right on for elevation but shooting a bit to the left, so I dialed it in and proceeded to shoot some nice groups under an inch. My heartbeat was moving the reticle about a quarter to half an inch. I tell you that because a spring gun has to be floated on the palm of your hand to limit the biological input from your body. The recoil and vibration of the gun at firing is attenuated by your body, which alters the direction of recoil. This is what makes spring guns so difficult to shoot, compared to pneumatics and gas guns.
Coupled with that, the Storm Elite is a breakbarrel which is also sensitive about WHERE it is held. I had determined that a point just ahead of the balance point worked for this rifle, so no time was lost looking for another sweet spot.
Then, I discovered a fantastic device that tightened the groups by about 40 percent more than I was holding! You'll hear about it tomorrow. But the bottom line is this – the Storm Elite can shoot 3/4″ groups at 30 yards all day long with good pellets. Yes, the Premiers are good, but so are Gamo Match wadcutters! I shot a group of four into 0.631″. The fifth shot was a called flier (the rifle slipped as the shot went off) and opened the group to more than two inches, but I feel confident telling you it was a bad shot and not the rifle's fault. I would have shot more of these but time was heavy because I had lots of guns to test.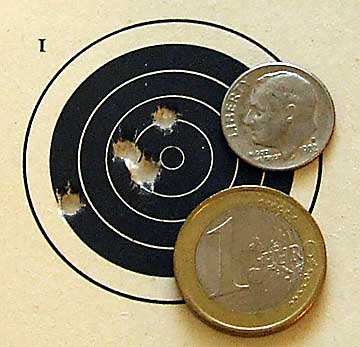 Five Premiers at 30 yards went into this 0.755″ group. The Euro is for scale for our European readers.
Four Gamo Match wadcutters made this 0.631″ group. The fifth shot was a called flier and opened the group to over 2″.
The rifle does kick some and vibrates briefly, but on the whole it is a well-behaved spring gun. If they could just do something about that horrible, heavy trigger!
Bottom line
The Storm Elite is a keeper. Bfore you ask, that makes the regular Storm a keeper, as well, because finish is all that separates the two.