by B.B. Pelletier
This post was suggested by a reader named Gary, who also goes by the handle oldhootowl. He asked specifically whether the Leapers compact scopes were made for airguns and would they fit on his Gamo Shadow breakbarrel rifle.
To that I answer: yes to the first and no to the second. The yes is unqualified, because Leapers scopes have been made for airguns since they started making them in the 1990s. Two things determine whether a scope can be used on an air rifle. First, is it parallax-corrected close enough and second, can it take the two-way recoil of the spring gun. Leapers holds the current record in close parallax correction, at 9 FEET with both Bug Busters.
Some Leapers scopes have a fixed parallax correction. I have a 3 to 9 variable that's fixed at 35 yards. It works fine and I have no problems with it. But a sister scope is corrected to 100 yards, which might be a little long for an airgun. It will work, of course, but there might be more parallax than you want at close range.
I also own an older Leapers compact scope with adjustable AO (parallax correction) that only goes as close as 25 yards. I still use it because the power is set at six, so the closer targets are not too fuzzy. As you can see, I'm not a fussy guy. I just take the shot, instead of debating about the specifications.
So – what is the problem?
The problem with mounting all compact scopes is where they have to be positioned, because of their compact size. There is only a small space on either side of the adjustment knobs that will accept the scope rings. You have to put them there or nowhere. That's why I keep harping on using two-piece rings. Unless one-piece rings have been made to fit a compact scope, they will not line up with the only place on the scope that will accept the rings. I've taken a picture to show you what I mean.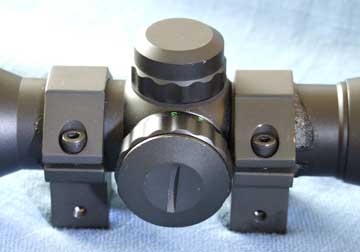 You can see the extremely limited area for scope rings on this Bug Buster 2. I have used half-sized rings to get more space, but thin rings are not recommended for recoiling spring guns.
Now, combine the limited positioning of the compact scope with the location of the scope stop on the Shadow 1000 and you can see that the compact scope has to be mounted too far forward on the rifle. The rear scope ring has to butt against the front of the scope stop, which puts the eyepiece several inches too far forward. If you can see any sight picture at all, it will be just a fraction the size it is supposed to be, plus it will be loaded with parallax from you craning your head all over the place to see the picture. Not good! I may not be fussy, but this just doesn't work at all.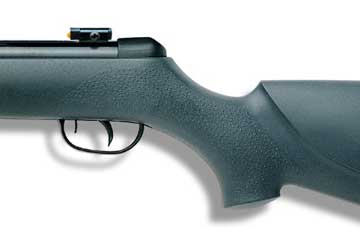 The Shadow 1000 scope stop blocks the rings from coming back far enough for the eye-relief to be right.
Where can compact scopes be used?
One type of airgun that is ideal for compact scopes is the precharged pneumatic. Several, like the Career Dragon Slayer, seem to be made for it. Another type of rifle that's good for compacts is the small CO2 gun, like the Crosman 1077 and the Walther Lever. Guns like these not only have no scope mounting issues, the smaller size of the compact scope compliments their smaller overall size and weight.

This compact Leapers scope fits a Dragon Slayer like it was made for it. The lack of sharp recoil means no scope stop is needed.
That's why you have to be careful selecting compact scopes for air rifles. To determine if they will fit, find out about the need for a scope stop, and if the gun needs one, where is it located?