by B.B. Pelletier
First, I would like to thank all of you who helped me out with the reader comments while I was on the road. Actually, I'm writing this in Johnson, TN, on my way home, so I'm still relying on you.
My wireless modem went south the first day out and the first hotel's WiFi was bad, as well, so I was pretty frustrated for a while! Your help was certainly appreciated.
Now, to the show. About 20 people came up and introduced themselves as blog readers, but only Joe in NY was one who actually signed in. I had hoped to meet more of you there.
The show was the biggest, finest airgun show I have every attended. Usually a show will have one or two things that stand out – like the time the guy walked in with a military Girandoni and sold it in the aisles for $3,500! One like it just brought over $50,000 in a European auction. Or the other time a Daisy second model changed hands with two other rare rifles for $41,000 cash! Things like that make you take notice.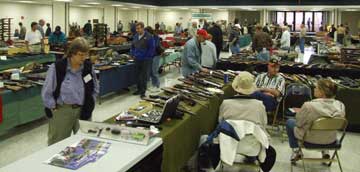 A quarter of the show floor looked like this just before the doors opened on Friday. There must have been 140-150 tables in all.
Well, I didn't see any super sales this time, but advanced collectors like Wes Powers and Bob Spielvogel both told me this was a wonderful show for them. Those guys have such advanced collections that they are as hard to satisfy as Paris Hilton in a dollar store. So when they are both pleased, I know good things have happened.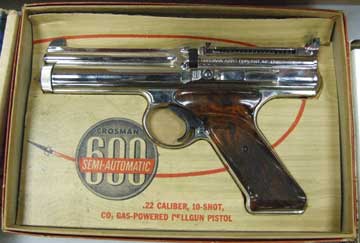 There were many working Crosman 600s for sale, but this rare nickel-plated one was for display only.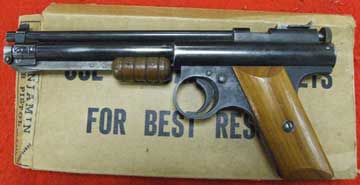 If you collect Benjamins, this near-perfect transition model 117 in the box might have lit your fire! For everyone else with a shiny brass "Benjamin Franklin" pistol, this is what they are supposed to look like.
I sold quite a few old Airgun Revue and Airgun Illustrated magazines but only one of the four R1 books I had held back to take there. That was a surprise. I also sold several guns and accessories, so my show was really good.
But Pyramyd AIR set the record. They brought 12 PALLETS of airguns and related stuff to sell, and they spread it out on six tables. At first the four salespeople were afraid there wouldn't be any business for them, but an hour after the doors opened they were each addressing four to six customers at once. And why not? When you have a perfectly good used AirForce Talon SS that normally retails for $475 and you are selling this one for under $400, don't think they will last!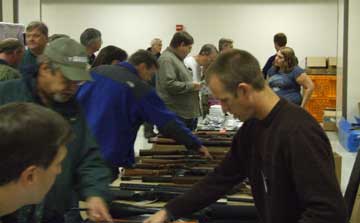 The crowd at the Pyramyd AIR tables never went away on Friday. Each salesperson served about four to six customers at once!
Of course, the good stuff was in limited supply, so the Friday attendees got the pick of the litter, so to speak. Pyramyd also brought MOUNTAINS of pellets in dented tins, and the priced them at 4 tins for $20, or five dollars a tin (you had to buy all four to get that price). They told me if they had known how popular dented tins were, they could have brought more. By Saturday morning, there wasn't much left. We're talking Kodiaks and JSB Exacts and other pellets like them in these packages!
There were many more new-style airguns at this show than I've seen before. Besides Pyramyd, which brought several hundred of the most popular (yes, there were several CFXs, TX200s and .22 caliber RWS 34 Panthers!), Precision Airguns and Supplies also had many Daystate and Air Arms guns. And throughout the room, private individuals, such as Paul Watts, brought several other current model guns.
John Allen of the Blue Book of Airguns had a table there for the entire show and got to see first-hand what a bunch of crazy old men look like when they are having fun. I think he was impressed at how serious this hobby is when you get to this level of collector.
Speaking of serious, Charles Ward and his wife set up a booth to demonstrate the American Airsoft Practical Shooting Federation (AAPSF), a governing body for action pistol shooting with airsoft guns. Not just ANY guns. I'm taking about Tokyo Marui Hi-Capa pistols that have another $800 worth of gunsmithing and custom parts on them so they can produce half-inch groups at 25 feet! Add another couple hundred for the speed holster, belt, and 3 mag pouches, and you're ready to double-tap your way into heavy-duty fun! Pyramyd AIR will be looking at this federation, with an eye toward promoting serious action pistol shooting here in the U.S.
There is so much more to tell that I'm going to have a second blog about it. This was just a first glimpse at the most successful airgun show that has ever been held! I hope you enjoy it.