by B.B. Pelletier
Today, I'll depart from the normal focus, taking some time to reflect on the presents I got for Christmas. As I mentioned yesterday, though not everyone celebrates Christmas, most people do buy something major for themselves at this time of year. If it wasn't for Christmas, it may be using that tax refund that will be coming in another month. One way or another, this is the hottest buying time of the entire year.
It's better to give…
I often get an airgun for Christmas, but this year I gave one as a present, too. My brother-in-law and his wife came up to celebrate with my wife and me and my sister. I'd given him a Hakim rifle many years ago. This year, I gave him one of the Predom Lucznik pistols that copy the Walther LP53. In fact, the gun I gave him was the very gun I used to write the blog post.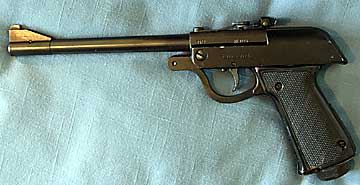 Predom Lucznik spring pistol is a copy of the Walther LP53 that has more power and good accuracy.
I showed him how it works and how to maintain it with oil. I gave him a tin of Gamo Match pellets to go with it, because when I tested it, I found them to be ideal. We didn't shoot much on Christmas Eve when I gave him the gun, but after he returned home he phoned to say he had taken it outside and was doing a number on a box in his yard. He adjusted the sights and had the gun shooting well by Christmas morning. He took it over to the grandkids on Christmas day so they could see the neat gun grandpa got.
Picture perfect – what every gun writer needs
I received a new digital camera that also takes videos. I have a great camera that does all that already, but it's so large that I often don't take it with me when I go to the range. When I find the perfect picture, there's no way to capture it. Or, I see something cool that would make a great video segment, but again, no camera to capture it.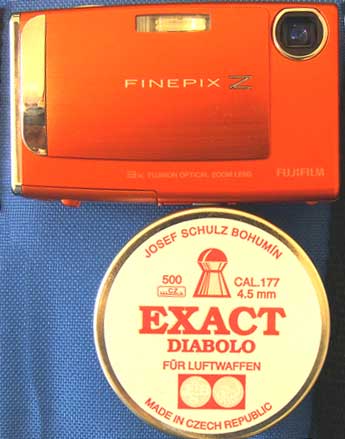 Small digital camera will be easier to carry to the field. Shown about actual size.
My new camera is a Fuji Finepix Z with 7.2 megapixel images. I've used 3.2 megapixel images for newsstand magazine pictures, but this is more than twice the final image area and close to what I'm currently doing with my large camera. It's smaller than a pack of cigarettes, so I'll be far more likely to have it when I need it. My other camera is also a Fuji, so the controls and software are similar. Even the download software is the same, so there was nothing to do but connect the camera to my computer and go to work.
Wilson CQB
My other big gift was truly major – a Wilson Combat CQB with light rail. A 1911 pistol that's entirely hand-fitted with all forged steel and tool steel parts. No MIM parts (metal-injection molded), no castings – nothing you have to wonder about. Many of you have followed my saga of getting familiar with the Taurus PT1911, so this new pistol, which is perfect in all respects, represents the "after" to that "before" gun. The Wilson is the most trusted 1911 on the market. You can pay more, but they don't come any more reliable and rugged. It comes with a "1-inch at 25 yards" guarantee!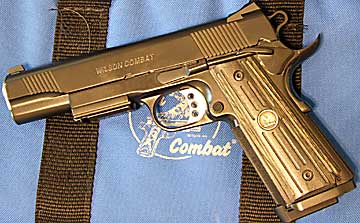 Wilson CQB 1911 raises the bar for my pistol collection. The Taurus now has big shoes to fill.
This gun will do many things. After I verify that it's as reliable as the ads and articles say, it becomes home defense gun No. 1 – displacing my Makarov. I will find a good tactical flashlight/laser combo to mount on the light rail for those chance nighttime encounters. It came with tritium night sights, but a laser dot on the chest is supposed to be a good persuader.
The CQB will also serve as the standard I will strive for in gunsmithing the Taurus. The feel of the gun cocking is incredible, plus the trigger is the proverbial glass rod, so the Taurus has a long way to go. I will not give up on the Brazilian gun until it fulfills it's promises, so the CQB will be a great go-to gun in the interim.
Those were my big gifts, now tell me about yours.