by B.B. Pelletier
In last week's report about Crosman pellets, I received two comments on how to properly lubricate pellets. If two people asked, there are 40 more in the wings waiting to hear the answer.
When to lubricate
Before we know how to lube pellets, let's learn when it's needed. I already mentioned that Crosman pellets are hardened with antimony, causing them to smear lead when driven to higher velocities. In truth, this can be anything above maybe 750 f.p.s., depending on the smoothness of the barrel they pass through. When the velocity moves above 850-900 f.p.s., the leading becomes almost a certainty in just about any gun. In spring-piston guns, every time the gun fires, the piston blows a tiny amount of oil vapor into the barrel. This oil is cumulative and thus keeps the barrel lightly lubricated. So, unless the gun has been tuned with moly and has no chamber oil in it, it doesn't need to be oiled.
PCPs do not have an equivalent oiling function. They don't blow any oil out when fired. CO2, however, can. If you lubricate the tip of each new CO2 cartridge with Pellgunoil, a tiny amount blows through the gun and out into the barrel. A multi-pump pneumatic will do the same, if the pump head is kept lubricated. A PCP blows no oil into the barrel…just dry air. So, PCPs, in general, can stand some kind of lubricant on their pellets at all velocities above 750 f.p.s. (approx.). Below that velocity, the lubricity of the lead takes care of things. So, no need to oil pellets for 10-meter guns.
What to use
I've covered this in several other places, but it here goes once again. I use Whiscombe Honey. It's an oil mixture told to me by John Whiscombe, though I recently learned that he may not have discovered it. Apparently black powder shooters also use this stuff on their patches. Mix two-thirds Hoppes Gun Oil with one-third STP Engine Treatment by volume. Mix them thoroughly, and they'll never separate. I store mine in a plastic squeeze bottle designed to hold fluids like oil.

My bottle of Whiscombe Honey is over 8 years old.I wrote the formula on the label to preserve it.
You can use other things besides this. In fact, the 1990s were filled with tales of comical mixtures that airgunners traded like love potions, in the hope that the right one would give better accuracy, higher velocity or, who knows, smarter children. One UK company still makes a concoction they claim will increase velocity AND accuracy! I tested their claims and found no truth in them (surprise!). All you want from pellet oil is pellets that don't lead the bore. Here are a few other commercial products that I know work:
1. FP-10
2. Break-Free
3. Sheath
4. Ballistol
I guess the sky's the limit when it comes to pellet lubes. I like mine best for a very simple reason – SCOTT298, ARE YOU LISTENING?
The name of my lube is Whiscombe Honey. Now, what kind of airguns does John Whiscombe make? Springers – right? And not just any springers either – the most powerful springers on the market. And, yet, here he is recommending a petroleum-based product to go into a spring gun, where we all know it will lead to detonations. Right?
Wrong!
Whiscombe Honey doesn't detonate if used as I am going to describe. At least I haven't had a detonation yet, and I've been using it for a long time. The STP probably does the trick.
Application
Take an old empty pellet tin. A .22-caliber tin works best because it's deeper. Cut some good foam for the bottom of the tin. Real airgunners will cut the foam from one of the two foam pads found in every cardboard box of Crosman Premiers. Insert the foam into the tin and press it to the bottom. Put about 20 drops of your chosen oil on the foam, then cover the foam with a single layer of pellets.
This is what a tin set up for oiling looks like. Those are Premier 7.9s from many years ago when I competed in field target with a TX200 Mark II.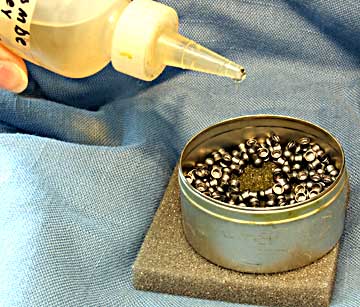 Twenty drops on the foam to start off and after that, 10 per month to keep up, if you shoot a lot.
When I competed in field target, I used to weigh all my Crosman Premier heavies and use only those from a specific weight group (weighed to the nearest tenth of a grain). These I loaded into a tin set up to oil the pellets. By spreading a single layer of pellets on the foam, they'll roll around as the tin is carried, thus transferring the oil to the OUTSIDE of all pellets equally. How much oil pellets need varies with who does the telling, but I have found that a light coat is all it takes. When your fingers become oily from handling the pellets, that's enough.
Reduced velocity
You probably expect increased velocity from oiled pellets, but that's not what happens. They will either shoot at the same speed as dry pellets or the velocity will drop a little. Oil works well on relatively slow-moving objects such as lawnmower engines and door hinges, but on high-speed objects like pellets the surface tension can increase friction. That's one reason that claims that any oil-based product can increase velocity are false.
Well, that's the skinny on oiling pellets. I hope it helps.