by B.B. Pelletier
First, a thank you to BobC in NJ. The book arrived and Pyramyd brought it to me in Las Vegas. It looks very interesting and covers many guns I had no information on. I know it'll occupy an important slot in my gun library. Thanks again!
AirForce Airguns…item #1
Okay, here is your first look at the 2008 SHOT Show. AirForce Airguns has determined that their valves and seals can operate with nitrogen, so they're now authorizing fills with either air or nitrogen. They are aware that many shooters have access to nitrogen from paintball facilities as well as industrial gas suppliers, so they've taken this step to support those shooters. The regular air tanks are now okay to use with nitrogen fills, as well. No modifications are required. No gasses other than air or nitrogen may be used to fill these rifles.
AirForce Airguns…item #2
I saw the new Edge target rifle in the AirForce booth, and it appears to be nearly ready for production. AirForce will supply their own rear aperture sight, which should also be available as a separate item for those wanting something nicer than a budget sight but more economical than a costly European precision aperture sight.
AirForce also recognized Pyramyd AIR as their Top Gun airgun dealer for 2007. AirForce owner John McCaslin presented an engraved award to Pyramyd owner Josh Ungier in the AirForce booth on Sunday.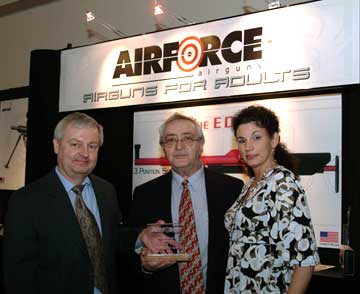 Pyramyd AIR owner Josh Ungier (center) receives the Top Gun award as the best dealer for 2007 from AirForce Airguns owner John McCaslin. AirForce General Manager Yvette Hicks looks on.
Ruger air rifles
A lot of you have expressed interest in the new Ruger Air Hawk, and I saw it in the Umarex USA booth. I was quite impressed with the quality. The workmanship looks clean and sharp to me. The price should be very reasonable.
The Walther Falcon Hunter is a breakbarrel that'll be available in both .22 and .25 calibers for under $300. I predict there'll be a lot of interest in this one!
As you know, Umarex USA is also RWS USA, and they're planning on introducing a modern version of the Diana 24 youth rifle…the Schutze. It's a light, handy rifle that'll appeal to adults as well. Though shown on the website, a few more details need to be ironed out before this one will be coming in. When it does, it should be a pip!
That's all for now, though there is more to tell. I'll get back to you at least one more time with the latest news from Las Vegas.