by B.B. Pelletier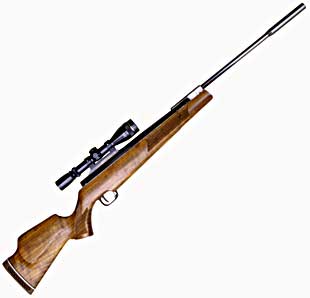 I call it the .460 Weatherby of airguns, the Beeman Crow Magnum/Theoben Eliminator is an impressive air rifle.
This one is for Timothy and anyone else who has a hankering for a powerful gas spring breakbarrel. The Beeman Crow Magnum is no longer made, but the rifle was essentially identical to the current Theoben Eliminator, except for the stock.
A loooooong test!
We purchased our Crow Magnum II for The Airgun Letter in 1995, and I tested it and wrote more about it there than any other airgun model except the Beeman R1, and I turned those nine articles about that rifle into a book. Out of the box, our rifle cocked with 59 lbs. of effort. I measured that by placing the muzzle on a bathroom scale and bearing down on the gun until it cocked. It's a very accurate method of measuring cocking force, as long as you allow for the normal inaccuracies of bathroom scales.
Our .25-caliber rifle shot Beeman Crow Magnum pellets the best, which was easy to remember. They delivered 33.15 foot-pounds of muzzle energy and 0.75″ groups at 25 yards.
Advice from the peanut gallery
I want to report on some immediate observations I made following the first test report. I was flooded with email and letters saying the gun was more accurate than that. Well, mine wasn't, I told them. During this mini-furor, I discovered that nearly all those who were concerned about my report didn't actually OWN a Crow Magnum. They were just sitting on the sidelines and, having read the Beeman catalog, didn't see how a thousand-dollar air rifle (actually $1,200) could not do better. I was debating the product with people who had never seen one, held one or shot one. That's a theme that's repeated many times since.
Try it yourself!
As for the cocking, I can write 59 lbs., and a hundred people can read it and not five of them appreciate what it means. So I started taking the Crow Magnum out to public events and letting others try it out. That's when I learned that less than 10 percent of all men were able to cock the rifle on the first try! That's right, all those big strong airgunners who were so savvy on the internet had trouble when the rubber met the road. Heck – so did I! The Crow Magnum is a two-handed cocker for most men when it's pressurized to the max.
None of this is meant as a criticism of the rifle. It was fine. But those who had never encountered it had stars in their eyes from the dazzling descriptions written about it.
Super trigger!
The trigger was and still is one of the finest triggers I've encountered on a sporting air rifle. It was glass-rod crisp and light. I had mine adjusted to about 2 lbs., which I felt was ideal. I could feel stage two, but it wasn't hard to break the sear (fire the gun).
Smooth firing!
The rifle just pulsed when it fired. If you held it light for best accuracy, there was no vibration and the recoil was surprisingly light for such power. That's characteristic of all gas springs, and one of their most endearing attributes.
Looks!
The wood stock was as gorgeous as it always looked in the magazine and catalog photos. The African Heydua wood was highly figured and sculpted with an extremely high cheekpiece that was ideal for scope use. I had a Leupold Vari-X-II mounted on the rifle, and readers told me the gun was going to break the scope. The Vari-X II is a budget line within Leupold. I scheduled a 5,000-shot endurance test, to see if the scope could stand up.
Depressurize for best results
Before that test, however, a reader suggested that I let some air out of the gas spring. He said cocking would get easier and I wouldn't lose that much power. He was right. I dropped the cocking effort back to 45 pounds and the muzzle energy was still 27.5 foot-pounds. What a difference that made! In those days, Theoben made their rifles to be accessible to the owner, so gas spring pressures could be controlled and adjusted by means of an external "slim jim" hand pump. They stopped doing that when most owners over-pumped the guns and burned out the piston seals. Later, when I met Ben Taylor at the SHOT Show (the Ben in Theoben), he told me depressurizing was what the company had always recommended. He said that Beeman was selling the rifle on the basis of sheer power, but that Theoben had always emphasized the smooth firing characteristics with a little less pressure in the spring unit.
I did lots of other things to this rifle, so I have broken this report into two segments. The second segment will run on Monday.