by B.B. Pelletier
First order of business: the Pyramyd AIR Garage Sale was a huge success! Both days were active and the sales were so good that Pyramyd AIR wants to do this again twice a year. Saturday was busier than Sunday and the next time they say they will hold it Friday and Saturday. People came in from Canada, New York and Missouri…among other places. There are nice hotels close by, so fly-ins are accommodated well. Not knowing what to expect, Pyramyd was overwhelmed on Saturday for a while. Next time, they'll plan for a big crowd. I'll keep you informed.
Next…if you missed this sale but plan to attend the Roanoke Airgun Expo on October 24 & 25, Pyramyd AIR will have tables there, as well. That's on Friday and Saturday. For added incentive to come, there's a regular gun show in the same Roanoke Civic Center where the airgun show will be held (but in a different hall). The gun show starts on Saturday.
This is the largest airgun show in the world and usually has over 120 tables of rare and vintage guns as well as modern guns from dealers like Pyramyd AIR. Each day is unique. On Friday, the long-distance buyers are there in force; on Saturday, the locals stream in. On Saturday the firearm show attendees can come to the airgun show for free, and that definitely bumps the attendence. I'll have a table there, too, so please stop by to say hi.
Well, last Friday's blog hit a nerve with some of you. Apparently I'm not alone in wanting more quality in airguns. I have to say that I'm impressed with how well many of you understand the market. You don't fall for that "build a better mousetrap" pablum. Keep submitting your comments on that blog, and I'll summarize them for you at some point.
Ironically, today I continue the test of the Air Venturi Avenger 1100. This test was most enlightening.
I've now tested three Mendoza pellet rifles – the RM-200, RM-2000 and RM-2800. The Avenger is the fourth Mendoza. In the last test of the RM-2800, I experienced wild velocity swings and no shot was up to the advertised velocity. I stopped the test after that, rather than continue on with a rifle that varied by over 200 f.p.s. Well, the Avenger 1100 did the same thing! Let me share my results with you.
Crosman 7.9-grain Premiers
From the start, the Crosman 7.9-grain Premiers exhibited signs of being inappropriate for this rifle. They fit the bore too loosely, which probably caused several detonations I experienced in 4 shots. The velocity ranged from 612 f.p.s. to 892 f.p.s. – a range of 190 f.p.s. There were several sharp detonations that spewed fire out the muzzle, so I stopped testing after the fourth shot.
JSB Exact
Next, I shot the 8.4-grain JSB Exact domed pellet. I thought a pure lead pellet like this would fill the bore better and stop the detonations, but in only three shots I could see I was mistaken. Like the Permiers, these JSBs also fit the bore very loosely. The velocity for the three shots was 724 f.p.s., 794 f.p.s. and 820 f.p.s. A final detonation that shot flames from the muzzle caused me to stop testing this pellet.
Air Arms domes
The next pellet I tried was the Air Arms 8.44-grain domed pellet. Weighing almost exactly the same as the JSB it should have performed the same, but I noticed it fit the bore a little better. No matter, however, because in just 4 shots the velocity ranged from 734 f.p.s to 843 f.p.s. Detonations again!
Mendoza solid skirt pellets
I figured it was time to use Mendoza's own pellets on the off-chance they might be better-suited to the rifle. These are hollowpoints that have a solid skirt, so there's no possibility for flaring. I thought that might stop the detonations, because the pellet, which fit the bore of the rifle best of all up to this point, would also stand up to the explosions behind it. The gun still detonated, but I hung in for 8 shots. Velocity for this 8.4-grain pellet ranged from 769 f.p.s. to 944 f.p.s., and there was another flame-producing detonation.
Crosman Silver Eagle hollowpoints
As long as I was detonating, I figured the velocity with this speed champion (Crosman Silver Eagle hollowpoint) would be dramatic, and it was. I went from a low of 1052 to a high of 1427 f.p.s. with a flame-producing detonation. I stopped after shot three.
The rifle was detonating too much for good work, so I reckoned a heavier pellet might calm it down. Crosman 10.5-grain Premiers were selected for this because they fit the bore so well. They stopped all but 2 detonations in a total of 10 shots…the first string of 10 I was able to get with the rifle. Velocity ranged from 489 f.p.s. to 923 f.p.s. – a span of 434 f.p.s. So, although the detonations stopped (or at least slowed down), the gun still dieseled pretty bad.
I can't tell much from this test, except that the Avenger 1000 I'm testing wants to diesel and even detonate with every pellet it shoots. Also, though the velocity of 1100 f.p.s ., can be reached with non-lead trick pellets, no lead pellet will go that fast.
Questions answered
Reader K. Rihanek didn't see how a plastic end cap could stop the setback of the scope mount, so I promised him I'd show a picture of it. Wayne talked about the rifle's lack of a baseblock, so I'm showing you that, as well.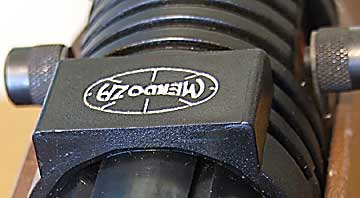 As you can see, the shoulder against which the rear scope mount presses is very large. This amount of engineering plastic could stop the recoil of a .30-06.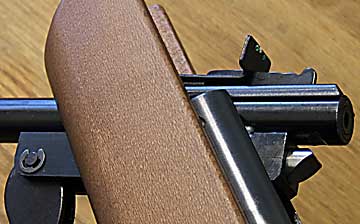 The barrel doesn't pass through a baseblock in this rifle. It's welded to a small stub that pivots when the rifle is cocked.
I ended the test of the RM-2800 without accuracy testing because of wild velocity swings. Since I've read several favorable comments about this particular model, I'm going to proceed with accuracy testing next. Then, I'll revisit velocity testing once again, to see if a greater number of shots through the powerplant have quieted it to any extent.