by B.B. Pelletier
Know how to tell when you're testing something really good? When it has major features you don't notice because you're focused on other things that matter more at the moment. So it is with our subject scope. Leapers sent me a goodie bag of scopes and gear to test for you. I've already told you about their UTG Special Ops computer bag that I now use exclusively on all my trips, and now I'm pawing around the rest of the gear to see what's there. One good thing I found is this Leapers 1.25-4×24 scope, which has already proven invaluable in a test for an article I'm writing for Shotgun News. I'll tell you about the major feature I overlooked at the end of the report.
If you go by the criteria for airgun scopes, this 1.25-4×24 scope shouldn't even be sold by Pyramyd AIR. It has so many things going against it as an airgun scope. First, it has fixed parallax set at 100 yards. That's not even close enough for a .22 rimfire, to say nothing of an airgun. Airguns want their parallax set under 50 yards. Next, the low power runs contrary to what airgunners are buying these days. Then, there's the small objective lens. Twenty-four millimeters is smaller than one inch, which is the nominal diameter of the scope tube. We think of 32mm as a small objective, but 24 is even smaller.
All joking aside…it works!
So, why am I testing this scope here? Well, having disregarded all of these "shortcomings," I mounted one on a .22 rimfire I'm testing for a Shotgun News article and proceeded to shoot very good groups at 50 yards. The reason this was possible? One word–clarity. My 61-year-old eyes that normally need bifocals were able to bisect the bull of a 50-foot smallbore target at 50 yards with the crosshairs of this scope. That's on FOUR power! That's how crystal-clear the image is!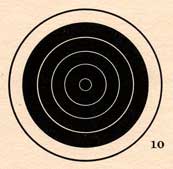 The bull on a 50-foot small bore rifle target measures 1.5″ across the black 6-ring. The Leapers scope reticle was able to bisect this bull at 50 yards so I could see it.
The crosshairs are fine in the center part of the reticle–fine enough to bisect a 1.5″ circle at 50 yards. They're thicker at the edges, which sounds like a duplex pattern, though I don't think this reticle is a true duplex. The thick lines are too far out of the center. But they do focus your vision on the central part of the reticle. The inner lines are ultra-fine, and no worries about breaking them, because theyre etched on glass rather than being actual wires. There are fine mil-dots on them, as well.
The click adjustments are 1/2-minute (approximately 1/2″ of movement at 100 yards), and they were accurate enough to center my groups at 50 yards with the rimfire I tested. That rifle, by the way, was a new offering from Umarex–the Colt M4 in .22 long rifle. You can read that test in the September 20 issue of Shotguns News.
This is also a long eye relief scope. The ad says 4-5″; and when I measured it, the relief on my scope is at 4″ when the exit pupil is optimum. That means you have some mounting flexibility. The scope doesn't have to extend back as far as some do, which on many air rifles is a problem because of the forward location of the scope stop.
So what about the 100-yard parallax setting? With magnification this low, you aren't bothered by it. Things are clear enough to shoot at 5 FEET when the power is set as low as it will go. They're a little fuzzy, but you can still resolve a housefly or an ant at that distance. So, the parallax isn't going to be a problem. I shot a sub-1″ 10-shot group with a .22 rimfire semiauto at 50 yards, so whatever parallax there is, it isn't much of a problem.
Next, this is almost a compact scope. It's under 10″ long and will fit most air rifles with no positioning problems–even those shorter rifles that normally have problems with scopes. The one I'm testing has a one-inch tube and mounts in standard rings, but another slightly larger model with similar features has a 30mm tube. Either one should be a great hunting rifle scope for guns shooting at 50 yards and less.
The forgotten feature?
What about that feature I overlooked? Well, it turns out that this scope has an illuminated reticle–and because the reticle is etched on glass, it's very fine when illuminated. Only the center fine lines are illuminated–either red or green–and they do not flare on the inside of the scope tube when the brightness is turned up high. I overlooked it because I didn't need that feature for my test. I just wanted a clear scope so I could shoot accurately. And that's what I got. It wasn't until this evaluation for you that I even noticed the illuminated reticle feature or installed the battery to examine it!
What is this scope suited for?
I plan to mount this scope on my Quackenbush .308 rifle. It will make a great minute-of-deer scope out to around 150 yards, which is pretty much the maximum for the .308 air rifle on animals of that size. For prairie dogs, it should do well out to 100 yards. That's how clear the image is. It would also work well on a powerful smallbore like a Condor or an Evanix AR-6. Anything where precise aiming is important, along with compact size and a wide field of view.
This isn't for field target or for long-range shooting, despite how well it served that purpose for me. It's a fast hunting scope with a wide, clear field of view.
If you're looking for a nice hunting scope, even for a firearm, don't overlook this one!