by B.B. Pelletier
In Part 3 of the Daisy 953 report, I substituted a scope for the fiberoptic sights so I could get the best groups this rifle is capable of producing. I also shot 20-shot groups in an attempt to show the real accuracy and not just some tight groups that might have occurred randomly. I promised in that report to return and test the rifle with target sights in the future. Today is that day.
The reason this test took so long is because the 953 doesn't accommodate target sights that readily. I spent more than an hour trying different front sights and could find none in my collection that worked. The Daisy globe front sight is no doubt the one to get if you're buying, but I don't happen to own one and didn't want to bug Pyramyd Air for it. I had a different idea. If I couldn't locate what I needed in my collection of sights, I would just ask AirForce if I could borrow one of their new target sight sets. Daisy doesn't offer a set, but you can combine that front globe with either the Avanti precision rear diopter sight or the much cheaper Daisy 5899 receiver sight.
I was just looking for a good excuse to try the AirForce set once more, and after I relate my experience, you may be glad I did. This set was a production set that included a 4.2mm front aperture sight. AirForce makes the ghost ring inserts that put a ring around the bull without any connecting lines. The diameter of the insert is proprietary, but they told me they're working on an adapter for the front globe that would allow you to use standard inserts. Their inserts are wider, so they give a larger image of the target, which helps when things become confusing in a match.
I'd already mounted a Beeman Sport Aperture rear sight on the gun in hopes of locating a front sight that would work, so I proved that the Beeman can do the job. Of course, I have no idea if it goes high enough or low enough to work with other front sights, which is a pretty important question. That was why the AirForce set was so good.
I installed the front globe after running the globe as low as it could go. Installation was quick and easy. And the rear sight just slid into place and locked down. Total installation time was under 15 minutes, and after the time I wasted hunting for sights that even fit, it seemed like an answer to prayer. But that wasn't the best part.
You know my 10-minute sight-in procedure for scopes? Well, it works for iron sights, too. And it took me all of three minutes to sight-in the rifle with the AirForce set. Leaving the front globe as low as it would go, I shot at 10 feet and adjusted the rear aperture up on its standard until I was in the black. Job finished! The results were so dramatic that I'm taking the time to show you the sight-in target. If you don't appreciate why I was so happy with this result, you have never shot a gun in your life.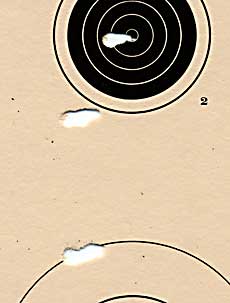 Sight-in took three shots and three minutes at 10 feet. Easy!
After sight-in, I knew I was close to being on target; and as I had lots of things to do in the test, I didn't refine my sight picture any more. I went to work at 10 yards.
RWS R10
I knew from the work done in Part 3 of this report that RWS R10 pellets were going to be good, so I went right to them. Instead of 20 shots, I fired only 10. The group isn't as large as it would be with 20, but it's still pretty valid.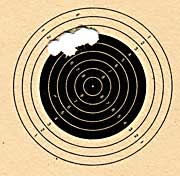 Ten RWS R10 pellets at 10 meters from a rested gun. This is pretty tight! It measures 0.463″. The target is shown exactly as it was held in the backstop, so the pellets were landing high and slightly to the left.
Chinese match pellets
You can't buy these Chinese match pellets anymore, but I laid in a big supply when I was competing. They continue to be as good or better than the R10, depending on which gun is used.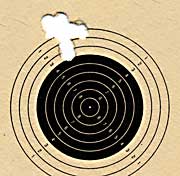 Ten Chinese target pellets at 10 meters. This group is a little smaller than the R10 group, at 0.429″.
H&N Match pellets
Sometimes H&N Match will challenge the R10/Chinese pellets, but clearly the 953 is not the gun for them.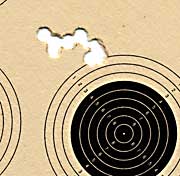 Ten H&N Match pellets at 10 meters. This group is larger than the other two, at 0.663″.
And now it's time to tell you about a curious phenomenon. Every time the rifle fired, it moved slightly sideways to the left. I could find no reason for this, as the gun was laid directly on the sandbag. All I know is that it happened. And the groups of R10s and H&N Match seem to spread sideways.
And now at 20 yards
Well, that was interesting, but I wasn't finished. One reader had asked me to test the rifle with JSB Exact heavies at 20 yards. I had only 8 pellets of that type on hand, so I shot them, and then followed up with a 10-shot group of Beeman Kodiaks. The results were very telling.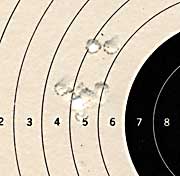 Eight JSB Exact 10.3-grain domes at 20 yards. This is quite a remarkable group from a gun in this price and power range. It measures 0.903″. Just what the reader told me to expect.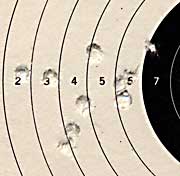 Ten Beeman Kodiaks at 20 yards. Oh, my gosh! What a difference from the JSBs. It measures 1.474″ between the centers of the two widest shots.
Now, while I was stalling for time, DB did a power modification to his 953 and boosted the power significantly. He added 70 f.p.s., which to a gun in this power range is remarkable. So, the 953 is turning out to be a real gem. As long as you understand that it isn't a powerhouse or a hunting rifle, I can't think of too many plinkers that are better. And when the price comes into the equation, I think we're looking at the leader.
I plan on beating the drum hard for the 953 this holiday season, and now you guys know why. And The Trout Underground is perhaps the reader who influenced this second look the most. So, thanks!