by B.B. Pelletier
Today, we'll test accuracy! Always fun, when you know the rifle is going to perform.
First, I had to sight in, and now I'll comment on the aperture sights. They're made in Spain. From the adjusting I did during sight-in, they adjust crisply and positively in all directions. The knobs are marked clearly with which way to turn to move the pellet, and the adjustments are agreeably small.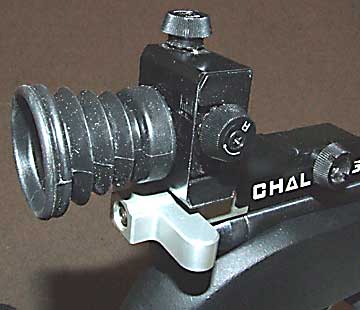 Front and rear aperture sights are first class for budget sights!
Trigger
During the sight-in and accuracy test, I had the opportunity to test that trigger many times. I'm very familiar with the other Sporter-class rifle triggers out there, and this one has them all beat. It isn't a Precision-class trigger by any stretch, because Sporter-class triggers have to break at 1.5 lbs. or more. So, you'll never get a 20-gram pull. But, after trying everything else on the market, I think everyone will have to agree, this is the best by far.
First pass
After sight-in, I had the rifle printing close to the bull. I wasn't interested in being exactly "on" at this point. What I wanted to see was what the groups looked like. I shot five shots at each target; and because I was shooting aperture sights instead of a scope, the aim point didn't change as I shot. The first pass was to eliminate any "weak sister" pellets that didn't deserve a closer look.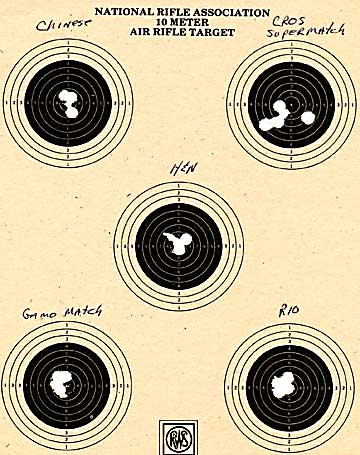 Looking at this target, which pellet(s) would you eliminate?
Crosman Supermatch–out
Is it any surprise that Crosman Supermatch pellets (upper right bull) didn't keep up with the rest? I'm showing you this target because some new buyers are fooled by the name on the box. Clearly, these are not match pellets. But I have met coaches who used them for their team because they said they are good enough for what they're doing. I don't suppose many of those teams or shooters ever made it to the Nationals.
Next pass–get serious!
I knew I had four pellets that were worth a second chance. This time, the aiming was more precise, as another five shots were fired.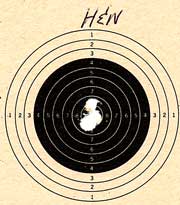 H&N Finale Match pellets were contenders.
Chinese Match pellets are okay, but nothing special. I would not continue with them.
RWS R-10 pellets were equal to the H&Ns in this test. Include them but don't quit testing yet.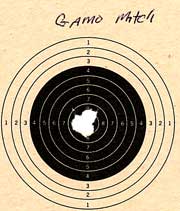 This group earned Gamo Match pellets a spot in future testing. This sometimes happens, and I don't ask questions when it does.
Three pellets to test further
From this limited test, conducted off a rest at the regulation 10 meters, it appears that three pellets are worth further testing. H&N Finale Match are often among the final finishers. Only many more groups will tell.
RWS R10 8.2-grain pellets are always hard to beat. So far, it seems like a dead heat between them and the H&Ns.
But the big surprise were the Gamo Match 7.5-grain pellets that shot as well as the other two world-class target pellets. This sometimes happens, and they're worthy of a further look. But remember that these are bulk-packed in tins, while both the others come sorted by dies and lot numbers and are packed in individual trays. While that does add a lot to the cost, what is a championship worth?
Bottom line to this point
I've seen great accuracy with the Crosman Challenger 2009, but I'm not done yet. I will now select just one of the three most accurate pellets, and I will adjust the powerplant to get the maximum number of shots out of the gun for that specific pellet. That way we'll get to see how the adjustments work, and also if there are 100 good shots in this gun, as Crosman claims. I think there are.
If I were a parent of a good and interested young shooter and I could afford it, I would think seriously about buying this rifle for my child. If I were an adult shooter who has always wanted a precision 10-meter rifle but cannot afford the $1,000 price of a good used gun, I might also consider this rifle. And if I just wanted to own a nice a modern air rifle, this would be on my short list. The holidays are coming!