by B.B. Pelletier
Before I start, let me tell you about two new articles on Pyramyd Air's site.
The first one is about Pyramyd Air's tenth anniversary of selling online. It also shows some of their early web pages. I wrote the second article, which is about the open house they hosted after moving into their new warehouse and took some video of their entire operation.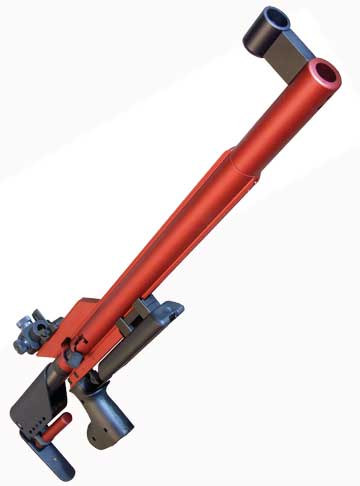 AirForce Edge has arrived!
How long have we all awaited the report of the AirForce Edge sporter class 10-meter target rifle? So long that I won't dwell on it. The gun is now shipping, and I've been testing it for a month, so let's see what we have.
Background
I remember a conversation about 10-meter rifles I had in early 2003 with AirForce owner John McCaslin. We were in a Ft. Worth watering hole discussing my coming to AirForce as the technical director, and the subject of the future of the company came up. John said he might some day make a 10-meter rifle. Though the Talon and Talon SS rifles were his only two models at the time, he reckoned as how it should be relatively easy to decrease the airflow and make a 10-meter target rifle.
A couple years later, all the airgun manufacturers in the world heard at the NRA Airgun Breakfast at the 2005 SHOT Show that the NRA-sanctioned airgun clubs ran 750,000 to one million kids through their competitive programs each year. They said they had more than 77,000 clubs with over 45,000 NRA-certified firearms instructors involved in teaching those kids. At that time, those were more CLUBS than we knew existed. In fact, we only knew about 30,000 active airgunners in the U.S., so those clubs were more numerous than the SHOOTERS we knew about! About 80 owners and presidents of airgun making companies from all over the world turned to look at each other when that little gem was dropped. Up to that point, only Daisy and Crosman knew about the sheer volume of the sporter class of 10-meter shooting.
One year later, Air Arms showed up at the 2006 Airgun Breakfast with what they hoped would become a new sporter class 10-meter rifle. They actually displayed their prototypes at the breakfast for every airgun maker from Deiter Anschutz to Hans Weihrauch to see. The gauntlet had been dropped!
But Air Arms never reckoned with the NRA and CMP boards of governors, who, upon seeing a fully ergonomic target rifle that was going to be offered to their kids for the first time, withdrew behind closed doors, where they said something like, "Holy cow! Did you see that rifle? We can't let that happen! It looks nothing like a Daisy 853. It's too good. Oh, my! What will we do?
What they did was retreat behind vague "regulations" about the types of rifles that are permissible in the sporter class. Adjustable cheekpieces are not allowed. Butt hooks are not allowed. In the NRA-sanctioned matches, the butt plate height can be adjusted, but not in CMP-sanctioned matches.
Hold yer horses!
I know I've got you all screaming, "Unfair!" by this point. But listen to their rationale before you judge them. The sporter class was created years ago to get the maximum number of kids into shooting. The sporter class is a rough cut of the rules from the old 3-position NRA smallbore competition, but using airguns instead of .22 rimfires. With airguns, any church meeting room or town hall or middle-school cafegymatorium becomes a safe shooting range for three hours every Tuesday evening from 6 to 9.
The founders of the sport envisioned millions of kids picking up a Daisy 880 and competing. Yes, I'm not kidding–an 880. The 853 didn't exist yet and they weren't thinking of it when they founded the class. As recently as 15 years ago, I heard several of the founders of the sporter class still talking about 880s, as if they were still possible. Their rationale was this—if the cost of the gun is kept as low as possible, the maximum number of kids will be able to compete. That's a noble sentiment, and one worthy of consideration, but it will never happen because something nobody could imagine happened instead.
The sporter-class founders were focused on 12-14-year-old boys and girls learning to shoot. They never envisioned for a moment that two young parents would bring their 8-year-old waif of a daughter, Kay Lyn to the shooting club for tryouts. Why would they? Neither one of the parents is a shooter, so it never dawned on them that when a 50-lb. girl tries to heft a 7-lb. rifle, it's like asking a 200-lb. adult man to shoot offhand with a 28-lb. rifle! And, if the cocking effort of that single-stroke Daisy 853 rifle is 20 lbs., you're asking her to do the equivalent of the man pumping 80 pounds. Try doing that 60 times in a match–20 of them lying flat on the floor!
So, the best intentions of the founders of the sporter class were somewhat overwhelmed by the success of the venture. Everybody wanted to try it. And there's another dynamic at work. These kids learn fast! In their first year, many of them commit to memory the basics of rifle marksmanship. So, along comes year two and, lo and behold, the coach has a couple shooters who are really outstanding. It never fails, because some kids have been looking for this thing their entire brief lives. Those boys on the low side of the physical development curve and the ones who lack the coordination of their peers. They may get picked last for softball, but watch out when they find a sport at which they can excel.
Ditto for little Kay Lyn, who went home crying last year because she was told she was too young (small) to be on the rifle team. Well, she ate her Wheaties, did some free weights and put on 5 lbs. of muscle over the past 12 months. She's now a force to be reckoned with. She'll make this year's team, and, if I am any judge of character, stand back, because she has internalized a lot of driving self-motivation.
These kids will accept and internalize anything they're taught to begin with. But after they've learned to shoot pinholes, they know a good trigger from a bad one the same as you or I. They may not be able to vote or to ruin their lives just yet, but when it comes to shooting they are our equals. Try handing them a rifle that lacks the proper fit or trigger pull or has sights that don't stay in one place. That was something the founders of the sporter class never reckoned on. Their quiet sport that was to teach kids to shoot has become an equipment race, because, unlike the All-American Soap Box Derby, there's more than one maker of target rifles.
Air Arms might have been edged out, but Crosman was already supplying their Challenger 2001 to shooters and clubs. It wasn't as accurate as the 853 and everyone knew it, so what's the harm? With their foot in the door, Crosman brought out the Challenger 2009 and it was accepted. It will hold its own with the 853, plus it has the ergonomics kids discover they want and need. Yes, it's an equipment race, and I don't know how it could be less when equipment is so important to the sport.
And now–the report
Enter AirForce and the Edge. It didn't just happen as a matter of doing business. The gestation period was both long and painful–for AirForce as well as for the world that tried to hold its breath. It turns out that making an airgun work consistently well at slower velocity on less air isn't as easy as it looks. Plus, John McCaslin studied the shooters and learned about their problems. He attended many matches where he observed the shooters and interviewed both them and their coaches about features they wanted to see on their guns.
Basically, the sporter class shooters would all like to shoot a precision class rifle of the type used in the Olympics. They would, and Air Arms tried to give them one, but the sporter class rules don't permit it. They don't specify the cost of the gun, but they do regulate things like trigger-pull, total weight of the rifle, sight radius and several adjustability features. For the past three years, I've had the pleasure of looking over John McCaslin's shoulder as he designed and refined the Edge. He could easily have put several superior features on the gun, except that the rules won't allow them. So, he built the best rifle possible while still staying within the rules.
The regulator
The Edge is a regulated precharged pneumatic target rifle with several features not found on any of its competitors. The regulator, for starters, is unique to this rifle. It's there because AirForce wanted to retain the straight-through valve flow they pioneered on their more powerful sporting rifles. By not making the air turn any corners as it flows from the reservoir to the barrel, they increase the efficiency of the air by a small amount. In the Edge, that small amount is essential, because this rifle is running on the same amount of air that a target air pistol uses. I will test the shot count and velocity for you in great detail in a future report, so you will get to see how the Edge compares to other target rifles in its class. Right now, I'm just hitting the high points.
The sights
The Edge has target aperture sights made in their Ft. Worth plant. In fact, they began selling these sights for other 10-meter rifles last year. I did a three-part report on them for this blog. I was impressed that an American manufacturer could make target sights that could stand up to the European giants and still sell them for one-third the price of their competitors. They made those sights for the Edge, of course, and now we have an American-made target rifle with American-made target sights.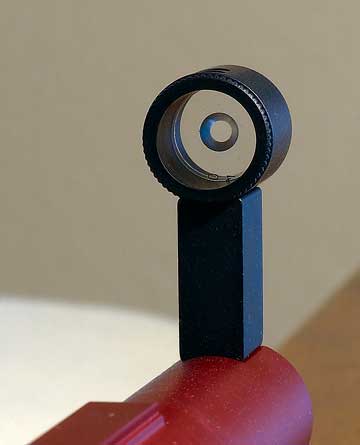 Front sight takes a clear aperture-type insert. FWB inserts work, and AirForce has an optional set of different sizes.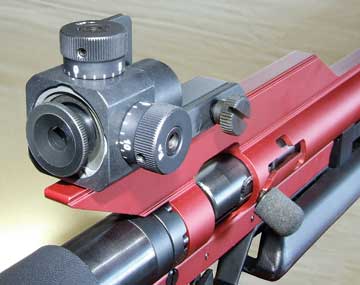 Rear sight is America's only precision rear aperture sight. (I painted this one with light to bring out the details. I used a 60-lumen tactical flashlight wiped through the four-second exposure in less than a quarter-second.)
The trigger
The Edge trigger is a real target-type, two-stage trigger that's adjustable in two ways. The release pressure is controlled by an adjustment screw for adjustment No. 1, but by repositioning the trigger blade lower on the trigger arm, you increase the leverage and that's adjustment No. 2. But that's just the beginning.
The trigger also has a safety! Now, 10-meter rifles usually don't have safeties, so this is a big deal. The safety is part of the cocking bolt's "racetrack" pattern of cuts in the frame. More on that in the future. I'm still not done with trigger features.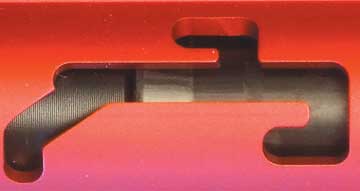 This bolt track provides the dry-fire feature, the safety and the breech lock. I'll explain it in a future report.
The Edge trigger has a dry-fire feature, and it's the only sporter class rifle I know of that intentionally has one. When you use it, you can train with the trigger without discharging the rifle. It's possible to cock the Daisy 853 trigger and fire it without pressurizing the gun, so I suppose you could call that a dry-fire trigger, too. It just wasn't designed that way. But the Edge was, and they mean for shooters to train this way.
The cocking bolt
Two things you need to know about the Edge cocking bolt. First, AirForce has gone out of their way to provide a dead-nuts sealed breech for this rifle, because they need every sniff of air that's in the reservoir to get the shot count they want. So, when the bolt is returned to the rear after cocking, the shooter pulls it down into a positive locking notch.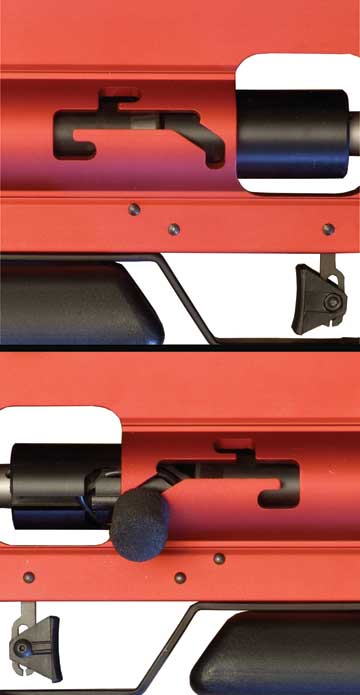 Both the left and right side of the receiver have the bolt cut, so the cocking knob can be switched from one side to the other.
Second, there's an identical racetrack on the left side of the rifle, so in a couple minutes, the Edge becomes a lefty. AirForce cautions not to switch back and forth a lot or you'll loosen the bolt screw; but if you are a southpaw, you have been provided for.
And there's more! A whole LOT more that I'll show as we look at this rifle in the days before us.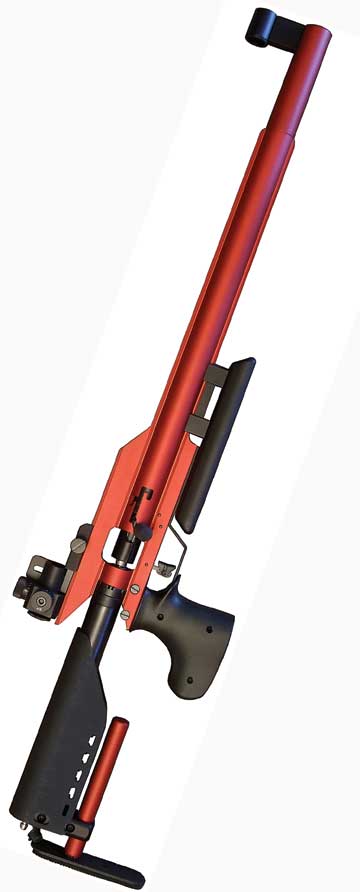 The Edge in right profile.