by B.B. Pelletier
Before I start today's report, I want to thank all the volunteers who are helping me answer questions on this blog. Most of you are not aware of the large number of people who connect with this blog and land on reports that are several years old. They did a search on an obscure airgun question and we came up as a hit, so they clicked through.
The volunteers get all the messages that I get, so they see when someone has come to a 2005 report to post a question. They usually answer the question and also guide the person to the current blog. As a result, we have built a rather large community of airgunners. While there are 100 to 150 active posters at any given time, I would estimate the number of people reading the blog to be in excess of 20,000 a day. We have a group of four from Moscow who are regulars! We may even be larger than that. I think I'm being very conservative in my estimate.
But this blog is not about numbers. It is about connecting shooters to the information they need to enjoy their sport and hobby. And the volunteers who read all the messages are helping me reach these people every day. Thank you.
As a direct result of creating this body of enthusiasts, the hobby of airgunning seems to be growing at an accelerated rate. At this year's SHOT Show, I could see that interest in airguns was at an all-time high. Even the gun writers who have for years eschewed airguns as beneath them are now scrambling to catch up. Pyramyd Air is besieged with numerous requests to test airguns from writers and publications that are virtually unknown to most of us. If this continues, the sport and hobby of airgunning will soon become a major force in the shooting sports.
I'm glad that I lived long enough to see this day arrive. For too many decades, airguns in the United States have hidden under a cabbage leaf, embarrassed to have the word "guns" in their name. The time for apologizies appears to be coming to an end. It will be interesting to see how this all plays out in the coming years.
Okay, editorial over. Let's get on to the new Crosman Silhouette PCP pistol!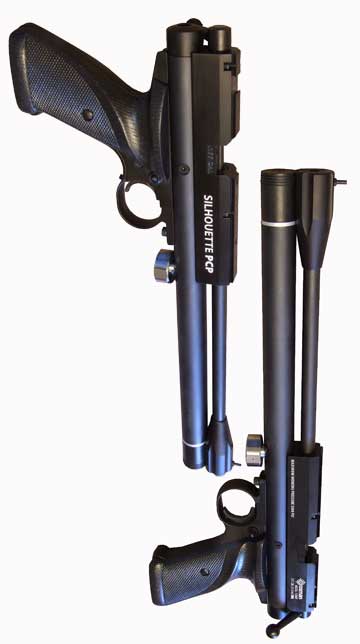 Sorry about the perspective, but Blogger allows a photo that's no more than 5 inches wide, and I wanted to show the pistol larger than that.
My first experience with the Silhouette was when field target champion Ray Apelles brought a prototype to the American Airgunner studio in the Catskills on the day when he and his father came to film an episode on field target. Ray let me try the gun and, sitting in the Creedmore position for handguns, I was able to clip weed stems at 23 yards.
For most of the summer, I thought the Silhouette was the only precharged pistol Crosman was bringing out, and for a time it looked to me like they might release it in the fall of 2009. They didn't, but it's coming out now and I have a sample to test for you.
If nothing else, this pistol may help us all with the difficult spelling of the word silhouette! Now, if everyone could just learn how to spell Crosman.
If you look real hard, you can see the family resemblance to the 2240 pistol, which shares a frame with many of Crosman's current single-shot pistols. That frame is descended from the CO2 pistols Crosman made 60 years ago, though there have been a few changes over the years. In fact, there had to be some changes from the current 2240 frame to accept the pneumatic reservoir tube, and this is where Crosman wins every time. They didn't just make one change and be done with it. No, they sweetened the trigger at the same time.
Oh, don't worry! They left enough creep and weight in the mechanism to support about a hundred hobby airgun boutiques offering trigger parts and other modifications to "fix the problem." There's also plenty of grist for all the forums to have endless discussions about it. I'm just wondering what slang term will have to be invented so people don't actually have to write Silhouette in their rants. The Marauder became the M-rod, the Discovery became the Disco and the Katana the Katrina. What will the Silhouette be called? Perhaps, the Shill?
Looking at the gun, and by the way, that is my test gun up top, not a Crosman photo. You can tell the difference because my gun has all the words engraved on the action while the website shows a plain receiver–at least that's how it looked when I wrote this report the night before publication. The first thing you'll notice is the bolt handle is on the left. For decades owners have been installing aftermarket steel breeches with the bolt on the left for right-handed shooters who don't want to let go of the grip while they're loading. This is a point that Ray Apelles argued for. And, because this is a Crosman gun, you can switch that handle over to the right side.
Switching sides requires separating the barreled receiver from the reservoir. They say in the manual that you will need to send your gun to a service center, but we all know that's not going to happen.
Cocking is so smooth that you'll want to keep on doing it just for the sensation. At least, you will if you've owned a lot of other Crosman single-shot pistols that had stubby bolt handles and stiff bolts that bound during cocking. I must note that the pellet trough is made from Delrin (that's engineering plastic) with no sign of a screw head anywhere near the trough. Crosman fans will know what I'm talking about. This is the way the gun needs to be built, because it eliminates all pellet flipping during loading.
And the trigger that the forums are soon going to be in convulsions over has a wider blade than the old-style flat blade, yet it will still accept a trigger shoe. It's a single-stage trigger with a fair amount of creep, but it has an adjustable trigger stop. Give me a jar of moly grease and stand back! I will have it slicked-up in no time. The trigger-pull weight is also adjustable over a narrow range. You access the knurled adjustment wheel under the grip panels.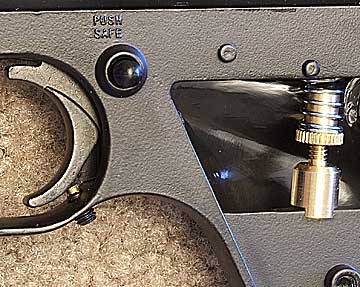 And this is the thousand-word picture. You can see the new, wider trigger blade, the adjustable trigger stop and the trigger-pull adjustment inside the grip.
The 10-inch barrel is a Lothar Walther, which adds value to the package. Not that Crosman can't rifle a barrel, because they certainly can. But sometimes it helps to have the Lothar Walther name associated with a gun just so everybody knows it's accurate.
The pressure gauge hangs down under the reservoir, sort of exposed. It looks like an afterthought, but that's because the pistol has no forearm to hide it. My sample arrived with a 1,000 psi caretaker charge in the reservoir to keep the valves closed against airborne dirt. That answers the question of whether or not the pistol holds air. I have seen Crosman's "clean room" setup for manufacturing PCPs, and they air up every one on the line so they can be tested. You would expect a boutique maker to do that, but what a surprise that a high-rate manufacturer does, as well.
This is a large pistol. It weighs 2.5 lbs. and is a quarter-inch shy of 15 inches in length. The aluminum receiver looks large and commanding. The pistol is built for the purpose of competing in airgun silhouette matches, but most will undoubtedly be purchased by plinkers. And they will probably want to mount a scope, though Crosman sent me a peep sight to also try. The pistol comes without a rear sight, so you can go either way, but I suspect most shooters will either scope it or install a dot sight.
It's a single-shot, as most competition guns tend to be, and the power is suited for silhouette competition. It operates on 3,000 psi air, so no chance of running on CO2 with this one. Buy a 2300T or 2300S if CO2 is what you want.
When I test it for velocity, I'll also weigh the trigger for you. So far, it's an impressive PCP pistol, though priced higher than I expected.