by B.B. Pelletier
Reminder: Pyramyd Air has a spring-gun sale going on right now–and today's the last day! If you've wanted to pick up any of the desirable guns listed there, do it today! See it here.
Blog reader Chris Schaefer wanted to share his experiences with the Umarex Makarov CO2 BB pistol with the rest of our blog readers.
If you'd like to write a guest post for this blog, please email me.
Bloggers must be proficient in the simple html that Blogger software uses, know how to take clear photos and size them for the internet (if their post requires them), and they must use proper English. We'll edit each submission, but we won't work on any submission that contains gross misspellings and/or grammatical errors.
Now, let's get on with Chris' review.
by Christopher Schaefer
As firearm ammunition prices remain high and time and finances limit trips to the range, I began looking at ways to practice at home. The goals: affordability and ease-of-use–easy enough so all my family members could practice with it. I already have a single-stroke Beeman P17 pneumatic pellet gun; and having seen excellent results at the range, I began looking for a repeating BB pistol that I could use for firearm proficiency training (for home defense).
I decided on the Umarex Makarov CO2 pistol replica of a Russian-made Makarov PM from Pyramyd Air. Why did I choose this particular pistol? The search began much in the same way I would go about finding and fitting a firearm. The factors included grip size, ease-of-use and action (revolver vs. semiauto). My wife and I, being of smaller stature, wanted a pistol whose grip would be comfortable. And with the expectations that my children would eventually be trained to use it, the smaller-framed Makarov quickly rose to the top of the list. Since it's a replica of a semiautomatic pistol, it gained points, because I was already competent with firearm semiautos at the range.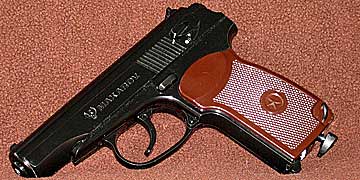 The Umarex Makarov BB pistol is small and easy to shoot. Just right for me and my wife.
Home defense was the primary motive for using a BB repeater. The pistol had to be similar to a firearm in weight and size. Additional bonuses would be if the BB pistol could be maintained and cleaned similarly to the firearm it copied, and the Makarov from Umarex is all of those things. The construction is top-notch with solidly built components such as the slide and frame. The drop-free stick magazine is well-made of metal. It loads and slides into the grip with similar action to that of a firearm. The pistol's slide cocks the action, and it can fire in both single-action and double-action modes: a benefit to all the shooters in my family. And the Makarov PM disassembles nearly identically to that of its firearm counterpart. These combined factors sealed the choice in my mind. I could clearly see that this would serve as a wonderful training piece for me, family members and friends of like mind.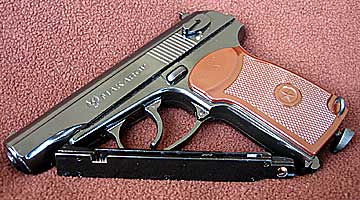 The metal stick magazine drops free from the front of the grip.
Still, some questions remained. There were so many other repeating BB pistols on the market with copious features. One particular feature was the blowback action found in other Umarex products as well as the competing models of other manufacturers. If I wanted to experience the recoil of a real firearm, shouldn't I consider blowback? The jury's still out, but I would soon discover that proper grip, trigger control and general practice would weigh in considerably. And what about pellets vs. BBs? From experience I knew that pellets could give better target performance. However, I already owned an airgun for target shooting. While accuracy was still desired in home defense I had set acceptably lower limits for it.
Perhaps you've undergone similar research. Various on-line forums and blogs were exceedingly helpful. And the useful feedback from generous souls sharing their opinions in customer reviews–ice those found at Pyramyd Air–helped immensely. Likewise, Pyramyd Air's blog. All of these opinions and observations helped me decide which repeating BB pistol I would start with.
As the expression goes: the proof is in the pudding. Would the replica Makarov really perform to my requirements? Would it be easy? Would it be affordable? Let's see.
A primary home defense question is, Can you quickly get the pistol into operation? That involves disengaging the safety, bearing on target and accurately squeezing off two or three quick rounds. To put my Makarov to the test, I began with a homemade indoor BB and pellet trap capable of posting 8.5″x11″ paper targets. Abundant styles of targets are available online for just the cost of printing!
Shots were taken from a multitude of defensive stationary positions and while moving. Tests were performed at distances between 5 and 20 feet. The 18-round magazine ensures plenty of opportunity to practice without reloading, and the lack of blowback in this particular pistol gives me 90+ decently powered shots. It's definitely an affordable pistol. With the right trap, I'm able to retrieve and re-use many of my BBs. At 20 feet, I'm capable of consistently grouping all shots within a 6.5″ diameter target. At closer ranges, I group less than 2 inches. This is the sort of accuracy I'm looking for.
While the front and rear sights are not adjustable on the Makarov, I learned quickly that my particular pistol shot a little high and to the right. While annoying, this is easily compensated for. Also, a factor in the pistol's accuracy is the trigger-pull weight difference between SA and DA modes. Long, spongy creep takes up the first stage, although it's slightly less pronounced in single-action. Both modes have a moderately crisp letoff with little left in the squeeze. This would be my only complaint at this time. Regardless of the creep, in a defensive situation I'm fully capable of engaging the trigger easily and following through with the shot. The grip, however, is an entirely different matter.
The pistol's grip is one piece and plastic-injected molded. The texturing is fair. Because the grip covers the CO2 cartridge, it's designed to easily slide away from the frame. Over time, the grip loosens. As a form of preventative maintenance, a rubber band secures the grip with little interference.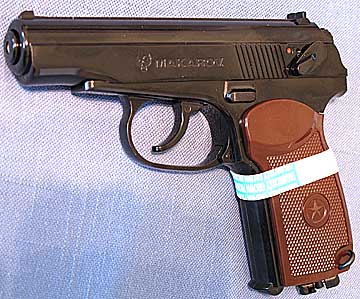 Rubber band keeps the sliding grip anchored when I'm shooting.
Addressing the grip of this pistol is the same as with any handgun. Its smaller stature, for a two-handed grip, presents little challenge for my smaller hands but would offer some difficulty for larger hands. My palm, thumb and index finger quickly find their resting place with plenty of room left for the remaining fingers to support. The pistol's safety, the same location as on the firearm, is easily activated by my thumb. And the slide spring offers reasonable resistance should one wish to rack it prior to firing. The magazine release differs from the real-life Makarov PM; there's a spring-loaded catch at the bottom of the grip. The magazine drops free due to gravity only. A spring-loaded follower in the magazine can be slid and locked down, which makes loading very easy.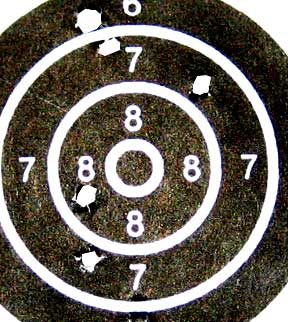 For fast shooting with a BB gun, this is a very good result, even from close range.
Disassembly for cleaning or just for training purposes is particularly easy with this pistol. The triggerguard pulls down, hinged at the rear, and the slide can be slid and canted off from the frame guide and barrel. The slide spring then slides off the barrel. Besides that, there's little else the average user would need to perform for disassembly. As another preventative maintenance technique, I always use two small drops of Crosman's Pellgunoil on the tip of every new CO2 cartridge before loading. This ensures proper lubrication.
As a semi-related note, I treat this BB repeater just as I would any firearm. And that extends to where and how it is stored. Since we have small children in the home and because we desire to train them with sound gun-handling skills, I take the needed precautions now so they get in the habit of treating this BB pistol the same as any firearm. Hopefully, that will fully carry over when they begin learning how to use it.
Since owning this BB repeater, I've had much more freedom in practicing various home defense drills. The obvious benefit is that Im practicing safely in my own home. The pistol carries easily, has many different holsters available for it and builds confidence in general firearm handling. But the one surprising aspect to owning and practicing with this BB repeater is discovering that my wife is a natural shot! With the proper care, we hope to get many years of enjoyment from Umarex's Makarov PM repeating BB pistol.