by B.B. Pelletier
Part 1
Part 2
Part 3
Part 4
Part 5

Air Venturi Bronco.
Before we begin, I have a request from a reader in Iowa. She would like to learn more about airguns and shoot with some clubs in and around Montezuma. Any airgunners who belong to clubs in that location, could you please identify yourselves in the comments to this report, and I'll let her know how to contact you. The sport you shoot isn't that important. It can be field target, silhouette or 10-meter. As long as airguns are involved, she wants to start shooting.
Today, I'm looking at mounting a Mendoza rear aperture sight on a Bronco. This was my original plan for this rifle, but the cost proved too much, so I made it an option. Like all of you, I expect a Mendoza sight to work correctly on a Mendoza rifle, which the Bronco is. The problem with this sight is that it's always too high for the rifles people put it on, and today we'll learn how the Bronco accepts it.
No-go
The short of it is that the Mendoza sight does not adjust low enough to shoot at 10 meters with the Bronco. There are many fixes for that, such as lengthening the front sight, but that's not what I'm reporting on today. How sad that a rear aperture sight does not allow adjustment for a distance at which many shooters would like to shoot. I'll speak to Mendoza about this because it's a serious drawback to an otherwise fine product. However, much like the Mythbusters, I have a fallback plan.
The Beeman Sport Aperture sight
It costs more than twice what the Mendoza sight costs, but the Beeman Sport Aperture sight does adjust lower. It isn't currently available, but that's being looked into. The changeover of the Beeman company ownership has left many of their products in a state of limbo that only now is being addressed.
What I'm about to describe may no longer be necessary, because my Beeman sight is at least 20 years old. I note that the one Pyramyd AIR sold most recently is already modified in the way I am about to describe.
Having a Beeman sight on hand, I mounted it and started shooting. Once again, though, it was a no-go. While the Beeman sight made by Williams does indeed adjust much lower than the Mendoza, the elevation post slide on the left side of my older sight hits the stock at some point. As I said, the new sights may not have this problem. If your sight does, it leaves you with two options.
Two options
Option one is to cut a clearance slot in the wood stock. Option two is to remove the bottom of the elevation post, which will allow lower adjustments. I chose option two, because this is a problem this sight has on a great many air rifles.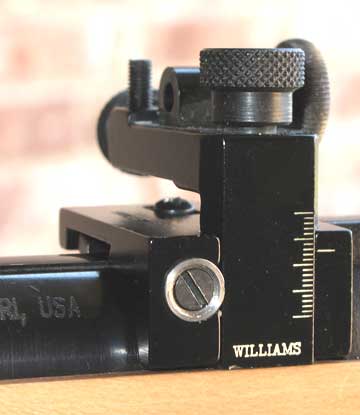 The Beeman Sport Aperture sight hits the top of the stock which limits how low it will adjust.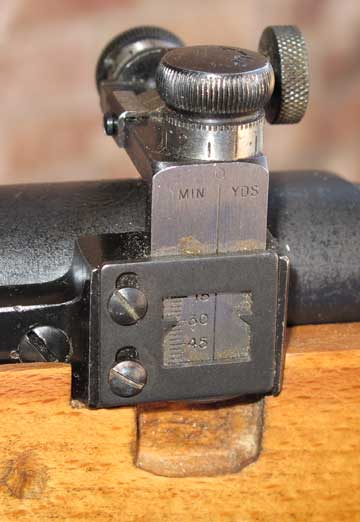 This is a .17 HM2 rifle a friend made up for me. He mounted the aperture sight and carved out the stock for maximum adjustability. I didn't want to do that with the Bronco's stock.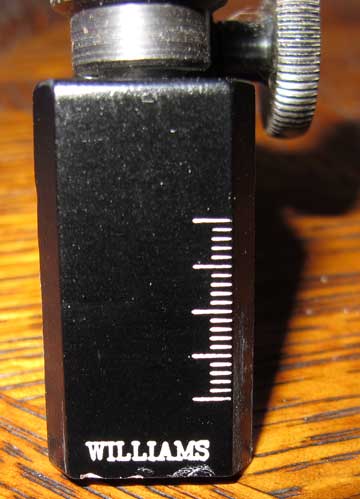 The bottom portion of the elevation staff is useless to this sight. I decided to whack it off.
It took a Dremel tool cutoff wheel about five minutes to slice off the unwanted bottom of the staff. Then, a few strokes of a file dressed the cut clean.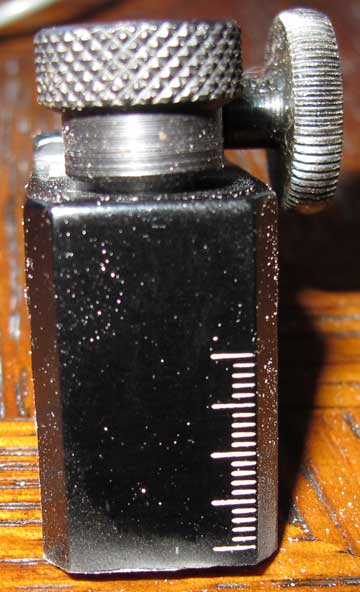 With the bottom gone, the elevation will adjust much lower. Hopefully, I'll be on target at 10 meters.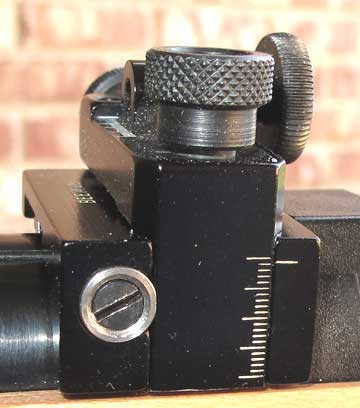 Back on the rifle, you can see how much lower the Beeman sight adjusts. Will it be enough?
Success!
Back to the range and success at last. The pellets now drill the center of the bull at 10 meters. Anything farther will require elevation, which I have in bucket loads.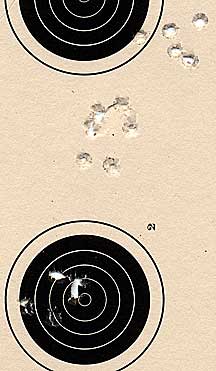 The tell-all picture. Top group was with the Mendoza sight adjusted as low as it would go. Next down is the Beeman sight before modification as low as it would go before bottoming out on the Bronco stock. Bottom group is the Beeman sight after being cut off.
So, the outcome of today's report is that the Mendoza rear sight doesn't adjust low enough for the Bronco. The Beeman Sport Aperture doesn't either, but with ten minutes work, it will. I think I would keep this sight on the Bronco because it is quick and easy to use, and I even think it looks better.