by B.B. Pelletier
Testing by Earl "Mac" McDonald
This will be my final reminder about the Baldwinsville Airgun Show and Shoot at American Legion Post 113 in Baldwinsville, New York, on July 16 and 17. Email Larry Behling or call 315-695-7133 for info.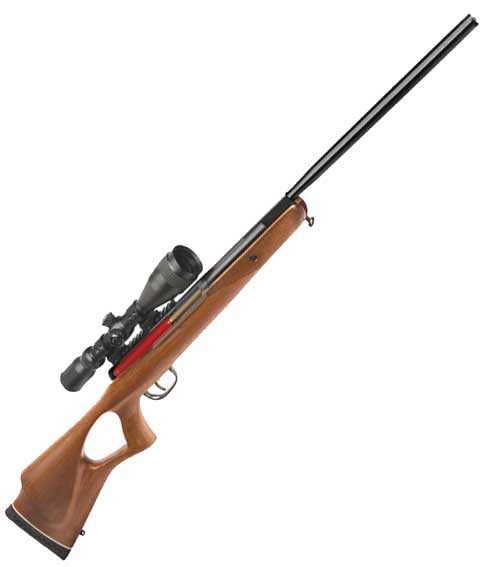 Benjamin's Trail Nitro Piston rifle is new and different.
Today, we'll look at the velocity for the Benjamin Trail Nitro Piston. Mac says the rifle feels very strong when shot, but the numbers he got don't back that up. As you'll recall, the cocking effort is a constant 38 lbs.
Crosman Premier
Remembering that the Trail is a .22-caliber rifle, Mac first tried Crosman Premier 14.3-grain domes. They fit the breech pretty good and were of a consistent size. They averaged 697 f.p.s. The spread went from 685 to 712. The average velocity gives a muzzle energy of 15.44 foot-pounds.
JSB Express
Next, he loaded some JSB Exact Express domes. This 14.3-grain pellet had a head that is too small for the bore on the rifle. They gave surprisingly low velocities. The average was 602 f.p.s. with a spread from 592 to 620. The muzzle energy worked out to 11.51 foot-pounds, which seems to be well off the pace for this gun.
JSB Exact heavy
The final pellet he tested was the JSB Exact Jumbo Heavy. It weighs 18.1 grains and provides a good fit in the breech. It averaged 594 f.p.s., with a low of 586 and a high of 602. That's a total spread of only 14 f.p.s., which bodes well for this pellet. The muzzle energy is 14.18 foot-pounds. That's a lot closer to the Premiers that were the most powerful pellets of this test.
We checked with Crosman on the velocity and learned that they established the highest velocity with an 11.3-grain alloy pellet.
More time on the trigger
Mac spent a lot more time adjusting the trigger for this test. Or I should say he was trying to adjust it. No matter which way he turned the adjustment screw, the results didn't seem to change. I directed him to my Crosman NPSS test series, where I describe how to adjust the trigger in a special Part 4 addendum. He read it and tried to follow it, but the Trail trigger didn't seem to respond.
I don't know where the NPSS was made, but I thought it was made in New York. The Trail is made in China, and something may have been lost in the translation. Mac says it is impossible to adjust out the creep in stage one, and he cannot feel where stage two begins.
Strangely enough, I made the same observation about the trigger of the magnum-powered Trail NP XL1100 when I tested it. You can read about it here.
The rifle is very quiet when it fires, and Mac says that it sounds more powerful than it is. We'll have a look at accuracy next.