by B.B. Pelletier
Photos and test by Earl "Mac" McDonald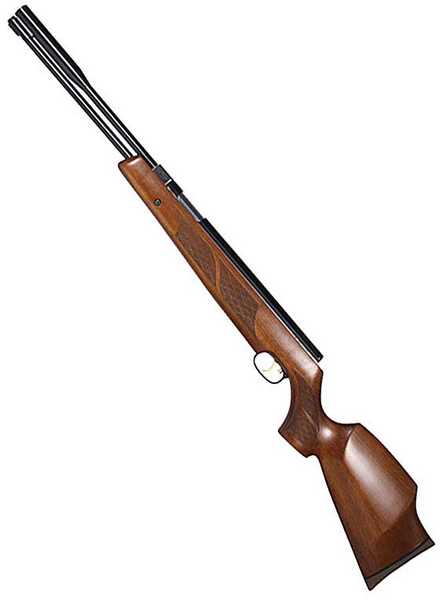 The HW97 is an attractive air rifle.
Today is the day many of you say you have been waiting for. Today, Mac reports on the accuracy he got with the HW97. His first comment on this day's report was, "I knew this thing could shoot. New as it is, performance is great!" I think you will agree when you see the results.
Remember, Mac is shooting at 30 yards outdoors. He mounted the same Leapers 4-16×56 scope that he used in the HW50S test. Also, remember that Mac used EVERY BRAND of .177 pellet he had on hand, so there are some targets that aren't as good. Since he doesn't have the pellets you all recommended — and that was a raft of pellets — he isn't going to be able to conduct those individual additional tests everyone recommended. What you see here is what he has available.
Three pellets didn't do well
Like any other airgun, the HW97 has its likes and dislikes among pellets. And Mac tested it with good quality pellets. I think this part of the test is valuable for everyone, because it reminds us that things don't always work out the way we feel they should, even with the finest airguns.
Crosman Premier heavies
Hands-down the Crosman Premier 10.5-grain pellet was the worst pellet of those tested in this rifle. It was so bad that I won't even show you the target, because some people look at the pictures without reading the words, then dash off to their favorite forum to spread the word that "such-and-such a rifle sucks." Mac got vertical stringing and a 10-shot group that measured 1.3 inches between the centers of the two widest shots.
For those who do read, you'll remember that Mac complained about how hard these pellets were to load in Part 2. He had to use a flat stick to force them flush with the breech. Obviously, that's too much pressure.
RWS Hobbys
The RWS Hobby pellet printed a group of 10 in 0.73 inches with a called flier. Again, not a good pellet for long-range work, and no targets will be shown. Wadcutters are seldom good for tight groups after 25 yards, anyway.
Beeman Kodiaks
I was surprised to learn that Beeman Kodiaks were also unimpressive in the HW97. That's because in the TX200, to which we've been comparing this rifle all along, the Kodiak is one of the better pellets. But the TX is also several foot-pounds more powerful than the HW97, which I think might represent the biggest difference between the two. Ten Kodiaks went into a group measuring 0.67 inches between the widest centers.
Other pellets were exemplary!
Now, we come to the pellets that really performed in this rifle. The pellets that made Mac say things like, "I think this rifle is as accurate as my TX!" and "I really like this one!" As I've noted, Mac did not have several of the pellet types recommended by you readers, so the list of what works well in the HW97 is actually a lot longer than it seems.
H&N Finale Match for rifles
I mentioned that wadcutter pellets are not known for their accuracy beyond about 25 yards, and Mac was shooting 10-shot groups at 30 yards, so it came as a surprise that H&N Finale Match rifle pellets put 10 into a group measuring just 0.58 inches between centers.
Ten H&N Finale Match wadcutters went into this 0.58-inch group at 30 yards. This is phenomenal performance for a wadcutter at this range.
PLEASE TAKE NOTE: The Finale Match target is a perfect demonstration of why 10-shot groups are far more revealing than 5-shot groups for the true accuracy of a pellet. Please notice the two small groups within the target. Either of those two, which just happen to be 5 shots apiece, would be sized about one-third as large as the overall group Mac recorded.
Crosman Premier 7.9-grain pellets
The Crosman premier 7.9-grain pellet is nearly always among the top pellets in a Weihrauch springer. This time, they placed third, with 10 shots making a 0.45-inch group at 30 yards. There were no called fliers.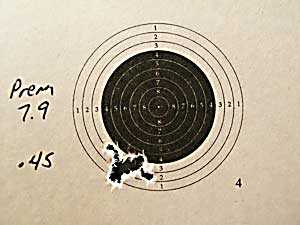 That's what you want to see! Ten pellets ripping through the same hole at 30 yards. With performance like this, you should have no doubt where your next pellet will go. Ten shots in 0.45 inches with Premier lites.
JSB Exact Heavy
Now we're on a roll! The JSB Exact heavy is a 10.2-grain pure lead pellet that is usually great in .177 PCPs, but this HW97 likes them as well. They were the No. 2 pellet that Mac tested. Nine shots went into a 0.38-inch group with one flier that Mac called. This is another pellet that you'll always be able to trust in this rifle.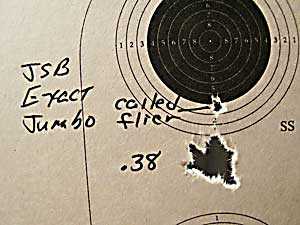 Mac labeled these as Jumbos on the target, but in .177 they're actually labeled heavy on the tin. I confirmed with him that this was the pellet he used. Nine in a 0.38-inch group with one called flier. Another pellet for 97 owners.
By the way, Mac wanted me to mention something to you about that called flier. He says that sometimes, when shooting groups, he gets as many as 8 fliers in a 10-shot group. That's a joke — of course!
JSB Exact lite
And the winner of this accuracy test was the 8.4-grain JSB Exact pellet that's the lightest of the Exacts in .177. Ten pellets ripped through a single hole that measures 0.33 inches between the centers of the two pellets farthest apart.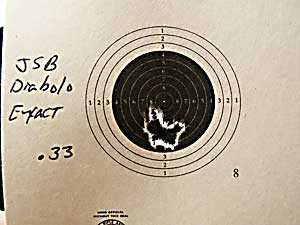 That is what everybody's talking about. That's why I had no problem recommending the HW97 to anyone.
So, the HW 97 turns out to be a very surprising air rifle. Surprising to everyone except those who own one and know what it can do. Mac also noted that the rifle is not that sensitive to hold and will even shoot well when rested directly on a sandbag — a trait it shares with the TX200.
The bottom line is that we have a real winner here. Mac is even evaluating the addition of this rifle to his own collection.