by B.B. Pelletier
This series began with the earliest sights that were both primitive and simplistic. Then, we looked at the evolution of peep sights, starting back before 1840 and progressing to around 1903.
There's a lot more to be said about both open and peep sights. It was at this point in time that they each began to develop along separate lines. I think I need to concentrate on one type of sight per report to keep things straight. In today's report, I'll look at open sights from around the middle of the 19th century until today.
Open sights evolved rapidly after the American Civil War, which ended in 1865. Not that all the innovation was done in the U.S., mind you, but that was a time when the world of firearms was advancing though technological stages, and the sights kept pace with everything. Other wars around the world at the same time drove the armies of many nations to push the limits of firearms; and we got smokeless gunpowder, fixed cartridges, breechloading arms and eventually repeating firearms from this era.
In 1850, a military firearm was loaded at the muzzle and carried but one shot. Repeaters at this time were novelties and even dangerous experiments because of the volatility of black powder. These single-shot martial arms were accurate to about 400 yards on man-sized targets.
In 1900, there were repeating firearms holding 10 self-contained cartridges filled with smokeless powder and spitzer (pointed) bullets that could shoot accurately to more than one mile distance. Most of the primary designs we use today had been invented.
I stopped discussing open sights when I started my look at peep sights; but even though the advances in open sights were not as great in terms of the improvements they contributed to accuracy, open sights did advance in parallel with peep sights.
Range-driven improvements
The old black powder arms were accurate; but because they shot their bullets so slowly, the trajectories were huge. Bullets dropped by many feet on their way to the target. We all like watching Matthew Quigley shoot his big Sharps rifle at distant targets, but how many people appreciate that his bullets are dropping by 60-80 FEET before they impact the target?
Enough fantasy. Let's get real for a moment. In 1874, the U.S. and Irish rifle teams shot a match at the Creedmoor range on Long Island to decide which nation had the world champion marksmen. They shot at targets at 800, 900 and 1,000 yards. At 1,000 yards, the bullets from the Americans' .45-caliber rifles dropped more than 100 feet. So, they had to set their sights to compensate for this tremendous drop. A 550-grain .45-caliber lead bullet starting out at 1,400 f.p.s. will drop 114.69 feet when it gets to 1,000 yards.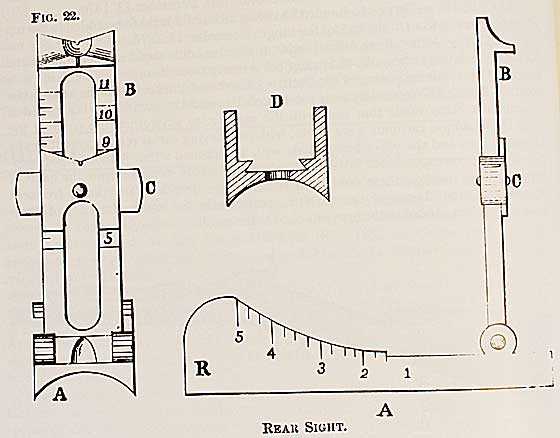 This model 1873 Springfield Trapdoor carbine rear sight (from 1878) is graduated to 500 yards on the ramp and to 1,100 yards on the upright standard. There's another sight at the top of the standard that's sighted even farther — perhaps 1,300 yards. Image copied from Trapdoor Springfield by M.D. (Bud) White and B.D. Ernst, copyright 1980, Beinfeld Publishing, Inc.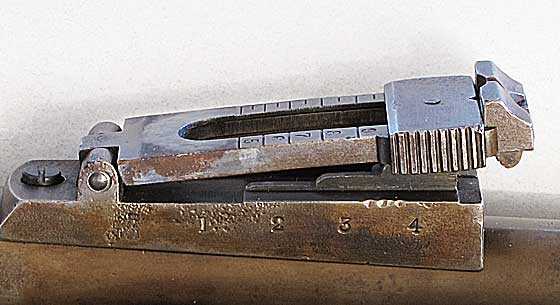 This 1879 Remington rolling block rear sight on an Argentine military rifle chambered for .43 Spanish (11.15 x 58R) is elevated to shoot 400 yards. By flipping the standard straight up, the rifle can shoot out to 900 yards accurately.
I mention this because airgunners everywhere are so willing to condemn the .22-caliber pellet for having a "rainbow trajectory." Folks, they don't know the meaning of that term! And this is the reason that I refuse to give up my fascination for firearms — because I often find remarkable parallels between them and airguns. But some shooters will watch Quigley and then opt for the fastest .177 they can buy, so their pellets don't drop too much at long range! To heck with that! Instead, take the time to learn where the pellets will drop and shoot the more accurate, heavier pellets. That's what Quigley did.
So, the military rear sights of the 1870s were long affairs that had inclined ramps to raise them up for long-range shots. By 1900, this had been taken to the absurd limits of 2,000-yards. Nobody could see that far on the battlefield to shoot accurately; but by this time, military leaders were espousing area fire and talked about "beaten zones" and "cones of fire." They were thinking of rifle bullets in a way similar to artillery shells, except they didn't explode, of course.

By the turn of the 20th century, military leaders were thinking in terms of 2,000 yards and indirect plunging fire, as this 1896 Mauser rear sight shows. Image copied from Mauser Bolt Rifle, Third Edition by Ludwig Olson, copyright 1976, E. Brownell & Son.
By the time World War I started, the theory of indirect rifle fire was at its height, though it was proven ineffective through actual battlefield experience. Soldiers were also trained to shoot at targets directly, which ended up being the direction that proved the most effective. But the theory did not die. It persisted until the start of World War II, and the weapons that were used continued to have rear sights that adjusted for 2,000-yard fire.
Countries were also experimenting with ammunition at this same time (1898-1915). As each new innovation hit the field, nations scrambled to adapt their weapons to more modern designs that shot farther and flatter. As a result of what they learned, the rear sights also changed to reflect the flatter trajectories.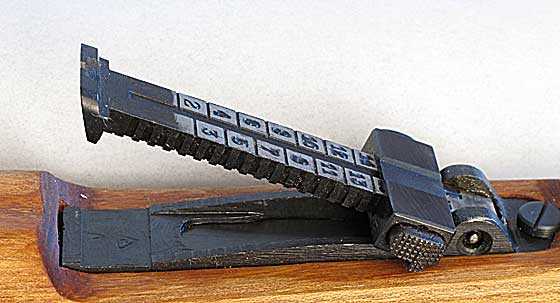 This model 1898 Mauser rear sight has been updated to reflect the more streamlined 8mm ammunition used during World War II. It's shown elevated for 2,000 yards, but looks just a little higher than the rolling block rear sight of 1879 that's set for 400 yards.
Of course, civilian arms kept pace with the military weapons in every way. Once the wars were over, the sights on civilian arms gained the same innovations that served the military so well; because they were sold to individuals instead of governments, they had to be more practical. No shooters wanted sights that were good for 2,000 yards — no matter what their military experience had been. So, the rear sights still elevated, but this time to more reasonable yardages.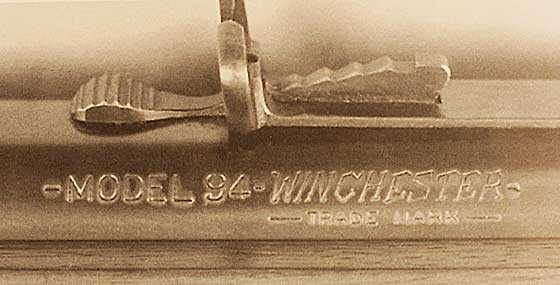 This Winchester model 94 rear sight is probably good out to 200 yards, or so (for the 30-30 round). Photo copied from Winchester Model 94 by Robert C. Renneberg, copyright 2009, Krause Publications, Inc.
And I would be remiss if I didn't mention the express sights that were popularized by African hunters from the 1870s through the 1920s. These are sights that flip up and are regulated for a single cartridge at a single range. The most common that I have seen are those for 100, 200 and 300 yards — but there are many other combinations.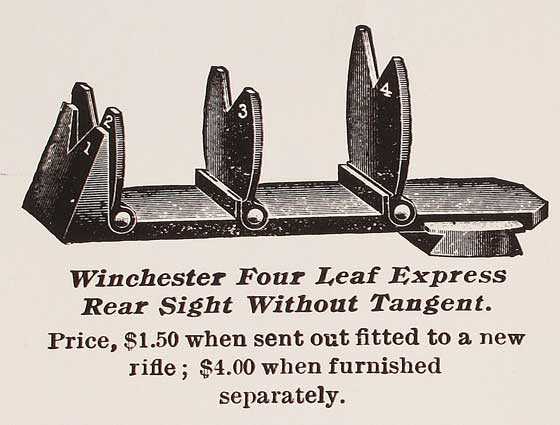 Winchester express rear sight has three flip-up blades for distances to 400 yards. Image copied from Winchester — An American Legend by R.L. Wilson, copyright 1991 by R.L.Wilson. Published in U.S.A. by Random House.
The express sight is a special adaptation of the earlier leaf rear sight that has two distances built in. Those go back as far as the 1850s. I showed you one on my 1867 gallery dart gun.

This rear sight from a gallery dart gun of 1867 could have been the inspiration for the express sights.
Well, that's it for this time. There's much more to say about open sights — mainly on the civilian side. We need to look at them, because airgun sights are directly related.
We'll also look further at peep sights because we haven't exhausted them, either. This series has at least a couple more parts to come.