by B.B.Pelletier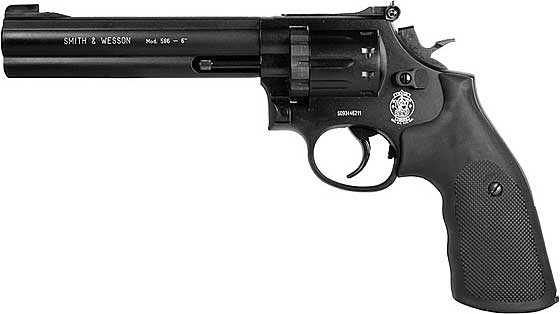 S&W 586 revolver is impressive!
Today, we'll look at the accuracy of the S&W 586 pellet revolver. My memory of this revolver dates to several years ago, and I had been shooting five-shot groups for accuracy back then; but for today's test, I shot 10-shot groups. Given the nine different pellets I tried, and a couple of them twice, I shot well over 100 rounds in this test.
I shot so many shots because I was looking for a good pellet. Most of the pellets were giving group sizes of around two inches, and I knew the gun was capable of better than that. So, I hung in there until I discovered two pellets that did relatively well. All shooting was done at 10 meters with a two-hand rested hold. My ability to hold a handgun with one hand has diminished in the past several years, and I didn't want that to influence the outcome of this test.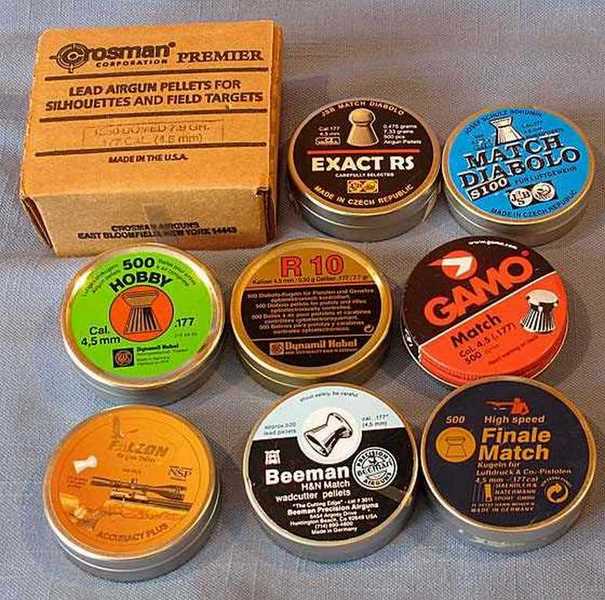 Nine different pellets were tested in the S&W 586. That's a lot of shooting!
Beeman H&N Match
The first good pellet I tried was the Beeman H&N Match. They did so much better than any other pellet up to that point that they stood out. The first group measured 1.289 inches. That's pretty good for 10 shots — it might equate to a 5-shot group that measures 0.90 inches between centers.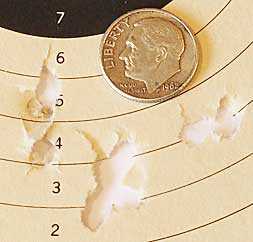 The first good group of 10 was this one with Beeman H&N match pellets. It measures 1.289-inches across.
After that first good group ,I settled down knowing the gun could shoot. My next group with the same Beeman H&N Match pellet was a little larger, at 1.656 inches.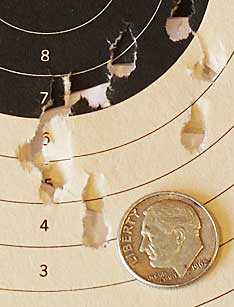 The second group of Beeman H&N Match pellets was a little larger, at 1.656 inches across.
That's still okay, but I thought the gun could do even better — so I continued testing different pellets. Only H&N Finale Match Pistol pellets were in the same league as the Beeman H&N Match, but I didn't bother pursuing them, because I wanted to find a pellet that was even better.
Knowing that target wadcutters were shooting better than domed pellets, I continued to try them. However, the JSB S100s I tried were uncooperative. And Gamo Match pellets were only in the two-inch range.
RWS R10 Match Pistol pellets
Finally, I tried RWS R10 Match Pistol pellets. Sometimes, these pellets are the best when H&N pellets are not, although this wasn't one of those times. The first 10 sailed through a group that measured only 1.31 inches.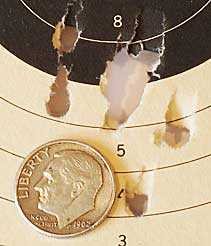 This group of RWS R10 Match Pistol pellets measures 1.31 inches between centers. It's practically a twin of the best group of Beeman H&N Match Pistol pellets.
I noticed while shooting the 586 that the second stage of the trigger-pull has a little creep in it. That could smooth out, and it would become a better pull.
I didn't attempt to test the revolver in the double-action mode, because it really isn't well suited to shooting targets this small. Outdoors, when the range is more open and safer, I'm sure it would be just as delightful as it feels — which is pretty darn good.
When I sighted in before this test began, the rear sight had to be moved quite a but to the left and up by a lot. Even then, the gun was shooting to the point of aim at 10 meters. So, the 6 o'clock hold produced groups at 6 o'clock.
The bottom line
I have to give the 586 a good rating overall; but since this is the third time I've visited this particular model, I think I must have some kind of affinity for it. Perhaps, it's because of the realism or the beautiful double-action trigger pull. I don't know what it is, but I don't think I'm going to let this revolver go back to Pyramyd Air.