by B.B. Pelletier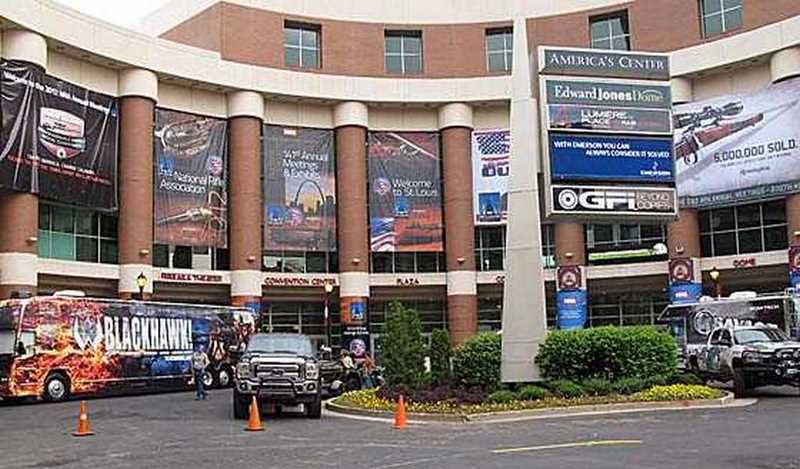 The 2012 NRA Annual Meetings and Exhibits, in St. Louis.
The NRA Annual Meetings and Exhibits: it runs for three days instead of four, yet it out-attracts people 2:1 over the SHOT Show. The public can't get into the SHOT Show except on the last day by buying a $50 ticket; but if you are an NRA member, you walk into the exhibit hall of the Annual Meetings for free. If you aren't a member, they'll give you a one-day dispensation for a small fee. And, unlike the SHOT Show, there are things to actually buy, as well as tons of guns to win in drawings — both free and paid.
Ostensibly, the reason for the event is the annual election of a new president and board members, but the main attraction are the exhibits. They've been described as a mini-SHOT Show, because most of the exhibitors are the same, though their booths are just a fraction of the size of the ones they have at SHOT. This show fits into about one-fifth the space needed for the SHOT Show, meaning that most major American cities can host it because they have civic centers adequate for the task — where the SHOT Show has grown to a size that just a few cities can handle it.
Airgun range
And at SHOT, people always complain that they don't get to shoot the guns — well at least those who aren't in the press don't. But at the NRA Show, there's an airgun range in the same building where, for a small fee, a family can try their skills with a number of popular airguns. Pyramyd AIR hosts the airgun range and helps to staff it, though a platoon of NRA-certified instructors also serve as volunteer range safety officers.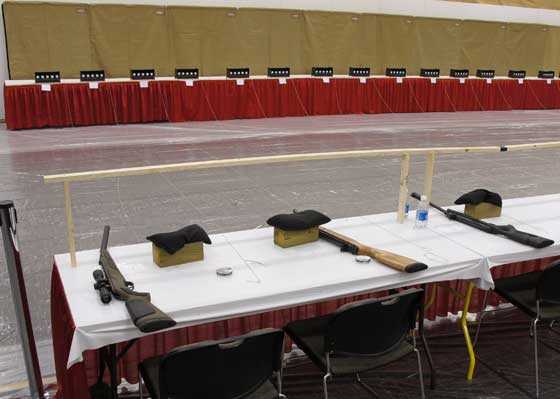 For safety, every shooter on the airgun range sat and fired off a rest. A horizontal bar limited the guns from elevating too high.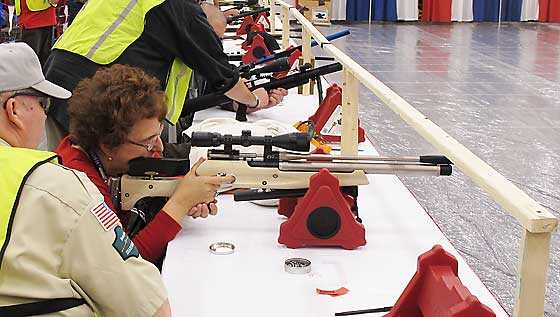 Not all the shooters were kids! This lady experiences an Air Arms EV2.
Mac always tells me the SHOT Show is great for people-watching. At the NRA show, I'm under far less pressure and can watch people a lot more. It's interesting to see them react with the brands that are second-nature to me. I might walk past a Rock River Arms booth full of all sorts of AR-15s and not turn my head, but at the NRA show I saw people lined up three deep with each of the company's representatives. Those poor guys and gals got no rest because the entire time the show was open customers were tag-teaming them. As soon as one would leave, two more vied to be next. The same holds true at every booth at this show, because the public isn't jaded like those in the industry. They may not see a display like this more than once in their lives, and they intend to get as much from it as they can! Try to imagine what happens to 70,000 kids in a candy store over a three-day event like this.
Another benefit of the NRA show is that it's a second chance to see things I didn't see at SHOT. Or perhaps things that weren't present at SHOT but are there for the NRA show because it comes several months later in the year. This year, the special thing was two new airguns coming from Daisy — both under the Winchester name. One is a 16-shot BB and pellet rifle styled like an M14. It's powered by two CO2 cartridges and holds both the CO2 as well as the BB/pellet clips inside a structure that looks like an M14 magazine. Joe Murfin, Daisy's VP of marketing, told me the rifle gets up to 700 f.p.s. with BBs. This is definitely going onto the test list!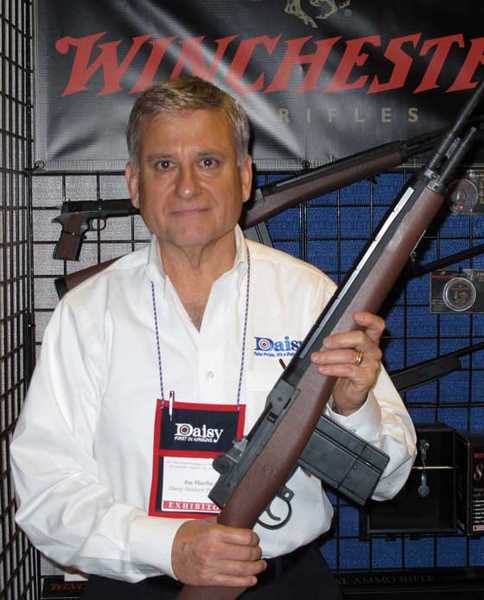 Daisy's Joe Murfin holds the new Winchester M14. It's rifled and shoots both BBs and pellets.
I also got to heft the new 1911 Winchester Model 11 CO2 pistol. Now, there's a product with an identity crisis! The last time Winchester made a handgun was in the late 1800s — when they were trying to convince Colt to quit building lever-action rifles! It worked then, but I doubt that anyone even cares today. This new BB pistol is all-metal, heavy and features blowback action that shooters are going to love. And, like the 1911A1 firearm, it's single-action only. This will be another one to test this year.
At the Umarex booth, I was surprised to learn that the beautiful new P38 Walther BB pistol is single-action, only. The P38 firearm was noteworthy for carrying a round in the chamber and being fired double-action for the first shot. After that, the blowback of the slide turned it into a single-action shooter with a much lighter trigger. But the new air pistol is going to be single-action, only. It's certainly gorgeous to look at and is a heavy chunk in the hand. I suppose people will be willing to do without the double-action feature. I'll probably test one to see how it does in the accuracy department.
Collectibles
One of the coolest sections of the whole show is the collectors' row. Dozens of the finest collector clubs from around the country vie to amaze the public with some of the finest vintage firearms ever seen in one place. Some of these clubs are legendary — like the club from Ohio that actually invented the modern gun show 80 years ago. I've seen collectibles that are never seen outside of a museum, and no one museum can come close to the variety of models on display at the NRA show!


This Winchester 1873 One of One-Thousand is one of the five best examples known. It is worth at least in the high six figures, if not over a million dollars.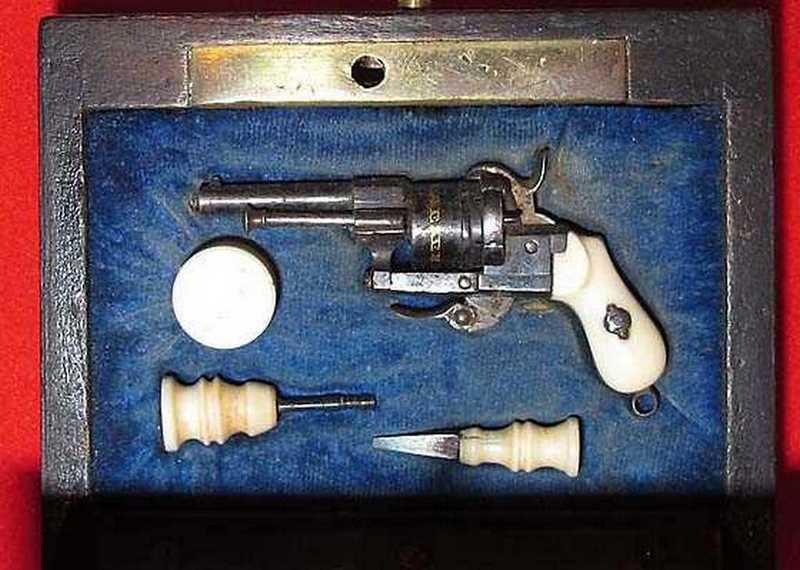 There were several glass cases filled with exquisite miniature arms such this 2mm pinfire revolver. The box it's in is the size of a book of matches. Tools all have ivory handles. Made around 1860!
I stumbled on a kindred lover of old Ballard rifles in the collector's section. We exchanged stories and information for half an hour, though he did most of the talking. I got some good pointers from him that I'll soon try on my Ballard, and he steered me to Swiss black powder, for which I finally found a source in Texas! Soon, my old girl will be puffing the great blue clouds she was brought up on, and hopefully the groups will shrink accordingly.
Besides the collectors' section, some of the older firms such as Colt displayed the guns of their past right in their booths. These are guns that they once made on a daily basis, but which have long since entered the history books. Imagine what it feels like to stand next to a real Gatling gun worth six figures and see the Colt name on its plaque — right where it has been since the indian wars!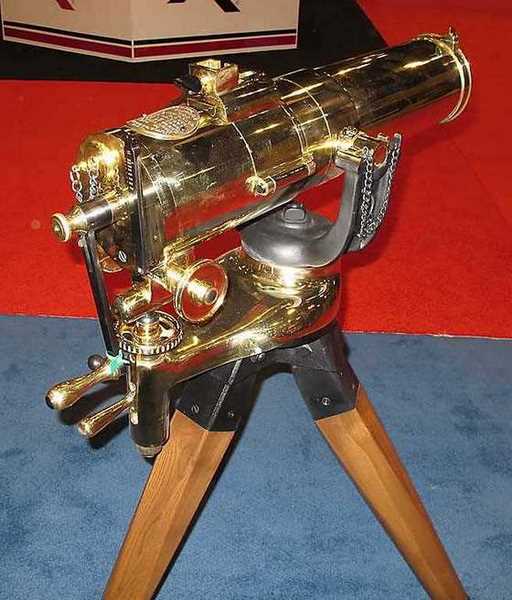 A real 19th century Gatling gun by Colt — and you could walk right up to it!
Besides the exhibits, there were live musical performances, celebrities galore, workshops and seminars on everything having to do with the shooting sports — and bunches more. When you look at the crowd that attends these meetings, you realize that today's NRA is heavily weighted toward successful people who make their own way in life. It's no wonder both political parties regard the organization with respect; they're the heart and soul of this nation.
I suspect this show broke the record for attendance, as the aisles were too crowded to walk most of the time. And the people were enthusiastic about being there. It was a real supercharged event that sapped me of my strength each day.
The show ended on Sunday, and we all returned to our workaday lives, enriched by the experience of the long weekend. I was never more tired than when I left the last time; but if everything goes right, I'll return next year when it's practically in my back yard — in Houston.