by B.B. Pelletier
You know how your wife buys a new trash can for the kitchen, and it doesn't match the front of the old refrigerator that you've been talking about replacing for several years? So, you buy a new fridge, but you want this one to have an ice dispenser in the door; so, you hire a plumber to run the water lines; as long as he's there, you decide it's time to replace the chipped sink with a new stainless-steel double sink; but as long as he's under there, you might as well have him replace the water supply lines and the waste pipes. Then, your wife doesn't like how the new sink looks against the old green Formica counters, and she wants those granite countertops you've been promising her ever since you forgot your 17th anniversary; but the new countertops won't look right on the old painted cabinets, so you decide on some Scandinavian teak cabinets with glass doors; and now the chipped dishes look out of place. [Note from Edith: This is hypothetical. It's not a true story about us!]
So, seven months later, the total bill for the new trash can comes to 70 thousand dollars? Well, that's what I seem to have gotten into with the Air Venturi Bronco. I was just testing the new Bronco Target Sight kit on the rifle, and I raked back the compost pile a little too far. So, today, you're going to benefit from my puttering gone amuck.
I took a lot of heat from you guys in my last report. You didn't like how I did things, plus I introduced the new Air Venturi Pellet Pen and PellSet and called it maccaroni without any warning! Well, shame on me!
I began today's test by mounting the Hawke 4.5-14x42AO Sidewinder Tactical scope on the rifle. The Bronco has a hole for a vertical scope stop pin, so I was able to anchor the two-piece mounts rock-solid.
I thought I would back up just a bit and see just what the best pellet is for this rifle, and then see if there's a difference between seating that pellet flush and seating it deep. I started at 10 meters with five-shot groups, just to weed out the pellets that were not worth pursuing. They were all pretty good, but the lightweight Air Arms Falcon was just a bit better than the rest.
I realize that this is a test of a peep sight, but my last report raised some questions about the rifle's accuracy that I felt needed to be laid to rest before the test was continued. I'm validating the rifle before I continue reporting on the new sight.
Then, I backed up to 25 yards and shot two 10-shot groups. One was with the pellets seated flush with the end of the breech, and the other was with the pellets seated deeper, using the PellSet. Let's look at my results before I analyze them.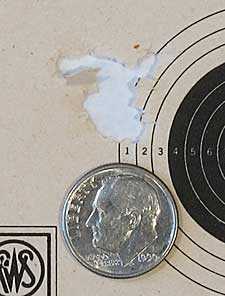 Ten Air Arms Falcon pellets seated flush with the end of the barrel went into this 25-yard group that measures 0.531 inches. The group is reasonably round.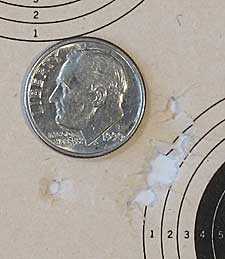 Ten Air Arms Falcon pellets seated deep with a PellSet made this 0.821-inch group at 25 yards. Nine of the ten pellets went into a group measuring 0.564 inches.
Conclusions?
Looking at both the shape and size of these groups, I would be tempted to say the flush-seated pellets shot best. And there's no doubt that this Bronco can shoot. But let's not make up our minds just yet.
See that "flyer" in the deep-seated pellet group? It wasn't a called flier. The hold and release were perfect. There is no reason that pellet should be that far away from the rest of the pellets at 25 yards.
What I'm not showing you are some other 10-meter groups with different pellets that also had strange fliers like this one. I had removed both the front and rear sights, so we can't blame the front sight screws for being too long. But something is happening with this rifle that's unusual.
Edith questioned me in the same way that I know the rest of you are going to question me. Didn't I have good groups in the past? Why is this rifle suddenly shooting like this?
I went back and looked at the groups I shot in Part 3 of this report. If you do the same, you'll see a couple "fliers" in those groups, as well. The difference is that those groups were shot at 10 meters instead of 25 yards.
So, then I went back to the 7-part report I did on the Bronco and examined those targets. In Part 5 of that report, I shot the rifle with a scope at 25 yards and guess what? There are "fliers" within some of the groups.
What's happening?
I think the Bronco I've been testing is extremely accurate, but it has also been throwing fliers like this all along. I chalked them up to my poor shooting instead of something else. Now that I've examine the rifle under the microscope, I'm not so sure it was me. I think this rifle has been tipping pellets all along. It's only when the gun is fired at 25 yards that this becomes evident.
I think this has gotten worse recently, but I cannot say with certainty what's causing it. It's clear from the two groups shown here that the rifle can really shoot, but I think it can do even better than it currently is.
I have a plan to try to remedy this situation; and, at the worst, it will not affect the accuracy of the rifle. But if I succeed, this rifle could shoot smaller groups than you see here.
I need to try my remedy before returning to finish the report on the peep sight kit, because I think it has been affecting the results. And there's a second problem I've identified with the peep sights that has nothing to do with the sights, themselves, but with how I've been sighting the gun. I'll describe that problem in detail for you and tell you how to easily avoid it.
Til then!