by B.B. Pelletier

Hatsan's Torpedo 155 underlever is a large and powerful spring-piston air rifle.
Today is the day I mount a scope on the Hatsan Torpedo 155 and test its accuracy once more. Knowing how much interest there is, I decided to pull out all the stops and mount the best scope I have on hand — the Hawke 4.5-14x42AO Sidewinder Tactical scope. Because the Hatsan scope base allows me to mount either Weaver or 11mm rings — and because the Hawke scope has a 30mm tube — I decided to use a set of two-piece Leapers high rings made for an 11mm rail. The straight line of the Hatsan stock coupled with the high comb made such a high mount work perfectly.
Trigger-pull
I promised to measure the trigger pull during this test. It broke at 5 lbs., 11 oz. with a lot of creep in stage two. I don't think this trigger is going to break-in the way I'd hoped.
Accuracy
The rifle was tested at 25 yards off a bag rest using the artillery hold. Each new pellet was seasoned with several shots before shooting the group.
The best pellet last time was the Gamo TS-22 dome. This time, not so much. I know they should have been at least as good as they were in the last test with open sights, but for some reason I couldn't get them to shoot this time. When you're testing a rifle that cocks at 54 lbs., you don't have all day to test different pellets; so three groups were all I shot. I'm showing the best one with no comment about the size. Suffice to say, this is not a good pellet for this rifle.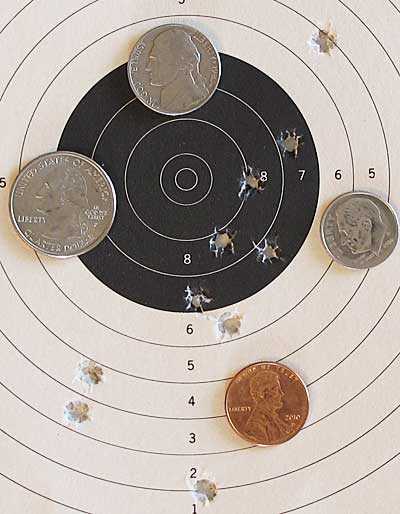 This time the Gamo TS-22 pellet didn't do so well. This is the best of three groups I shot.
Next, I tried the RWS Superdome. I was worried they would go supersonic and make too much noise for the house, but they never did. However, they were all over the paper. I tried several variations of the artillery hold, but nothing seemed to work.
The last pellet I tried was the 5.6mm Eley Wasp that's no longer available. I figured if it would shoot well, there might be another pellet on the market I could try. They did better than the TS-22 pellets did, but not as good as they did in the open sight test.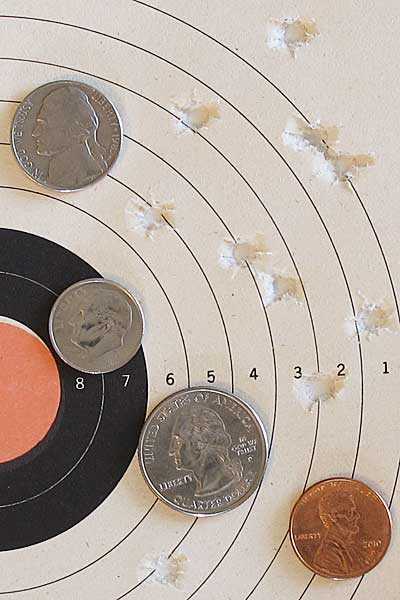 Ten Eley Wasps shot better than 10 TS-22s, but only by a little bit. This is still no group for a hunting rifle at 25 yards.
Bipod
The rifle comes with a plastic clamp-on bipod. You just clip it onto the underlever at any point. It slips forward and back on the lever as the gun is moved, and it also allows the rifle to rotate from side to side a little. It does steady the rifle, but you have to remove it before you cock the gun. So, there's no chance for it to settle in. I found it was just one more step added to cocking and loading the rifle. When I tried to shoot a group with it, the shots went everywhere. I stopped before putting one in the wall.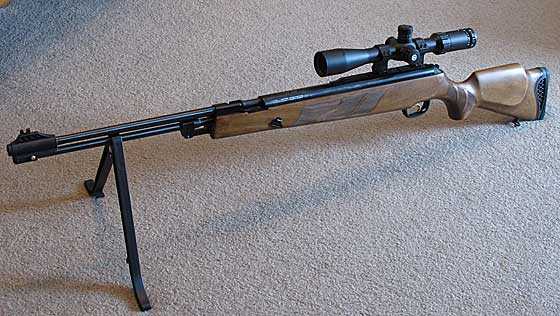 The plastic bipod clips onto the underlever as shown. It can be slid from one end of the lever to the other to change the balance point.
Conclusion
I find the Hatsan Torpedo 155 underlever to be too inaccurate to recommend. It takes a lot of technique to shoot it as well as I have shown here, plus it's a bear to cock and the trigger is extremely creepy. I think I've given the rifle every chance to shine in this review…and it hasn't. It's a very powerful spring gun, but power without accuracy is meaningless. It looks great, but it needs about 10 foot-pounds less muzzle energy to really shine, I think.