by Tom Gaylord, a.k.a. B.B. Pelletier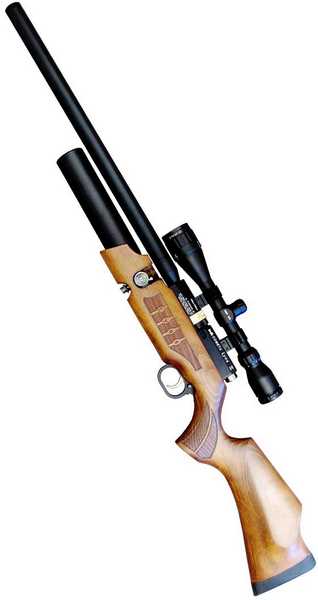 The Cometas Lynx V10 is an exciting precharged repeater.
Before I start, here's a reminder that the Roanoke Airgun Expo will be held on Friday and Saturday, October 19 and 20. If you can come, try to arrive on Friday (noon to 7 p.m.), because that's when the best deals are found — though there can be some good local walk-ins on Saturday. They say the show goes 9 a.m. to 4 p.m. on Saturday, but don't believe it. By 1:30 the place starts clearing out fast.
The location is in the Roanoke Moose Lodge #284 at 3233 Catawba Valley Drive in Salem, VA, but don't expect to find it with Map Quest. Just drive up Catawba Valley Drive (which is on Map Quest) several miles until you see the Moose Lodge on a hill on your right.
Mac and I will have a couple tables there. Mac's bringing a couple 10-meter guns, and I'm bringing that cased FWB 124 I wrote about. Other dealers like Larry Hannusch will be there, and you never know what you will find at this show. Several of our regular blog readers such Fred from the PRoNJ and RidgeRunner will also be there. If you're a blog reader, please stop by my table and say hi. Okay, let's get to today's report.
Today, I'll show you the results of shooting the Cometa Lynx precharged air rifle at 50 yards. This is the real acid test for any air rifle — precharged or otherwise. They may hold together well out to 35 and even to 40 yards, but I've found from long experience that 50 yards separates the good ones from the great ones. And it exposes the ones that can't keep up.
And here's an important reminder for newer readers. I shoot 10-shot groups unless there's a good reason not to. I always tell you if I'm shooting less than 10 shots. Five-shot groups simply do not test a rifle's accuracy. What they test are the laws of chance, a shooter's hopes and a bunch of other things that aren't important, but 10-shot groups prove the real accuracy of the airgun.
My groups will always be larger than those you see elsewhere. Ten shots will group larger than 5 shots in so many cases that it isn't worth thinking about. Whenever I go back and read these reports to find out the accuracy of an airgun I've tested, I'm so glad when I tested it with 10 shots and disappointed if I tested it with less. I hate the additional work it entails, because every one of those shots has to be perfect, but the result is well worth the effort.
News from AirForce
The day before I went to the range last week to test this rifle, I got a call from John McCaslin of AirForce. He told me they've been testing all the Lynx rifles and they found that dialing the power back to 20 foot-pounds produced better results for them. You'll recall from Part 2 that our Lynx is putting out pellets at close to or just over 30 foot-pounds. So, based on that information, I went to the range with the power dialed back to about 20 foot-pounds.
I did that over the chronograph the day before going to the range. There were two pellets that John told me were giving him good results — the 15.9-grain JSB Exact pellet that had not done so well for me at 25 yards and the 18.1-grain JSB Exact Jumbo Heavy that was the best pellet in my 25-yard test.
John told me to adjust the velocity until the 15.9-grain JSB was going about 750 f.p.s., so that's what I did. It took 2 complete turns of the power adjustment screw to get it to that velocity, where it produces 19.86 foot-pounds, and I nailed that average.

The Allen screw atop the rear of the receiver (in the upper right corner of the photo) is loosened so the power adjustment screw can be turned. I had to remove the scope to loosen the top screw, so I left it loose for adjustments at the range. The position of the Allen wrench leg tells you where the adjustment has been moved relative to where you began.
To adjust the power, loosen the locking screw atop the rear of the receiver, so the power adjustment screw will turn. I had to remove the scope to get at this screw; but if I owned this Lynx, I'd cut the short leg off an Allen wrench for this job. Then the scope could remain in place.
Since I was going to the 50-yard range and the 4.5-14×42 Hawke Tactical Sidewinder scope was available, I installed it at this time. It's the clearest scope I have, and I wanted to give the Lynx every opportunity to shine.
Beautiful day!
I get to the range very early to avoid the wind that always picks up in this part of the country. Unfortunately, on this perfectly calm day, there was another shooter already there and he was one of those super-gregarious types who likes to tell you his life's story in 30 minutes or more (per anecdote!), so I had to be a little rude. If I'm not done shooting by 9 a.m., I'm out of time because the breeze almost always kicks up. I also had the Rogue to test on this day, but I tested the Lynx first because the Rogue's bullets are heavy enough to buck a little breeze.
The first pellet I tested was the 15.9-grain JSB. Unfortunately, the test rifle still did not like it, even at 20 foot pounds, so I stopped the group after just 6 shots. The group was already at 1.871 inches, and I didn't see any future in it. As I said, I was burning sunlight fast and trying to pull away from Gabby the Gunman on the next bench, so I shifted to the 18.1-grain pellets next. We were the only two shooters at the entire range complex and, with a dozen benches on the 50/100-yard line, he had to sit right next to me and shoot his short-barreled Remington 600 in .308! The blast reminded me of tank gunnery!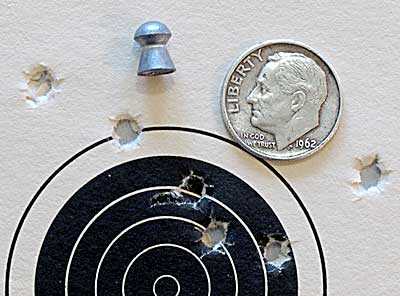 Even at 20 foot-pounds, the test Lynx still does not like JSB 15.9-grain pellet. I shot only 6 times at 50 yards.
While it sounds like I'm rushing, I'm actually taking a lot of time with each shot. I'm just moving as fast as possible for everything besides shooting. But with 10-shot groups, it's vital that no shot can be called a flyer. Because if it can, you have to shoot the group over again.
The 18.1-grain pellet was much better at 50 yards, though the final shot did open the group quite a bit. But it was a perfect shot on my end — that was just where the pellet went. Ten shots went into a group measuring 1.756 inches, but 9 of them went into 1.005 inches. And this was on low power, with this pellet going about 710 f.p.s. The breeze was just beginning to kick up, so I adjusted back to high power and shot another group.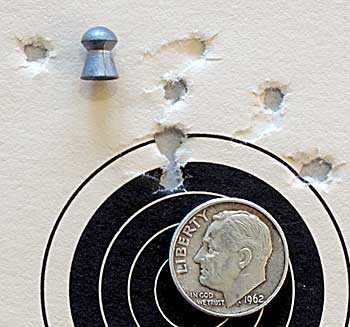 Ten 18.1-grain JSB Exacts made this 1.756-inch group at 50 yards. Nine went into just more than one inch.
You might wonder how I adjusted power at the range. I didn't have to use a chronograph, because the day before I'd discovered that the Lynx will return to a certain power level based on how far the screw is turned. All you have to do is watch the short end of the Allen wrench and use it as an indicator. I knew that two complete turns of the screw would put me back where I wanted to be, so it was that simple.
On high power, 10 shots went into 1.47 inches, but 9 of them went into 1.108 inches and 8 made a group that measures just 0.928 inches between centers. See what I mean about 10-shot groups? I shot only a couple of them, and yet I got data as good as a handful of 5-shots groups. Because with a 5-shot group, you never know….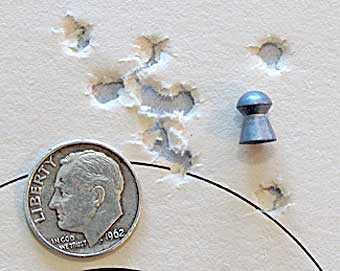 The high-power setting was better. Ten 18.1-grain JSB Exacts made this 1.47-inch group at 50 yards. Nine went into 1.108 inches and 8 made a 0.928-inch group.
The breeze was starting to pick up, and I needed to get on with the Rogue test, so there was time for just one more pellet — the big 25.4-grain JSB Exact Jumbo Monster. It had shown promise at 25 yards, so I wondered how it would translate to 50 yards. The gun was still at 30 foot-pounds, so the power should be fine. Even at this level, this heavy pellet only goes 741 f.p.s. But this one did not want to group at 50 yards! The pellets were shooting such a large open group that I didn't even bother completing it. And I can't show it to you because several shots were off the target paper (but still visible on the paper backer I always use).
So my test shows that the Lynx seems to group 10 good pellets into just over one inch at 50 yards. That's good, but it has a lot of competition at the same price or better.
Final observation
The Lynx has a regulator, so it gets more shots than unregulated guns shooting at the same power. When it's on the reg, those shots are very consistent. It has both a magazine and a single-shot adapter, so you can be satisfied either way.
Although several readers did not like the appearance of the wood stock, I like it. The work seems on par with any other high-end PCP stock. I also liked the standard Foster quick-disconnect fill fitting. And the shroud certainly works well, as the rifle never hints at the power it produces — it sounds like a .22-caliber Diana 27 springer running at 475 f.p.s.
I expect the accuracy will be the biggest sticking point for most people. With the Talon SS, Condor and Marauder on the market — all of which can produce smaller groups at 50 yards under perfect conditions — a fellow would really have to love the Lynx. He might like it because, unlike the AirForce rifles, it has a wood stock, or unlike the Marauder, the stock is slim and trim. Either way, now you know the whole story.