by Tom Gaylord, a.k.a. B.B. Pelletier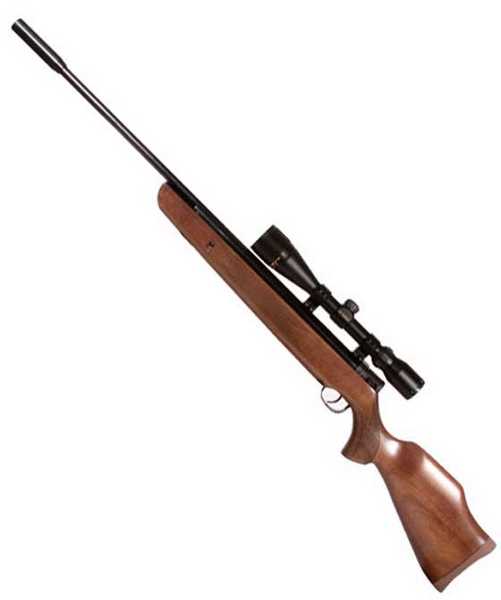 The new Tech Force M12 breakbarrel is a new midrange springer from Air Venturi.
I usually have a handle on the gun by the time Part 4 rolls around. But, today, I'm still stymied by the Tech Force M12 breakbarrel. I'll tell you all I've done to make sure this rifle is on the beam; but when I tell you my results, I think you'll see I'm not there yet.
Big droop!
I discovered in Part 3 that the M12 I'm testing is a big drooper. That means it shoots very low relative to where the scope is looking. For today's test, I installed a B-Square adjustable scope mount that has a huge downward angle to bring the point of impact back up to the aim point. It worked well enough for the test, so I proceeded to shoot several different types of pellets — trying all kinds of hand holds and even resting the rifle directly on the sandbag.
Here's a list of the pellets I tried: (10-shot groups with each)
Beeman Kodiaks
Beeman Kodiak Hollowpoints
RWS Superdomes
Crosman Premier 10.5-grain
Crosman Premier 7.9-grain
JSB Exact RS
JSB Exact 8.4-grain
JSB Exact 10.3-grain
RWS Hobby
Beeman Trophy (an obsolete domed pellet)
Eley Wasp (an obsolete domed pellet)
Best pellet
With most of these pellets, the rifle teased me with several pellets in the same hole — but a 10-shot group that was 1.5 inches and larger. A couple were all over the place and simply would not group at all. The Hobbys were probably the worst.
Only one pellet put 10 shots into 1.038 inches at 25 yards. Those were RWS Superdomes, and the hold was with my off hand back by the triggerguard, leaving the rifle very muzzle-heavy. The rifle was somewhat twitchy but not overly so.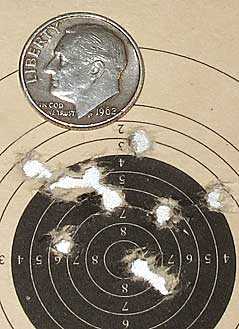 This is the best group I shot in the test from 25 yards. It's 10 RWS Superdomes, and the rifle is rested with my off hand touching the triggerguard.
Encouraging
The encouraging thing about this group is that I didn't have to use a lot of technique to shoot it. I know it isn't as tight as others I've shot at the same distance, and you'll compare it to them, but I compared it to the other groups I was getting with this rifle. In that comparison, this was the best one and it was also relatively easy to shoot.
What all did I do?
For the record, here's a list of all the things I tried to get the M12 to shoot.
Cleaned the barrel
Tightened the stock screws (they were tight)
Installed a drooper mount with a lot of down angle
Tightened the scope mount screws (and they were loose on the B-Square adjustable mount!)
Tried resting the forearm of the rifle:
On my open palm in front of the triggerguard
On my open palm under the cocking slot
Directly on the sandbag
Tried shaking the barrel to test the breech lockup (it is tight)
Tried extra relaxation with the artillery hold — which worked for a few shots, but never more than four
Tried attaching an extra weight to the barrel during each shot (with a large magnet)
So, where are we in this test?
I still think the M12 can shoot because there's evidence of it wanting to stack its pellets. It might be that this is a rifle that needs more than a thousand shots to break in. I've owned a few of those. The Beeman C1 from Webley that I used to own was such a rifle. At first it was a royal beast; but as the shot count passed 2,000, the rifle began smoothing out and transforming into something very delightful to shoot. By 4,000 shots, the trigger was very nice and the gun had no vibration to speak of. It was this very rifle that caused me to give the artillery hold its name, and I wrote the first article I ever wrote about airguns for Dr. Beeman. He didn't respond to my submission, so I saved it and eventually wrote it up in The Airgun Letter.
I wonder if this M12 needs that kind of break-in? That's something I haven't done in a good many years because it takes so much of my time. But it might be interesting to see if the rifle responds to a long-term break-in. I think I've certainly shoot 250-300 shots at this point, because I also tested the gun at 10 meters and one time at 25 yards (it wasn't reported). Maybe I'll rack up some more shots to see how that affects a longer-term break-in.