by Tom Gaylord, a.k.a. B.B. Pelletier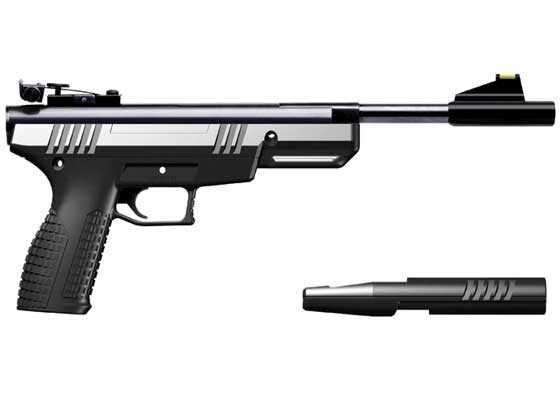 Benjamin's new Trail NP breakbarrel pellet pistol, with cocking aid removed.
Accuracy day has arrived. And this is going to be a report that's different than the ones I normally write because I decided to do things differently with the Benjamin Trail NP pistol. First of all, there's some interest in the gun. Readers have said they're watching the reports because this gun seems to deliver a lot of performance for a very reasonable price.
Next, I've read some owner reviews that talk about the gun hitting low. I wanted to test that for you. Owners also say the pistol shoots to two different impact points, depending on whether or not the cocking aid is attached.
Finally, I received a call from Crosman's head engineer, Ed Schultz, who noticed I was testing the pistol now. Ed confirmed that the pistol does indeed shoot to two different points of impact, depending on whether or not the cocking aid is attached. He was also intrigued by how much I seem to like the air pistol, so we chatted about that for awhile.
How this test will be different
I decided to "play" with this pistol today instead of plowing through a formatted test with X number of pellet types. What that means is that I decided to let the pistol lead me through the test, and to look at those things that were interesting — even if they didn't conform to my normal test format. I think the test went well, but it lead me in directions I might never have taken otherwise.
It shoots low
The first pellet up was the RWS Hobby. The first shot wasn't even on the paper, so I elevated the rear sight as high as it would go, then I held up the front post above the rear notch in a style that was popularized by Elmer Keith. That got me on paper, and I put 10 shots through the gun. They landed in a group that measured 1.155 inches between centers. This turned out to be the best group of the test, and I think it shows the accuracy potential of the pistol quite well. You see, I was estimating how much front post to hold up above the rear notch while I shot this group, so my aim point was only an estimate.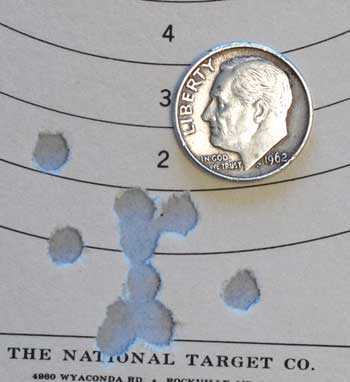 Ten RWS Hobby pellets made this 1.155-inch group at 10 meters. This was with a Keith holdover sight picture, as described in the text.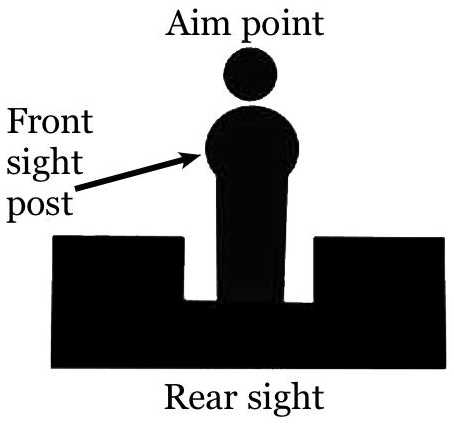 When Elmer Keith wanted to shoot handguns farther than their sights would allow, he used this holdover sight picture. Keith inlaid gold lines on his front sights, but I am simply estimating the height from shot to shot.
Even when I held over a lot, the pellets landed below the aim point. So, I used another trick by drawing a secondary aim point above the main bull and using the holdover sight picture on it (at 6 o'clock). My sight picture now looked like the drawing above.
Powershot Penetrators
Next, I tried the lead-free Crosman Powershot Penetrators. Using the higher aim point, I put 10 of them into a group that measured 2.527 inches between centers. Obviously, they're not right for this pistol.
Different impact point?
I told you I was playing with the pistol, so next I tried an experiment to see the difference in point of impact when the cocking aid was left on the gun or removed during firing. And there was a difference! For this test, I used JSB Exact RS domes.
I used the same high aim point, and the pellets landed about 2 inches lower when the cocking aid was left on the barrel during firing. I'll show both groups on the same target, so you can see what that looks like.
The group fired with the cocking aid installed was slightly tighter than the one with it removed. The one with the cocking aid measures 1.369 inches between centers, while the other group measures 1.636 inches.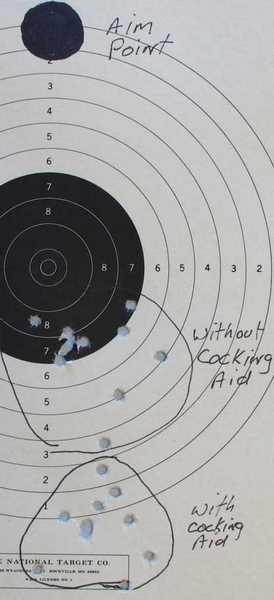 Here are two groups of JSB Exact RS pellets. One was fired with the cocking aid installed, and the other with it removed. Notice the difference in the point of impact.
Cocking effort
I reported that the cocking effort is low for this pistol. Well, that's fortunate; because when I shot it without the cocking aid, I also cocked it that way. The effort required with the aid installed still measures 25 lbs., and with the aid removed it increases to 35 lbs.
Noise
This time, I shot the pistol indoors, and I still must say that it's very quiet for the power. I think some new owners may have had a few detonations when their guns were new and thought their pistol was going to always be that loud, but I doubt that many will fault it for the sound after it calms down.
Trigger
The trigger-pull isn't so much heavy as it is long. It does take some concentration and even discipline to shoot the pistol at its best. But there's no creep in the second stage.
Crosman Premier heavies and JSB Exact 10.34-grain heavies
I had thought that heavier pellets might do best, so I tried both Crosman Premier heavies and JSB Exact heavies. Since I was just playing with the gun instead of conducting a formatted test, I decided that if either pellet didn't show any promise by 5 shots, I wouldn't complete the group. Well, neither one did, so I ended each group at just 5 shots. Both would have been over 2 inches for 10 shots.
Crosman Premier lites
The last pellet I tested was the 7.9-grain Crosman Premier lite, figuring that if the heavy didn't group, the lite might. And that was correct. The lites gave me a 1.775-inch group, which doesn't sound good. But 9 of those pellets are in 1.314 inches, which is a lot better.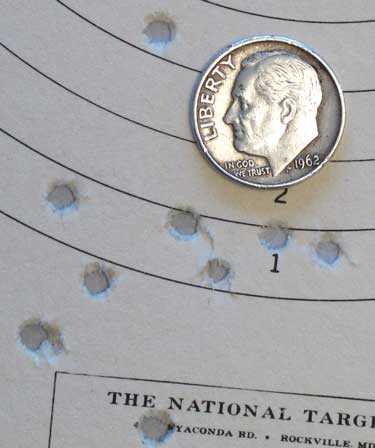 Crosman Premier lites showed some promise in the Trail NP pistol, grouping 10 in 1.775 inches, with 9 in 1.314 inches.
What's the verdict?
The verdict is — it's too soon to tell. I still have some things to test with this pistol. For starters, the sights that are on the gun are so problematic that I want to try it with a good quality dot sight and see what I can do. If I can adjust the sight so I'm able to aim at what I'm hitting, and if I use the 3 pellets that worked well in this test — RWS Hobbys, JSB Exact RS and Crosman Premier lites — then we might just see a more accurate gun.
I also want to test pellets that are seated deep in the breech to see if there's any difference. There are the two lead-free pellets that Crosman sent, but I didn't get around to testing this time. I'd also like to run a velocity test after all of that because, by then, I think the gun should be broken in.
More than ever, I think Crosman should build this gun as a carbine, using exactly what they have here but with an extended barrel shroud and a rifle stock. As easy as it is to cock as a pistol, I can see it losing another 10 lbs. of effort as a carbine. What a wonderful little plinker it would make!