by Tom Gaylord, a.k.a. B.B. Pelletier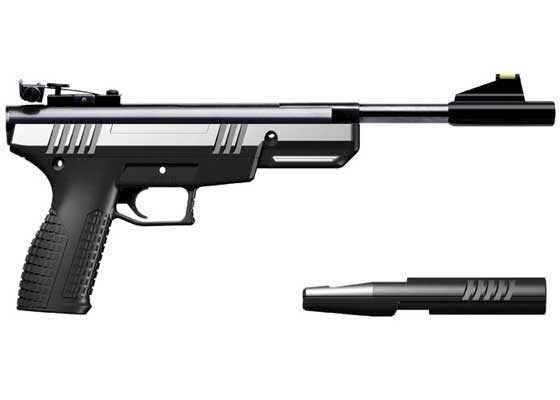 Benjamin's new Trail NP breakbarrel pellet pistol with cocking aid removed.
Today we'll make blog history. This is the first half of a 2-part report on the Benjamin Trail NP pistol. I was shooting it yesterday and found myself going in so many directions that I collected too much data for a single report. So the second half of today's report will come on Monday.
I told you in the last report that I decided to "play" with the pistol rather than subject it to a rigidly structured test. Well, that must be catching because I did it again today. Something about this air pistol seems to invite experimentation.
It doesn't have to shoot low!
I said that it shot too low in the last report. It did, but I was using the sights in a way the manufacturer did not intend by using the tip of the front sight for a 6 o'clock hold. That caused the gun to shoot a little low by itself. But, today, I replaced the rear sight with a red dot sight and found that the gun can shoot to the point of aim with ease. In fact, I had to adjust the sights down, but I will talk about that later.
I mounted a Tasco Pro Point dot sight on the 11mm dovetails that are on the rear of the spring tube. You could use anything that has a decent amount of adjustability.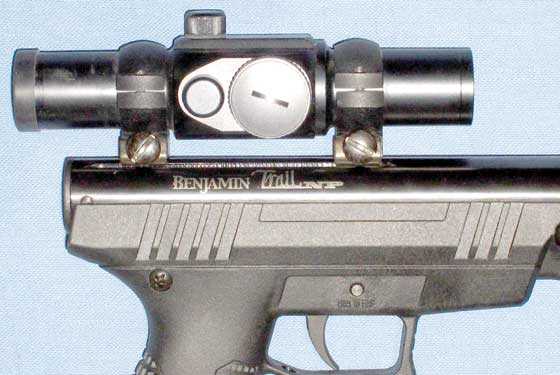 This old Tasco Pro Point dot sight installed on the Trail NP pistol without a fuss. It brought the point of aim and point of impact together.
It's so much easier using a dot sight because there's just the dot and target to watch, instead of the sight alignment. Shooting the pistol was much easier.
The first pellet: RWS Hobby
In the last test, RWS Hobby pellets were the most accurate, so those were the first pellets I tested this time. That made it simpler to test the gun because I knew I was starting with a reasonably accurate pellet.
And because this will become important in a while, let me tell you that these first groups were shot without the cocking aid on the gun. It's a little harder to cock without the aid, but installing and removing it for every shot takes too much time.
The first group surprised me, because it wasn't as good as it was the last time I tested this pistol. The first shot was a low flier caused by my unfamiliarity with the dot sight; but after that, all the rest of the shots were the best I could do. I think the measurement for 9 shots is more representative in this case, and let's exclude that one low shot.
Nine shots went into a group that measures 2.04 inches between centers. That's still larger than the group I got with open sights, which is 10 in 1.155 inches. I wondered if some of the stock screws might have loosened in all the shooting. I checked, and they certainly had. I tightened all stock screws; but instead of running the same test again, I proceeded to the next test. How would the pistol respond to pellets seated deeply with the Air Venturi Pellet Pen and Pellet Seater?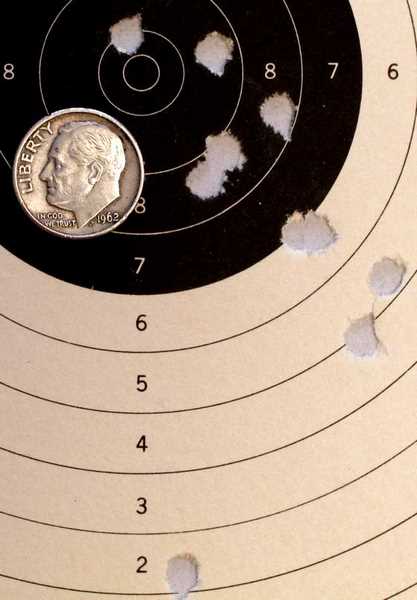 The lower shot is a called flier resulting from an improper sight picture. Nine pellets went into 2.04 inches at 10 meters.
Deep-seated pellets
Not only did the group improve measurably, the point of impact rose by two inches when I seated the pellets deep into the breech with the pellet seater. This pellet seater is really proving to be a valuable piece of equipment when used on certain guns — like this one. And this rise in the point of impact is why I say there's no problem with the Trail NP shooting low. You simply need to seat the pellets deeply.
This time, 10 RWS Hobbys went into 1.025 inches between centers. That's remarkably close to what I did last time with open sights, but just a trifle better.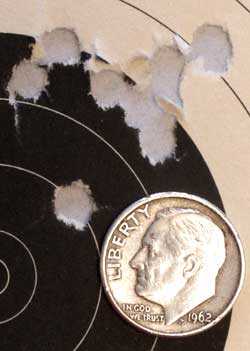 Deep-seated pellets made the difference. Ten went into 1.025 inches at 10 meters, and the point of impact raised by over two inches. Deep-seating is the trick, then.
Since deep-seating seemed to produce such good results, I decided to seat all pellets from this point, on. For my next test, blog reader Victor suggested that I try some good competition pellets. He recommended some H&N pellets, so I selected H&N Finale Match Pistol pellets. I seated them deep and proceeded with the test. But, oh, my, they didn't do well at all! At least not when taken as a whole.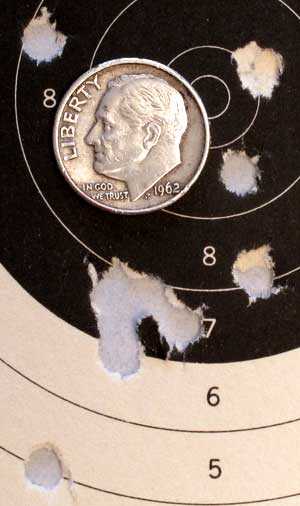 Victor, Victor! Where did we go wrong? Ten H&N Finale Match Pistol pellets made a 2.008-inch group. But look at the 5 in the middle. Perhaps there's hope.
Five of those pellets managed to make a very tight little group. They gave me hope that this pellet wasn't as bad as the numbers said. Perhaps something more was required?
Shaking
The dot showed that I was shaking a lot more than I was comfortable with, despite using a two-hand rested hold. My forearms were resting on a sandbag, and the pistol was held in my hands, just in front of the bag. It sounds like a solid rest, but the dot said otherwise.
Since I was playing with the gun anyway, I stopped shooting for score and started experimenting with different holds that were firmer. I tried using my off hand as a modified artillery hold, but that was just as shaky. Then, I laid the gun directly on the sandbag and had a go. That proved to be the best way to hold it, as all shaking stopped and the pellets landed together again.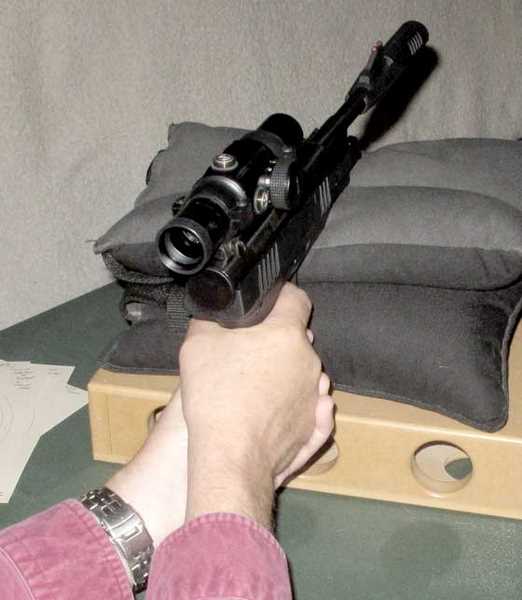 This shooting position with the pistol rested directly on the sandbag proved to be the best and stablest position of all.
I also thought that if I was going to rest the gun on the bag, I might as well use the cocking aid again, too. I had now fired the gun about 50 times in all and wanted to relieve some of the strain on my hands. So the cocking aid went back on the gun.
And that's all I'm going to tell you today. Tune in Monday to see if this new position paid off.