by Tom Gaylord, a.k.a. B.B. Pelletier
Part 1
Part 2
Part 3
Part 4
Part 5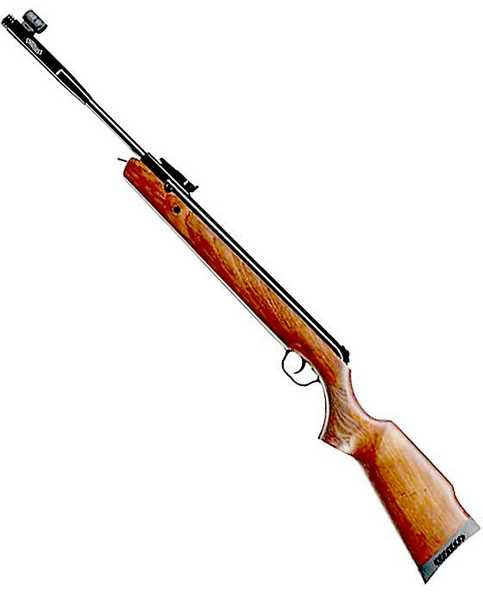 The LGV Master Ultra with a wood stock is what readers have been asking to see. Today we shoot it at 50 yards.
This is the final installment on the Walther LGV Master Ultra. When combined with the 6-part review I did of the .22-caliber Walther LGV Challenger, that's 12 separate reviews of the new LGV rifle. I think that's more than enough information to help anyone make up their mind.
For this report, I took the rifle to my outdoor rifle range two different times. The first time, the wind kicked up as I was shooting the first group, so I only managed to shoot one 10-shot group that day. It took a long time because I had to wait to shoot between wind gusts. The second day at the range, the weather was perfect. It was one of those rare days where the wind never gets up to one mile per hour all day long, so I feel the rifle has gotten as fair a test as I'm able to give.
To remind you of the way it's set up, the LGV Master Ultra is scoped with a Bushnell Banner 6-18X50 AO scope mounted in BKL 1-piece rings. Nothing special about the scope or mounts, except that they both work very well with this rifle.
Today, I'm shooting at 50 yards. Two things about this are exceptional. First, I'm shooting a spring rifle at 50 yards. If you've never tried it, don't knock it. You can't just double the size of a 25-yard group and get what it'll look like at 50. Second, I'm shooting 10-shot groups. They'll always be 40% larger than 5-shot groups. So, factor that in as you read my report.
Day one on the range
This first day began okay; but before the first group was finished, the wind picked up. I waited between gusts, and I'm pretty sure the wind did not account for any increase in the group size. I shot 10-shot groups, as is my custom. That way, I seldom wonder if the results are anything but representative of the rifle. Yes, it's harder to shoot 10 shots well, rather than 5; but I find that if you start thinking that way, the next thing you know is that you'll be looking for only the best 5-shot groups among all you've shot. That's harder to do with 10-shot groups because they take so long to complete.
The shooting at 25 yards had convinced me that I needed to rest the forearm at the end of the cocking slot, instead of with my off hand touching the triggerguard. That gives the rifle a very stable hold without the normal shakes you get when you hold it the other way.
I got just one group this day. There were more shots, but the wind picked up enough that I found it impossible to say that it wasn't influencing the size of the groups. The single group I shot was with Crosman Premier lites, the 7.9-grain pellet that had performed so well at 25 yards. At 50 yards, 10 pellets made a group that measured 1.509 inches between centers. So I brought it home, to await the perfect day for another test.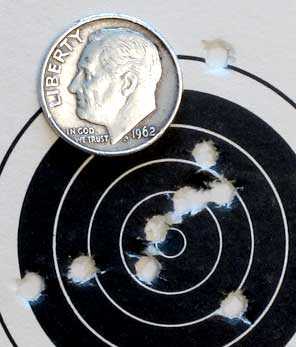 The first group of Premier lites went into 1.509 inches at 50 yards. Due to the wind rising, this was all I could shoot this day.
That day came last week. It was supposed to be raining, but the skies were dry and overcast. As mentioned, there was barely a breath of air the whole four hours I was at the range. The first group was shot with the Premier lites, for which I had so much hope. Ten went into a group measuring 1.561 inches between centers. It was time to face facts — this was the best the rifle was going to do with this pellet at 50 yards. Now, it was time to experiment.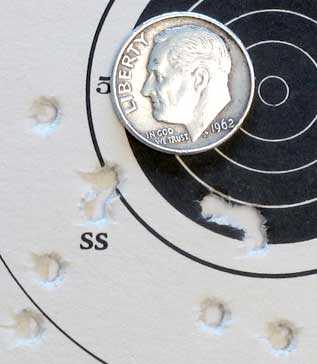 This second group of Premier lites was shot on a perfect day. It measures 1.561 inches between centers. The first group was also the best group.
Next, I tried Beeman Devastators — a lightweight hollowpoint pellet that has no hope at 50 yards, except when the conditions are perfect, as they were this day. Ten went onto a group that measured 1.852 inches between centers. I think that's pretty good for a hollowpoint at 50 yards, but it probably doesn't look too good in the photo.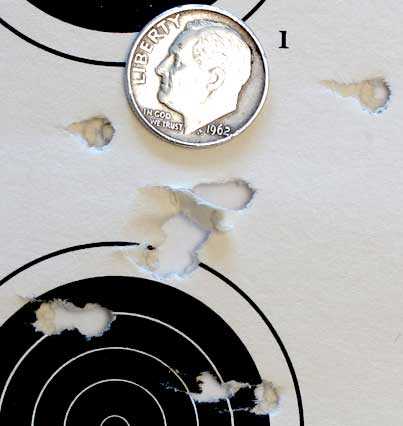 Beeman Devastators did very well for hollowpoints at 50 yards. Ten went into 1.852 inches.
The day was still dead calm, so I thought I'd keep shooting. The next pellet I tried was the H&N Baracuda Match that hadn't done as well as I'd hoped at 25 yards. At 50 yards, 10 of them made a 1.637-inch group…but this group was strange. Six pellets landed high in a tight 0.829-inch bunch and the other four landed low, making a 0.777-inch group of their own. This result would bear some further investigation, if I owned this air rifle.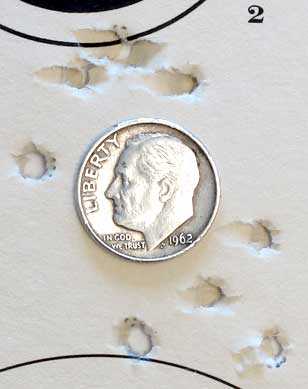 H&N Baracuda Match pellets printed these two groups. Six on top and 4 below, for a total size of 1.637 inches between centers. There are no holes under the dime.
I can see sorting these pellets by weight and being very selective of each pellet, rather than just shooting everything straight from the tin, as I did in this test. I make no promises; but when you get results like this, there may be a good reason.
The last pellet I tested was the JSB Exact heavy, a 10.34-grain dome. I had high hopes for these, as well; but when the first 6 landed in 1.586 inches, I stopped because the final 4 had no chance of tightening that.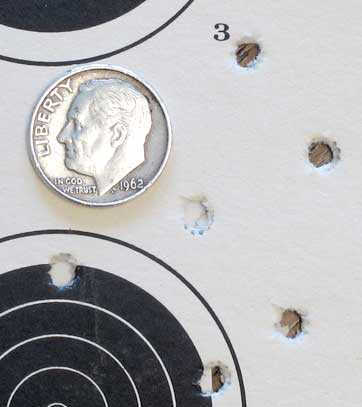 Six JSB Exact Heavy pellets went into 1.586 inches. I didn't complete this group.
So that was the test at 50 yards. It didn't turn out as I'd expected. The 12 foot-pound .22-caliber LGV Challenger produced better groups that hovered around one inch. The wind cannot be blamed for this, so the 12 foot-pound rifle just turns out to be more accurate at long range.
The final word
I said the Walther LGV is the TX200 of breakbarrel springers at the end of the other test, and I'll not change that assessment. The action is incredibly well-built, the trigger is fine and the accuracy is better than average for a good spring-piston rifle. I like the barrel latch, and I no longer need the last foot-pound of power to validate an airgun's worth. What I'm after is a wonderful shooting experience that this Walther delivers.