by Tom Gaylord, a.k.a. B.B. Pelletier
Every airgun show has a personality, and this year's Roanoke show was no different. It started slow. Dealers were slow to set up — enjoying talking with each other rather than getting everything ready for the doors to open to the public. That's because we got there at 8 a.m., and the doors weren't opened until noon. So, we knew we had time to converse and to see what everyone had on their tables.
I was seated behind Mike Reames' table. Mike is the man who made the swages I reviewed for you a while back. He always has interesting things on his table, and I took some photos for you to see.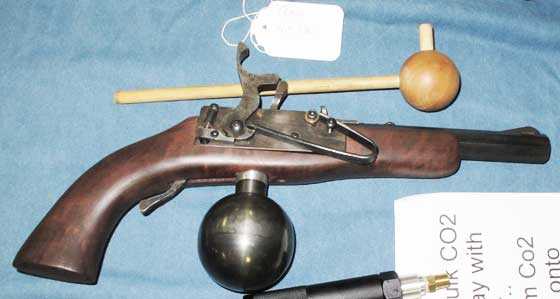 Mike Reames made this outside lock pistol with a ball flask. It's .45 caliber and is charged with CO2.
Each of Mike's creations is unique; and to my knowledge, he's one of only a very few people actively making modern ball flask airguns today. These are not mainstream airguns by any means; but if you want something modern that works and looks like it's 200 years old, he's the man to see.


Reames' ball flask long gun is another unique outside lock airgun that uses CO2.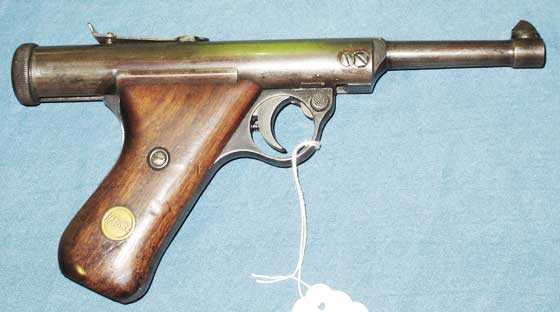 Well-worn Haenel 28 spring pistol was also on Reames' table. These airguns are all-steel and made like firearms. They're built to last forever!
One thing I noticed at this show was a large number of vintage guns had come out of the woodwork. I don't always see many of the older guns at some shows, but this year Roanoke was loaded with them! I'm talking about rare guns from the early part of the 20th century, and some from even earlier.
For instance, there were large numbers of first- and second-model BSA spring guns. BSA invented the model spring air rifle in 1905, and the early ones date from then to 1914. They look old and obsolete until you fire them and discover they perform a lot like the modern guns of today.
There was a special one on Mike Driskill's table. I thought it would be passed over by the crowd (a term I'm using loosely); but on the morning of day 2, our own RidgeRunner came to his senses and bought it. It needs some work, but they're about as complicated as a drinking straw and as rugged as a Harley.


This .177-caliber 1906 BSA underlever may look old, but it can be made to shoot like a modern air rifle. This one dates to one year after BSA first introduced the modern air rifle! Mike Driskill was asking $175! RidgeRunner bought it.
Not everything at this show was vintage, however. Dennis Quackenbush brought several big bore rifles and pistols for customers who had arranged to pick them up at the show, plus he had a couple guns that weren't spoken for. I photographed him unpacking his guns because I knew they wouldn't last long.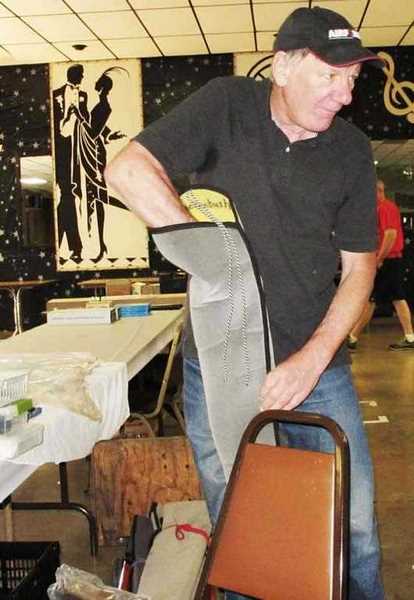 I photographed Dennis Quackenbush unpacking because I knew his guns wouldn't last long on his table.


Quackenbush had a .50-caliber Long Action (top) and a .308 Short Rifle for sale. These were not promised and could be purchased by anyone. They both sold within 2 hours of being unpacked.
Sure enough, when I saw him again a couple hours later, both rifles had been sold, along with 6 big bore pistols that he brought. One guy bought 3!
On day 2, Max, one of our blog readers who hasn't signed in yet, got a .458 Long Action rifle from Dennis. It was a rifle that had been ordered and delivered at the show. Man, was he smiling when the show was over!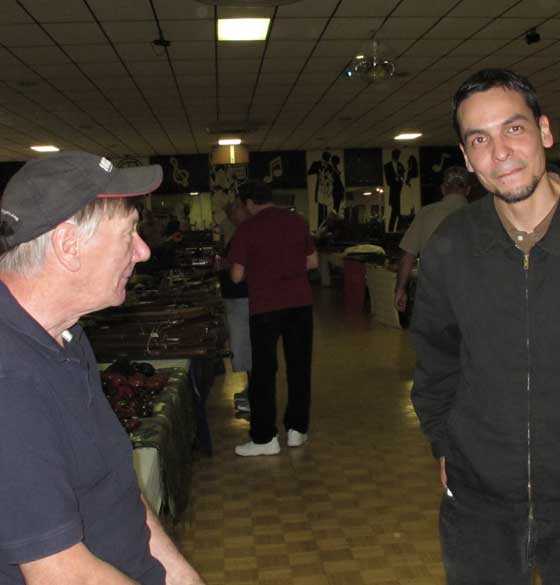 Max and Dennis Quackenbush finalize the deal for a .458 LA rifle.
This show's personality
I figured it out early on the first day. This was the show to attend for killer low prices on fine vintage airguns. Diana 27 rifles? I saw at least 4 of them, ranging from $175 to 250, asking price. But how about a Falke 80 to go with my Falke 90 that I displayed at the show? Dave Bingham had it on his table. Instead of the stock that has a cheekpiece, this one had a plain elm stock. It's believed there are fewer than 300 Falke 80s ever made, and fewer still in existence. Dave had a price of $800 on it, which gives me sort of a ballpark figure to use for mine…although, it's not for sale.


A Falke 80 at the same show as my Falke 90. Notice the absence of a cheekpiece on this one.
But the whole show was like that! How about a Walther LG53 with double-set triggers? The only time I've seen these displayed, they weren't for sale. But here was one for a very reasonable $500. Too many fine airguns — too few ATMs!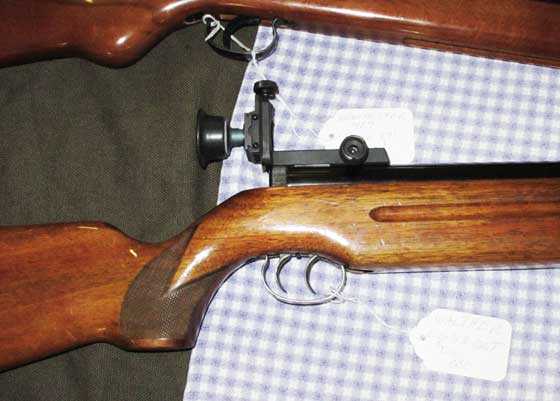 A Walther LG53 with target sights and double-set triggers. It was for sale!
Something new
All you Crosman pistol shooters have a new toy to obsess over. It's an adapter that allows you to connect an adjustable AR buttstock to many of the better Crosman and Benjamin air pistols such as the Marauder. But this device does more than just connect your gun to a stock — it allows you to set the length of pull, the cast-on or cast-off, the height of the butt in relation to the scope line and the cant of the buttpad. In other words, you can now fit the gun to yourself…and, with simple adjustments, fit it to your 9-year-old daughter!
Dave Rensing of www.rarmsinnovations.com invented this all-metal adapter to allow his 8-year-old son to shoot his Marauder pistol, and it works like a charm. The adapter is made of 6061 aircraft aluminum, hard anodized and attaches with no modifications or disassembly of the pistol required. Just attach it to the threaded hole that's already in many of Crosman's top-end air pistols!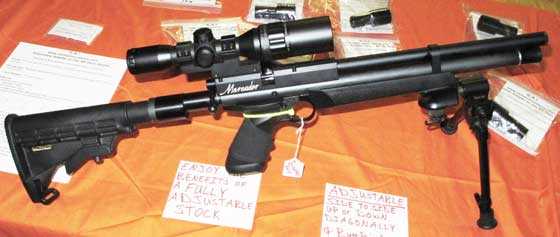 This adapter from R Arms Innovations allows you to connect a collapsible AR stock to several Crosman and Benjamin air pistols. It adjusts for a perfect fit for all sizes of shooters.
More power!
Want to shoot field target with a 150 foot-pound big bore air rifle? A club in Puerto Rico did, so they had Dick Otten of Rhino Targets (formerly After Hours Targets) build them some field targets that can take the abuse.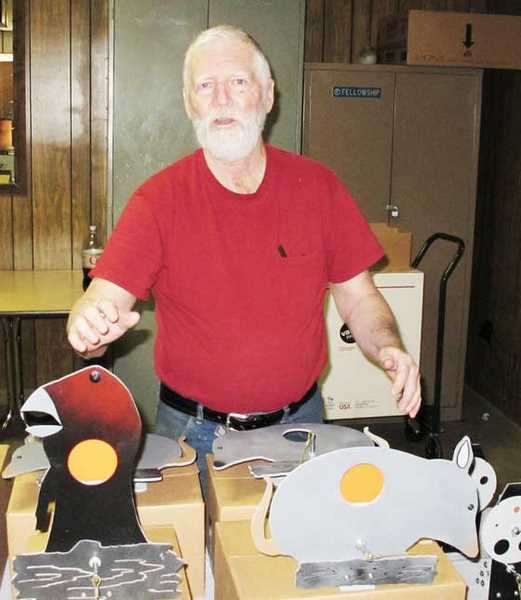 Dick Otten shows several big bore field targets he's made. They can take 150 foot-pounds!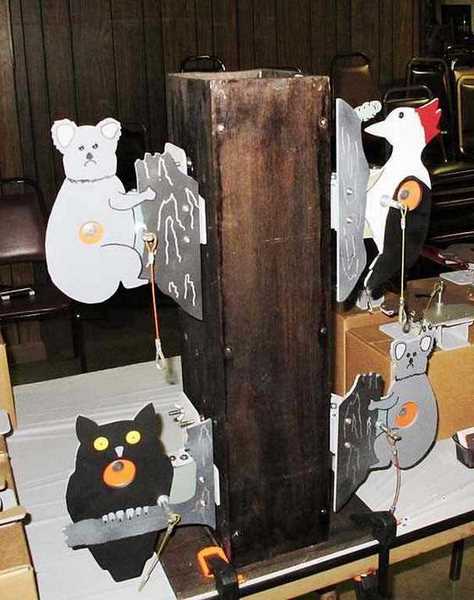 These Rhino Targets are for mounting in trees. They force shooters to shoot up. It's a special challenge.
Otten wasn't at this show last year due to illness. This year, he pulled out all the stops and showed many dozens of different innovative field targets. That crow of mine that you all marveled at a week ago is an Otten creation.
That's all!
No, there's a lot more to report, that's just it for now. The question isn't if there will be a Part 2, but if there will be ONLY 2 parts! This show was that good.