by Tom Gaylord, a.k.a. B.B. Pelletier
Today's blog is going to be fun for me, and I hope for all of you, as well. I'm going to talk about one of my favorite subject — the accurate gun. You have to be a shooter to know what I'm talking about because non-shooters assume that all guns are accurate. They assume that it's the skill of the shooter that makes guns work like they do.
That's like saying all violins are the same, and a master can make a student instrument sound like a Stradivarius. Or a NASCAR driver can make a minivan perform like a Ferarri. But it doesn't work that way. While expert handling can extract all the performance from anything, no matter what it is, there's also no way to get more than it has to offer, regardless of who wields the bow or sits behind the wheel. Or, in today's case, is on the trigger!
Accuracy is something that lives in the gun. And, in my experience, a really accurate gun isn't that common. Though I shot a lot starting in my late youth, it wasn't until I acquired a custom .458 Winchester Magnum in my twenties that I encountered my first really accurate gun. I bought…or more likely, traded…for the rifle at a local gun show when I was living in El Paso, Texas, in the early 1970s. It was a 1903 Springfield that had been rebarrelled to .458 Winchester Mag.; and it came with the reloading dies, a bullet mold, a batch of empty brass and even a recommended load. The seller/trader told me if I loaded it with his load, the rifle would be phenomenally accurate. I'd heard that before, but not as many times back then as I have today. In spite of my doubts, I did the deal.
I cast up some of the 558-grain lead bullets and loaded up the exact formula the seller had recommended, which I recall was 24 grains of 2400 powder and a greased but unsized bullet seated to a certain depth in the case. Then, I went to the range. Since this was a .458 Winchester Magnum, I was prepared to be kicked hard, but that load was so soft that it was very pleasing to shoot from the bench. When I checked the first 5-shot group at 100 yards and saw that it was only an inch across, I was thrilled!
That's when I began shooting 10-shot groups, because, try though I might, I could not get those big lead slugs to go anywhere but through the same hole. In fact, the accuracy of that rifle became downright boring after awhile. I would load up 40 rounds and shoot 4 groups that were all less than 2 inches across at 100 yards. Big whoop! There was no challenge.
I didn't know then that I would never again have a rifle so inherently accurate. I just assumed that was the way of things, so I eventually sold or traded that rifle…and have lamented the decision ever since.
Ballard
This is why I want so much for my Ballard rifle to shoot well — because I believe that it can! If that old put-together Springfield sporter could lob them all through the same little hole, there's no reason a purpose-built target rifle made in 1876, when American gunmaking was at its zenith, shouldn't do the same.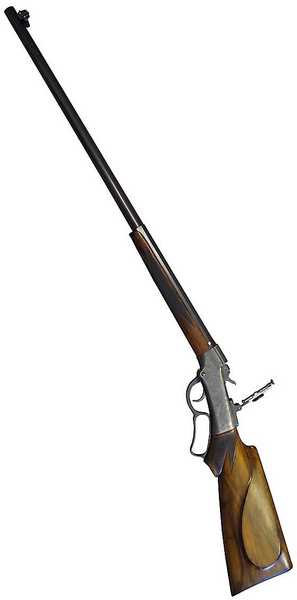 My Ballard rifle is beautiful. If only it shot like it looks!
So far, the Ballard has been a heartbreaker. She taunts and teases me with her looks and then puts 7 out of 10 bullets through the same hole, while scattering the other 3 wherever she pleases! Time after time, I thought I found the secret and was about to turn the Ballard into the thoroughbred she is, and just as many times I've been disappointed. When that happens, I get so discouraged that I have to abandon shooting the rifle altogether and do something else. There have even been times when I've thought of selling the rifle just to get it out of my sight. But, then, I look at her and realize that I have to keep trying.
My latest theory is that the rifle needs a shorter bullet because the twist rate is very slow. It's 1:20, where a normal .38-55 twist is 1:18. That would mean the 255-grain bullets I've been shooting are too long to stabilize. Please understand that I'm using smokeless powder in my reloads, and this rifle was designed for black powder. With black powder, you fill the case as full as it will go so there's no empty space between the powder and bullet. If there were space, the powder would develop a shockwave that would destroy the rifle!
But smokeless powder doesn't fill the case, and the pressure rises faster than black powder, so I have to keep the charges low. As a result, the gun cannot fire the bullet fast enough, even though it was designed to shoot that bullet. Because of that, it can't stabilize it properly. At least, that's my guess.
Another problem is that there's no leade ahead of the chamber. The rifling rises up at the end of the chamber and that's it. A bullet with a fat nose won't chamber properly, as the rifling will prevent the bullet from being seated.
What I need is a custom bullet for this rifle and to own the mold made for it. I'm working on that right now.
Springfield O3A3
I got an O3A3 Springfield from my buddy Mac a couple years ago. Most Springfield rifles are accurate in the general sense, but this one is special. It lays them in there better than it should. I can pull a sub-2-inch group at 100 yards when I do my part, and that's with the battle sights that came standard on the rifle.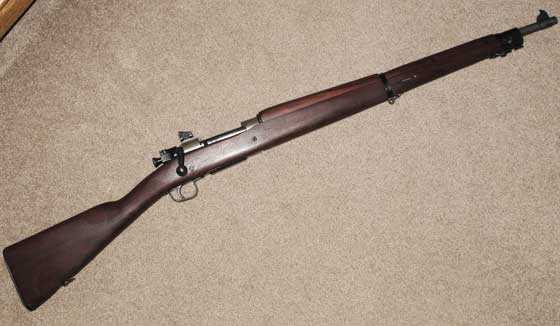 They made millions of them, but this one is special. It's more than accurate — it doesn't like to miss.
The O3A3 was the last incarnation of the famous 1903 Springfield bolt-action battle rifle. It was made during World War II to fill the need for rifles until Springfield could catch up with the Garand production. What made it an O3A3 were several minor design changes that substituted stamped and welded assemblies for machined parts. Oh, the hue and cry about that was great! Even in the 1960s, old soldiers still bemoaned the cheapening of the Springfield rifle!
But there was a funny side to it, as well. The cheaper rifles were also often more accurate! Instead of the antiquated Buffington peep sight that had been around since 1884, the O3A3 has a modern rear peep sight that adjusts for both windage and elevation. And mine has a 4-groove Remington barrel that's renowned for accuracy. Put the package together, and you have an American battle rifle that shoots like a target gun. The one I have does even better than most.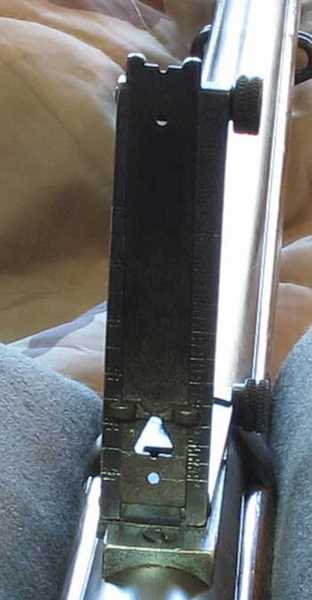 For 1884, the Buffington rear sight that combined a peep with an open notch was high-tech. It was used on all U.S. rifles through the M1903 Springfield, but it's dated today!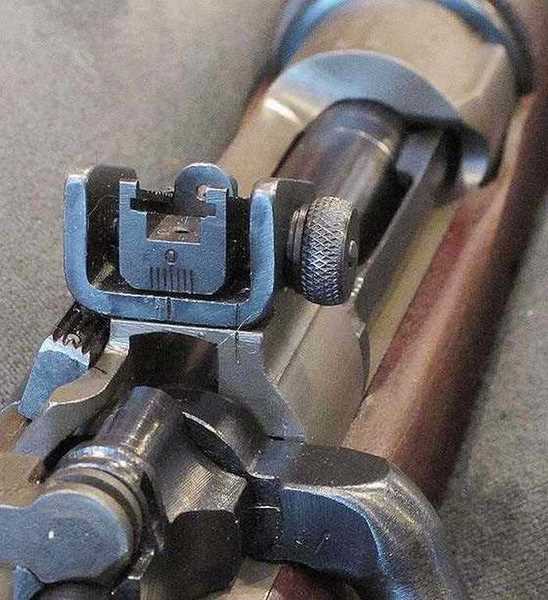 The O3A3 rear peep modernized the Springfield rifle during WWII. It made the rifle easier to shoot accurately.
It's a natural shooter! For some reason unknown to me, my O3A3 puts all its bullets where I want them — with iron sights! When Mac traded it to me, he apologized for the Social Security number that some former owner engraved on the receiver with an electric pen. It's barely visible, but its presence makes this 99-percent rifle a $600 shooter rather than an $1,100 collectible. But there's also an upside to that. I don't have to worry about the wear I'm causing by working the bolt because all the value has already been taken away.
I've owned six 1903-type Springfield rifles in my life. All of them were accurate, but this one is special. It goes beyond being accurate and crosses into a realm that's hard to define. Those readers who own accurate guns will understand what I'm saying.
Handguns, too!
I've owned super-accurate handguns, too. One of them is a revolver I got just recently in a trade. It's a gun I never would have considered before shooting 12 rounds offhand into pretty much one hole at 15 yards a few months ago. And the caliber — .32-20, which is also called .32 WCF — is a caliber I thought I would never own.
The gun is a Smith & Wesson Hand Ejector with target sights. It's from the 1930s and shows it's heritage proudly. It was carried for years in a handmade leather holster until the owner, my pal Otho, finally decided the gun had become too valuable to carry anymore. He no longer shoots handguns for medical reasons, so he was kind enough to let me try his pride and joy earlier this year. When he saw that I shot it well, too, he offered it to me.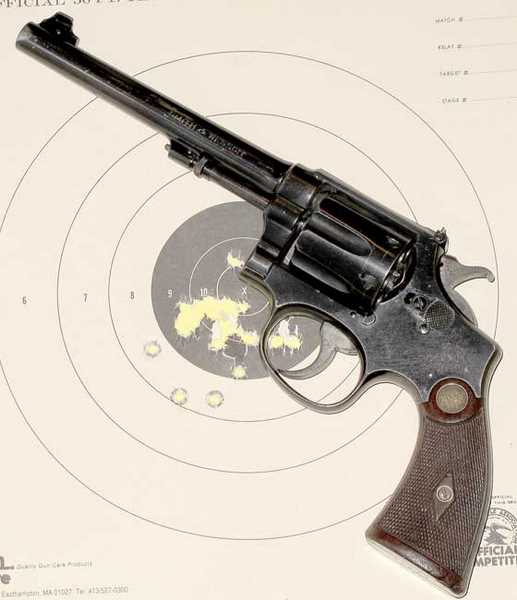 This 32-20 S&W Hand Ejector looks dated, but it shoots like the target pistol that it is.
Most revolvers have one chamber that's just a little out of line with the barrel and shoots just a little off. This one has six good chambers that you can't tell apart downrange. But that's understandable; because when it was made, Smith & Wesson used skilled craftsmen to fine-tune their revolvers — especially those with adjustable sights.
Summary
I own lots of accurate firearms and airguns, but today I've been discussing something more than that. The guns I've mentioned, with the exception of the Ballard, are beyond accurate. They have something that's hard to define and harder to give a name to. When I pick up one of them, I know where my shot will be going — every time! I don't know what to call this thing I'm talking about, but it does warm my heart to shoot one of these special guns.