by Tom Gaylord, a.k.a. B.B. Pelletier
A number of our blog readers suggested this report in various different ways. GunFun1 asked about the darts that might have been used in the old Tyrolean bugelspanner I wrote about. What did they look like, and why were they so accurate? He also talked about making a bugelspanner room in his house, where he could shoot the bugelspanner to his heart's content.
Several others asked about the darts and wondered why I thought darts were more accurate than pellets. Today's report is not about the darts, although I must share some exciting news with you on that front. Larry Hannusch, who is without a doubt the leading writer of vintage and antique airguns, read about my bugelspanner and is sending me some original pre-war darts that I can show you. So, there will be a Part 2 to that report, thanks to Larry, who also helped me remember how to disassemble a bugelspanner. I hope to take it apart for you and show you the insides in the same report.
But let's go back to the notion of a bugelspanner room. That put me in mind of my past experience with guns — indeed, all of it. And that brings me to the story of how I became who I am.
Where it all started
I started out very young, as I'm sure you must have guessed. I was a very curious lad who was also quite naive — more prone to believe legend and myth than facts. I wanted Paladin to be faster on the draw than anyone else. I wanted Superman to be real (I mean the real Superman, George Reeves, who was killed June 16, 1959, by a 9mm bullet in the head under suspicious circumstances). And I sort of liked guns — sort of.
Then, I was given a subscription to Guns & Ammo magazine as a Christmas present. On the cover of the first issue was the picture of a zimmerstutzen rifle. Inside, I read the story of shooting these curious parlor rifles on cold winter evenings high in the alps. I guess that shooting was very similar to the circumstances under which our parents walked to school — uphill both ways for 10 miles and always in the snow! For some reason, when you talk about target shooting in Germany it's always associated with beer and it's perpetually winter.
Whatever the magic was, I was smitten. I wanted a zimmerstutzen in the very worst way! Maybe that's why I considered a career in the Army and embraced my first overseas posting to Erlangen, Germany, a suburb of Nürnberg. I knew I was going to northern Bavaria, so I pictured all the men wearing lederhosen and the women in dirndls. In my mind, Chevy Chase's European Vacation was about right.
Well, culture shock set in when I saw what Germany was really like. I felt like a refugee from Afganistan when walking amongst those upscale, sophisticated Deutchlanders, whose spoken English was better than mine! I spent nearly 4 years there and never saw a vintage zimmerstutzen, though I saw plenty of modern ones made on .22 rimfire bolt-action rifles. I lived in the hometown of the famous BSF airgun factory for 42 months without knowing it; and when I returned home, I was no further along in my quest than before I went.
But once back in California, I did buy a German Aydt falling-block rifle chambered in .22 long rifle. It was a Tyrolean-style rifle. too, just not in the traditional 4mm zimmerstutzen caliber. So, I set up a Sheridan target trap (Sheridan once made a .22 rimfire trap) in a schrank (a freestanding cabinet that serves as a closet in Germany) in the living room of my government quarters at Fort Knox. Then, I stood in my dining room and fired CB caps into the target from about 19 feet away. This was all offhand, of course.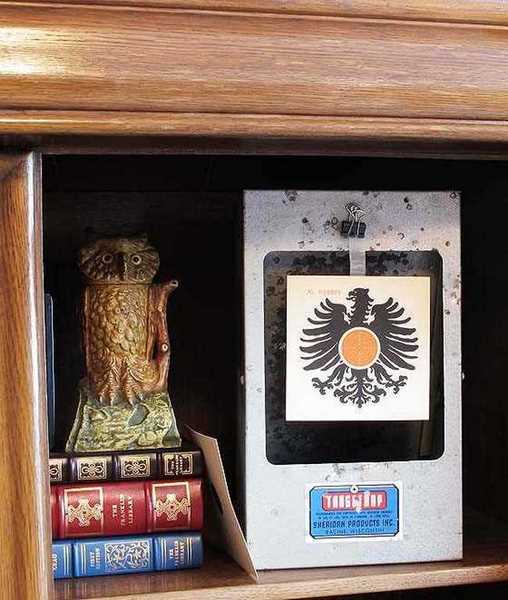 The very target trap and schrank at which I shot back in the 1970s. I kept the schrank and the trap but sold the rifle. Where are my priorities? Zimmerstutzen target came from collector Gary Staup.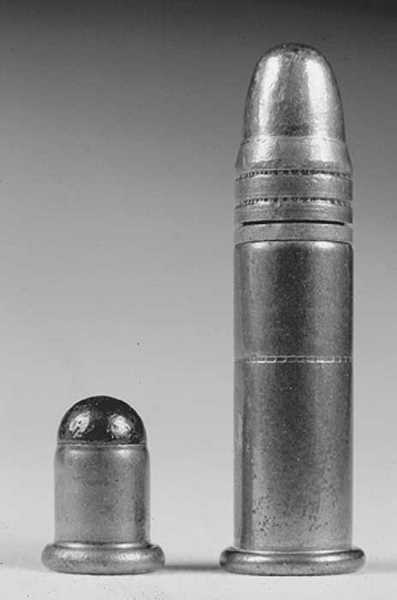 The 4mm zimmerstutzen cartridge (left) is dwarfed by the .22 long rifle cartridge.
The rifle had a 5-lever double-set trigger, which was especially fine. And its 28-inch barrel ate nearly all the discharge sound of the CB cap cartridges I shot, so it was quiet enough for indoors. I'm describing to you my "bugelspanner room." I didn't shoot when the family was home, for safety reasons; and, in truth, I didn't shoot this way very much. But in my mind, I'd finally gotten my zimmerstutzen. All I needed was a keg of beer in the dining room!
In those days, I didn't take very many pictures, so there's no picture of that gun. But it looked very much like my new Bugelspanner, so I'm sure you can fill in the blanks.
Then I got divorced, left the Army and had to sell all my guns to pay bills. Then I met Edith and got married again. Then she suggested I write about airguns and I did. Then I happened to stumble across an airgun owner who was puzzled as to what gun he had. It turned out he had a real zimmerstutzen — which I bought, tested and wrote about. While researching the topic, I met John Gary Staup, America's foremost schuetzen and zimmerstutzen collector, and he helped me research the article that I eventually published in Airgun Revue No. 2. It was the longest article about zimmerstutzen rifles ever printed in the English language, as far as Gary or I were able to determine. And that article is posted for you on this website in its entirety.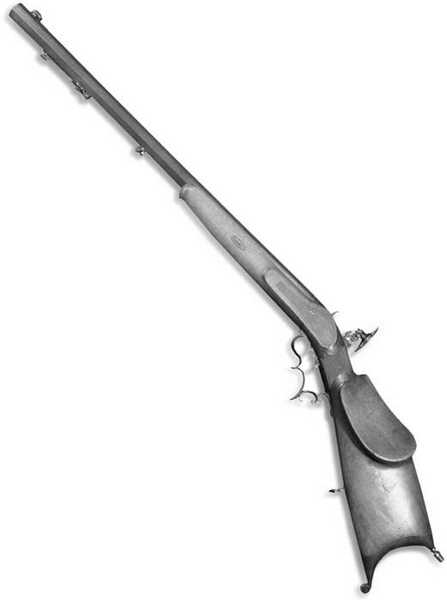 My first zimmerstutzen, and the one that I wrote about the most. It was 4.3mm caliber and used separate ammunition.
How accurate?
Of course I tested the zimmerstutzen for accuracy. After searching for one for so many years, I'd high hopes for stunning accuracy. Zimmerstutzens shoot at 15 meters instead of the 10 meters we're used to; but when I tried mine, it was on my standard 10-meter range. The accuracy wasn't as good as I'd hoped. First, of course, those round lead balls tear ragged holes in the target paper, unlike the wadcutters that target air rifles use. The targets look worse and are much harder to score. Five shots went into about a half-inch or so.
The gun was very loud, and the velocity of the 7-grain lead balls was highly variable — from 800 to over 1,000 f.p.s. It wasn't as pleasant as the myth I'd created in my mind over the years, which was a real let-down. Vintage target air rifles were more accurate than this thing I had been pursuing for over 3 decades. It kind of took the wind out of my sails. I did have a second zimmer for a short while; but I bought it as an investment, only, and I never fired it.
When I saw the Tyrolean bugelspanner  of airgun collector Don Raitzer on display at an airgun show, my interest piqued, again. Bugelspanners are not known for their accuracy, so why was this one outfitted for extreme competition? I also saw Larry Hannusch's Tyrolean bugelspanner at the same show and got to wondering. What were these strange things all about? Who uses a paddleboat to go water-skiing? Photos of both those guns are in the linked zimmerstutzen article, if you're interested.
When I say things like my interest piqued, I don't mean that the subject occupied my every waking moment. More like every couple of months I would give it a casual thought. So, things moved very slowly while these thoughts percolated on the back burner of my mind. A few weeks ago, when the opportunity to own a Tyrolean bugelspanner arose, I was spring-loaded for it.
Which brings us to the present time. I now know that zimmerstutzens were accurate for their time, but they weren't better than the 10-meter target air rifles we have today. They weren't infallible. And it's my guess that the dart guns of the 18th and 19th centuries were also not as accurate as the reports make them out to be.
So, I'm still wondering why anyone would go to the effort and expense of making a dart gun with all the features of a super-accurate offhand competition gun. And I guess that's what keeps this hobby fresh and exciting for me.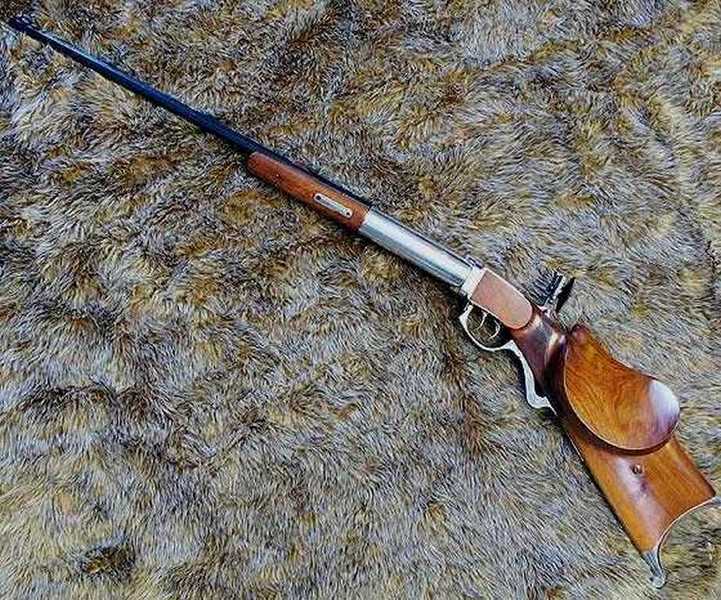 Why did the makers put so much accuracy potential into a smoothbore dart gun?
This is just one of the things that defines me. My time working as a ride operator and deputy marshall at Frontier Village amusement park in San Jose, California, is another part. That was when I read Elmer Keith from cover to cover and shot guns for a living as part of the hourly gunfights in the park. But what made me a lover of quirky single-shot rifles was my 30-year saga in search of the German zimmerstutzen.