by Tom Gaylord, a.k.a. B.B. Pelletier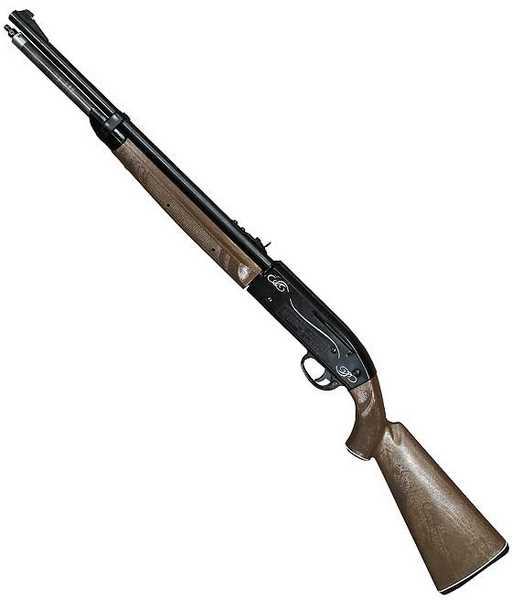 The PCP built on a Crosman 2100B chassis.
Today is Media Day at the range, and I will be shooting many of the new airguns that will be coming out this year, plus a lot of firearms — I hope. Tomorrow the 2014 SHOT Show starts, and there's a special first-day report all set for you.
Let's look at the performance of the $100 PCP that big bore airgun maker Dennis Quackenbush created on a Crosman 2100B chassis. I read some comments about the gun in Part 1. Before we get started, I need to address one of them. Some of you say you want a PCP that operates on 100 psi, so you can run it on your shop compressor. Gentlemen — such an airgun doesn't exist and cannot exist as you envision it. That is simply not enough pressure to push a pellet to the kind of velocities we want. You can shoot t-shirts into the grandstands with that kind of pressure or perhaps run a pneumatic tube delivery system, but not a pellet gun.
I know that the airguns of old used lower pressure than we use today. They got amazing power from 500 to 800 psi. But they weren't shooting smallbore caliber pellets. They were shooting .40 to .70 caliber round lead balls and they got them up to 450-600 f.p.s. They did that because the area of the projectile is much larger than a .177 pellet, and also because they used very long barrels (30-36 inches).
You can shoot tennis balls with shop air, but not pellets. I did report on a .25-caliber pellet rifle that worked with 800 psi air, but that's a lot different than 125 psi air. You can't pressurize air to 800 psi with a shop compressor. So, we're going to have to confine our research to what is physically possible. I'm not trying to shut you down for thinking outside the box, but this is a very real physical constraint.
On with the test
Today, we're looking at the velocity of this rifle with air for both pellets and BBs. Pellets are our principal concern, but I'll test BBs, as well, since they can be used in this airgun.
Dennis told me what the performance curve looked like, but I'm going to approach this as if I know nothing about this gun. Where do I begin? Well, I may not know much about this particular PCP, but I've used enough other PCPs that I'm not completely in the dark. I filled the reservoir to 800 psi, as indicated on the gauge of my carbon fiber tank and then started loading Crosman Premier lite pellets and firing through the chronograph.
800 psi
1…..539
2…..509
3…..474
4…..441
5…..409
5…..361
Stop
Okay, the velocity dropped with every shot, so the valve is not on the power curve, yet. It wants to see more air pressure.
1,000 psi
1…..654
2…..634
3…..582
4…..556
5…..525
7…..483
8…..453
9…..417
10…384
11…345
Stop
Look at the velocity increase from just an additional 200 psi of pressure! That's an indication that we're quite far from the power curve. It took 5 shots before the rifle was shooting as slow as in the first string, so that extra 200 psi really added shots.
A word about the next part of the test is appropriate. The gauge on my tank doesn't show even divisions of pressure as closely as I would like. Instead of adding another 200 psi, I found myself guessing that I added another 300 psi. If I had a more accurate gauge, I could do this with greater control; but it's all going to turn out in the end. You'll see.
1,300 psi
1…..722
2…..695
3…..659
4…..did not record (DNR)
5…..593
6…..550
7…..516
8…..488
9…..DNR
10…423
11…DNR
12…DNR
13…309
Stop
This was interesting because there wasn't such a big increase over 1,000 psi as there had been when going from 800 to 1000, despite adding 300 psi rather than 200 psi. It took just 3 shots for the velocity to become equal to the 1,000 psi string (compare shot 3 from this string to the first shot of the previous string). The extra air pressure isn't doing as much as it did before.
1,500 psi
1…..791
2…..765
3…..751
4…..DNR
5…..706
6…..677
7…..645
8…..605
9…..570
10…542
11…500
12…466
13…428
14…DNR
15…357
Stop
1,800 psi
1…..808
2…..796
3…..786
4…..763
5…..753
6…..721
7…..699
8…..661
9…..625
10…600
11…566
12…524
13…DNR
14…442
15…405
16…366
Stop
Okay, look at the first 5 shots in this string. See how little velocity they lose compared to the first shots in previous strings? That's significant. It means the valve is beginning to operate more efficiently at this pressure level. Dennis told me that when he reached 1,800 psi, the rifle stabilized for him, as well. What we don't know and cannot know for sure is what pressure either Dennis or I actually used because neither of us has a calibrated pressure gauge. We're just guessing based on the inexpensive small gauges that come with all pressure tanks. But, whatever the exact numbers are, they're pretty much in the same ballpark.
We have a PCP that operates at 1,800 psi — or so. But when I say "operate," it isn't really operating the way we want a PCP to operate. We want to see a nice string of shots that are fairly consistent — some a little higher and some a little lower, but a nice string where the velocity is stable. We don't have that yet. What we have is a rifle that wants to operate at this fill pressure but probably needs a number of tweaks to get where we want it to be.
There's one more thing to do. Dennis and I talked about this, and he said if there's a weakness in this rifle, it's at the threads where the air reservoir is threaded to the brass valve. While the reservoir is way overbuilt, those threads are a place where not too much more strain can be applied. Dennis feels that it will be safe to 2,000 psi but not much higher. I agreed with him on that, so I did one last test at 2,000 psi.
2,000 psi
1…..853
2…..833
3…..823
4…..825
5…..820
6…..809
7…..799
8…..780
9…..762
10…746
11…717
12…687
13…654
14…624
15…588
16…550
17…513
18…472
19…434
20…397
21…DNR
22…298
Stop
Okay, adding 200 extra psi increased velocity significantly, plus it also gave us a greater number of consistent shots. I would call the first 7 shots fairly consistent, and the velocity doesn't really start to plummet until after shot 9. What this tells me is that the valve return spring is way off. It's probably too heavy. And Dennis has already criticized the valve itself. It's a poppet shape (looks like a top hat) instead of a valve with angled sides that mate with an angled valve seat.
Add to that an enlargement of the valve port (through which the air flows) that might help lower the operating pressure, and the new valve would handle the pressure better than this stock one that got pressed into service for which it wasn't designed.
What about BBs?
Okay, I can't end without giving you some BB velocities. Since the rifle works so well at an indicated 2,000 psi, I decided to skip all the early stuff and go straight to the string we're all interested in.
For this test, I used Daisy Premium Grade BBs that I know from measurement are both the largest and also the most consistent steel BBs on the American market. Since steel BBs run 0.171 to 0.173 inches in diameter, they're considerably smaller than .177-caliber lead pellets, no matter what their packages say. BBs are NOT 4.5mm!
2000 psi
1…..910
2…..900
3…..891
4…..871
5…..DNR
6…..856
7…..DNR
8…..DNR
9…..809
10….786
11….763
12….DNR
13….698
14….DNR
15….DNR
16….599
17….577
18….533
19….484
20….441
21….408
22….340
Stop
Like the pellets with a 2,000 psi fill, the first several shots with BBs are close to each other and after, perhaps, shot 6 or 7, the spread opens up. Of course, you have to realize that steel BBs going over 800 f.p.s. are extremely dangerous. Lead pellets start to disintegrate at velocities above 600 f.p.s.; and at 800 f.p.s., they almost vaporize when they hit a hard target such as metal. But BBs not only hold together, they absorb the energy of the impact and bounce back at nearly the same velocity. Believe me — you don't want to be hit by one!
What have we learned?
So far, we know this rifle works but is not a fully functional precharged pneumatic because it does not shoot a string of shots at a steady velocity. However, that doesn't stop us from proceeding with accuracy testing.
What's been proven by this test is that the idea of a $100 precharged pneumatic rifle is completely plausible. The needed changes have been pointed out; but as we proceed further, no doubt, other things will be revealed. That's the way of product development.
Remember this is a testbed — not a production rifle. Also remember the rifle that it was built from. We should expect accuracy to be similar to the Crosman 2100B, which is fully acceptable at this price point. And I'm going to select a string of shots whose velocities are relatively close to each other, so I probably won't be shooting 10-shot groups.
I'll need to do some things to the gun before starting the accuracy test, but I'll tell you about those things in the next report.