by Tom Gaylord
Writing as B.B. Pelletier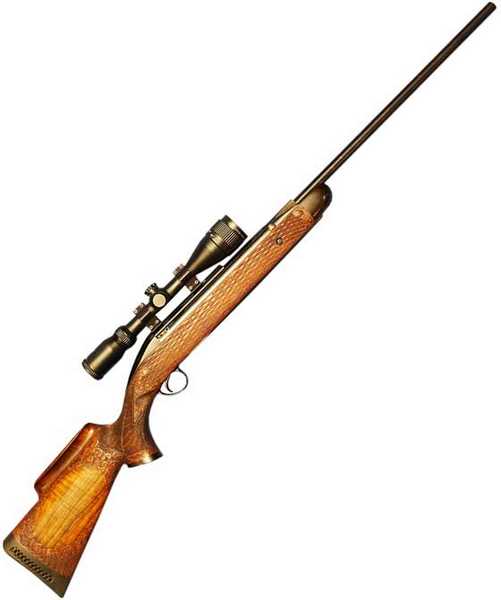 UK maker Don Robinson made this beautiful BSA Airsporter — a trademark of his work on airguns!
This report covers:
• It caught my eye!
• The rifle
• Prolific maker
• The tune
• Not a tackdriver?
If you've been a reader of this blog for several months, you've probably read about the 2014 Ft. Worth airgun show that was held back in September. It was a wonderful event for a number of different reasons, one of which was the large number of exotic, collectible airguns that showed up. I told you about that show in a 2-part report, and I tried to cover as much as I could; but there was a lot that didn't get reported because of a lack of space. I did not mention today's airgun in those reports, but I did include it in my feature article for the November color issue of Shotgun News. But if you don't read that magazine, what you're about to see today will be brand new.
It caught my eye!
As I was walking the aisles of the show, I glanced down and saw a stunning rifle on Ron Robinson's table. At first I didn't know what it was, but several visual cues soon informed me this was a custom air rifle made by UK maker Don Robinson. I know — Ron Robinson was selling a Don Robinson airgun! What are the odds?
I'd only seen one other Don Robinson airgun before. That one is in the NRA's National Firearms Museum in Fairfax, Virginia. That rifle is a Feinwerkbau 124 that was made in 1989 for the Prince of Wales, who donated it to the National Firearms Museum in appreciation for the U.S. assistance with private firearms donations for the defense of the British Isles in the early years of World War II. I remember looking at that air rifle in awe about 15 years ago, thinking, "So that's what an air rifle built for a prince looks like!" I never suspected I would ever have the opportunity to own anything like it for myself.
And, yet, here it was on a table at an airgun show! While this rifle isn't quite as over-the-top as Prince Charles' 124, which can be seen here, it's still gorgeous; and something about the style of carving on the presentation-grade walnut stock told me it came from the same hand.
Most amazing of all was the fact that this rifle had a price tag! It was in-play! So, I did what all of us do. I picked up the tag and glanced at the number. If it was more than what remained on my mortgage, I would at least have a good story to tell — but it wasn't. In fact, it was a very reasonable number, and the tag said the price had just been reduced. Glory be! All I had to do was sell several airguns, and I could own this treasure.
Alas — that never happened at the show. While this was a great day for buying, the selling side came a bit short for me. I bet that's happened to some of you, as well?
At any rate, the show closed and Ron went home with his rifle. But I didn't let it slide. I started a dialogue with him that ultimately resulted in my obtaining the airgun many weeks later. Now I have it and, of course, I want to share it with you.
The rifle
The base rifle is a BSA Airsporter that's similar to the Airsporter Stutzen I reviewed for you back in July and August. Only this one is just an Airsporter — not the stutzen model that has wood running out to the muzzle. In fact, this rifle resembles the Air Arms Pro-Sport, though the BSA Airsporter was the original rifle that Air Arms, Falke and Anschütz copied.
The rifle is an Airsporter 5 Mark III produced in 1985-86 according to the date code in the serial number. The serial number is low, so I think it was made in 1985. The BSA numbering system is somewhat confusing because they use marks and plain numbers for some guns and just marks for other guns. I found that out when I looked at the BSA Meteor. You need a table to sort things out, and I was fortunate to find one online.
In all other ways, this rifle started life as a conventional Airsporter, whose lineage dates back to the late 1940s. That was the clay that maker Don Robinson used to create the rifle you now see. It weighs 8 lbs., 7 oz. with a Hawke EV Airmax 3-9X40 scope mounted. The pistol grip and forearm are both slender, allowing the rifle to sink into my hands. It's a feeling I like very much and is the antithesis of the blocky 2×4 profiles of some guns made today.
The barrel is approximately 17.5 inches from the loading tap to the muzzle, but you have to subtract a 1.16-inch backbore that BSA put at the muzzle so they could drill the front sight screw and not contact the rifling. Speaking of the sights, they're missing from the rifle, which is fine, because it was made to be scoped. But there are open holes in the barrel where the screws went. There should be blind screws in these holes to finish the job. I don't know if the rifle left Robinson's shop without them or if an owner removed them for some reason and they were separated from the gun.
The pull is 13-5/8 inches from the trigger to the back of the thick black recoil pad on the butt. That's normally too short for me, but I find that the ultra-high cheekpiece compensates nicely. My eye comes up to the scope quite naturally, and the rifle feels very correct just as it is.
The trigger is 2-stage and is adjusted so light and crisp that I fired the rifle just to experience it. I plan to leave it right where it is. And there's no pesky safety — manual or automatic — anywhere on the rifle. The presence of a loading tap that can be turned 90 degrees to the transfer port any time you want the rifle to be safe precludes any need for this additional function.
This Airsporter has a new stock made of presentation-grade walnut with an ebony forearm tip. The wood is extensively carved and checkered, which those who are woodworkers will know is no small task because of the high figure and tight grain of the wood. Even the ebony forearm tip has been checkered and lightly carved!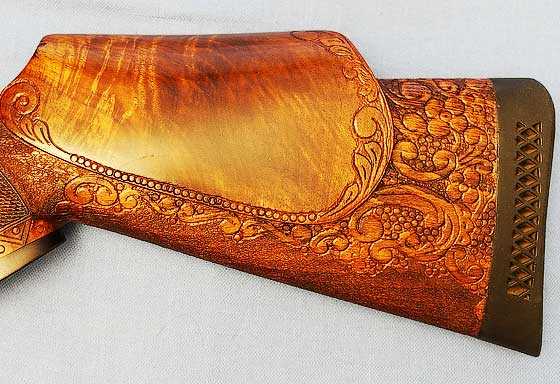 I call it "eye chocolate." To me, this looks good enough to eat!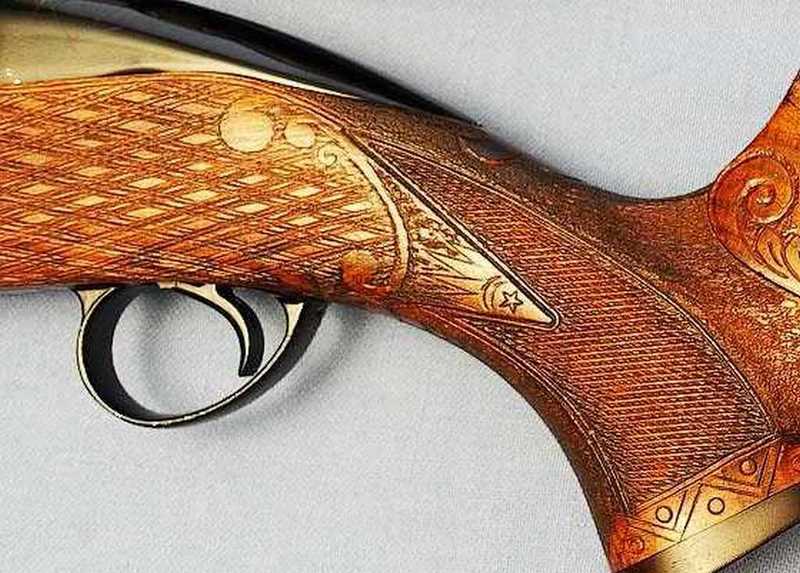 Robinson checkers with both conventional bordered patterns and skip-line patterns.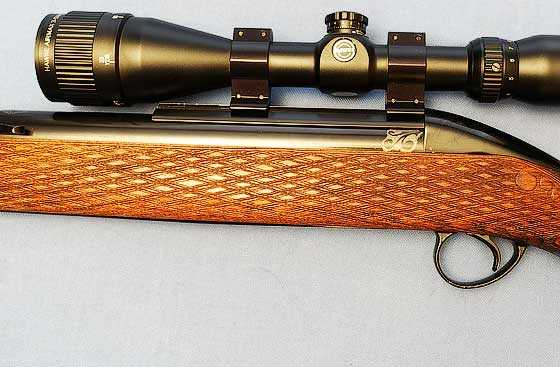 Checkering continues up the forearm. And, yes, the metal is engraved!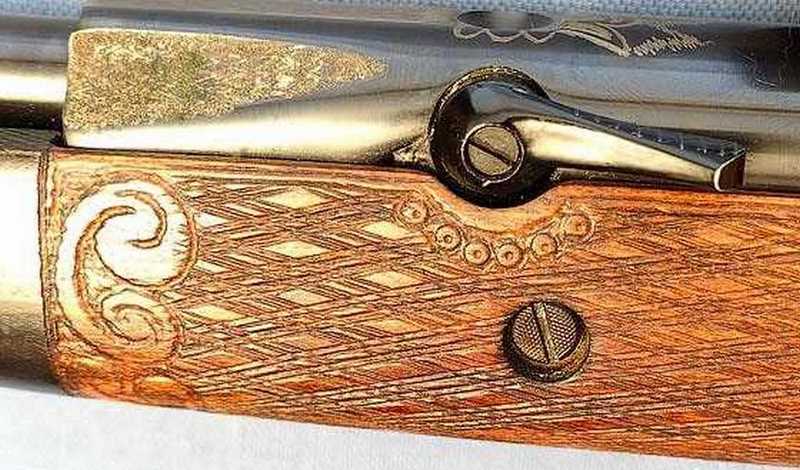 Even the screw heads are checkered!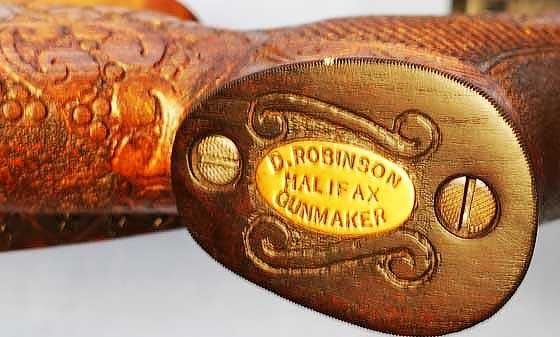 The nameplate leaves no doubt as to the maker. Oddly, the screw slots are not clocked. Classic British gunmaking convention dictates they should all align with the bore.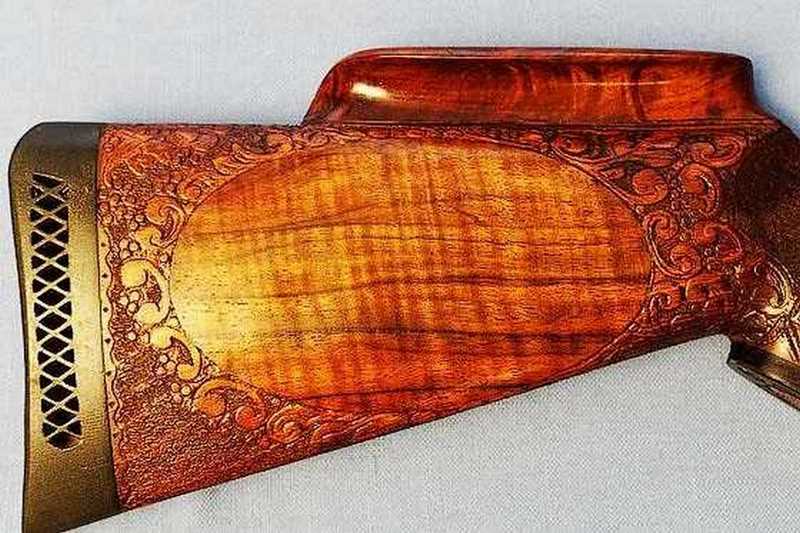 The sharp undercut high-rollover cheekpiece can be seen here. From any angle, this rifle is a masterpiece!
Prolific maker
Don Robinson is a prolific maker who has made airguns for royalty, U.S. presidents and other notables. He also makes high-end rifles and shotguns for sporting use. Airguns are just one of the many areas he works in. Visit his website to see more.
He calls himself a master stockmaker, and a tour of his website will reveal that is no exaggeration. I don't know where the metalwork is done, but it is not uncommon for different jobs like this to be given to others who each specialize in their own skill areas. Which brings us to the rifle's tune.
The tune
When I picked up the rifle from Ron, he told me that it originally was not shooting as smooth as he liked. He said it wasn't really bad, but it just didn't appeal to his tastes. He said it felt like it was shooting dry. So he gave the rifle to airgunsmith Dave Slade and asked for his Master Tune. When he got the rifle back, he was very pleased with the way it shot.
I've only experienced the rifle with Slade's tune, which I can tell you is spot-on. It shoots as good as it looks! I'm especially fond of the 2-stage trigger. It's adjusted to break light and crisp. I'll report the details in Parts 2 and 3.
Not a tackdriver?
Before we closed the deal, Ron wanted me to understand this rifle is not really a tackdriver. He said it shoots okay, but I guess he knew the scrutiny I put most airguns under, trying to get them to put five shots through a wedding ring at 40 yards. That's true with most rifles, but not with this one. This one is like bringing a supermodel home and having your mother ask you whether or not she can cook. Heck, mom, I don't even know if she eats!
But that won't stop me from trying to get the very best accuracy in Part 3. Maybe I'll find that one pellet that turns everything around! For watchers of the TV sitcom, Everybody Love Raymond, even Ray's wife, Deborah, could make lemon chicken!
In this instance, it isn't about the accuracy. I already have air rifles that are accurate. I wanted this one just to admire the artistry of the work in close proximity — that supermodel thing. I may get my fill of this beautiful rifle after awhile and let her go live somewhere else. But for a time, she's mine to admire. I hope you'll join me.