by Tom Gaylord
Writing as B.B. Pelletier
This report covers:
• Accuracy test design
• Let's begin
• What's the verdict?
Let's look at the accuracy of the new Webley Mark VI BB revolver. I tested it for velocity with 5 premium BBs. Now that I've seen how much interest there is in this revolver, I'm going to test it with all 5 of those BBs. Since the cylinder holds 6 shots, I'm shooting 6-shot groups in this test.
Accuracy test design
I will be shooting from a rested 5-meter position. For the rest, I'll use the new UTG Monopod that I've been testing since October. Tomorrow, I will begin the review of that piece of equipment that I believe is as good as the best bipods.
I'll shoot single-action only for this test. The Mark VI has a light double-action pull; but, as it almost always is, the single-action pull is even better. So, this is a test of the best this BB revolver can do in my hands.
Let's begin
I loaded a fresh CO2 cartridge because the 30 shots I would fire are well within the 42 good shots we know are available from a single cartridge. Daisy Premium Grade BBs were up first. Six of them went into a group that measures 1.036 inches between centers. They struck the target below the aim point and slightly to the left.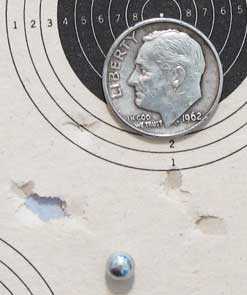 Six Daisy Premium Grade BBs went into this 1.036-inch group at 5 meters.
Next up were Crosman Copperhead BBs. Six of them made a 1.538-inch group. They were also low and to the left of the aim point.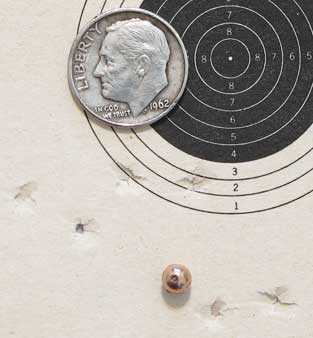 Six Crosman Copperhead BBs made a 1.538-inch group at 5 meters.
The next BB was the Avanti Precision Ground Shot. These are larger than the others and so could either be better or much worse. Unlike the Avanti Champion 499 BB gun that we know has a uniform barrel sized to this BB, the Webley Mark VI is a repeater and has to have greater tolerances to keep from jamming. Six Avanti shots went into 0.862 inches and were centered on the bull, though still a little low. This was the best group of the session.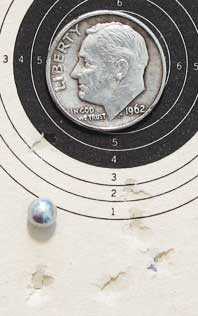 Six Avanti Precision Ground Shot made a 0.862-inch group at 5 meters. This is the best group, plus it's also centered.
Then, I loaded 6 Umarex Precision Steel BBs. Six went into 1.228 inches, but 5 of them are in just 0.606 inches. This might be a BB to consider for the Mark VI.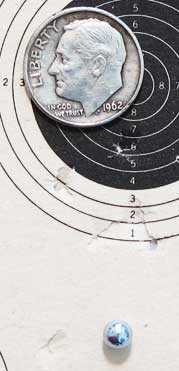 Six Umarex BBs made a 1.228-inch group at 5 meters. They hit low but well-centered. Don't overlook that one in the black that's below and to the right of the dime.
And the final BB I shot was the Hornady Black Diamond that we've just started examining. Six of them made a 1.141-inch group that's low and left of center.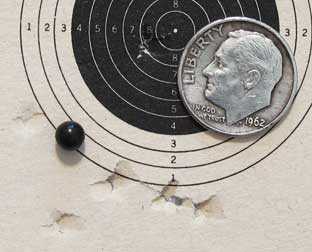 Six Black Diamond BBs made a 1.141-inch group at 5 meters. They hit low and left, except for the one that's just left of the dime.
When you see groups like these that have stray holes, they look like fliers. I assure you, though, there were no shots that were pulled in this test. I may not be the world's best shot with a rifle, but I'm still pretty good with a handgun, plus I was shooting from a rest. It's hard not to shoot well when you do that.
What's the verdict?
This is an average BB pistol, as far as accuracy goes. I have shot many others that can beat it. However, the accuracy is good enough to roll a pop can around the yard, which is all you probably need.
On the other hand, this new Webley Mark VI is one of the most exciting new BB pistols to come along in a long time. That's because of the extreme realism. I rank it alongside the P08 with blowback and the full-auto M712 Mauser. It's more expensive; but, in this case, you do get what you pay for — which is incredible realism.
Only you can decide if this BB gun is something you want. I've done my part in examining it for you. If you're a history buff, I think this one will please you.