by Tom Gaylord
Writing as B.B. Pelletier
Part 1
Part 2
Part 3
Part 4
Part 5
Part 6
Part 7
Part 8


Diana 45 is a large breakbarrel spring rifle.
This report covers:
First shot at 12 feet
Firing behavior
At 25 yards
First group
Second group
Velocity retest
Overall evaluation
Today, I'm testing the tuned Diana 45 at 25 yards. This time, I'll use a scope. I mounted an obsolete CenterPoint 3-9X40AO scope on the rifle. Because this is a vintage Diana rifle, which is always a drooper, I used a UTG drooper scope base. The one I used was a prototype that was left from when I was testing different base angles for Leapers. I selected one with a very slight droop of a couple degrees — less than what you can buy from Pyramyd AIR.
First shot at 12 feet
I always sight in close to the target, so I know that I'm on when I move back to 25 yards. I was so close that the target was blurry in the scope with the parallax set as close as it would go.
I sighted-in with RWS Superdomes.The first pellet landed 3-1/2 inches below the aim point. Now, if the gun was on at 25 yards, it would be about 2.50 inches low at 12 feet (the 2.50 inches is roughly the height of the scope over the center of the barrel), but this was one inch lower than that. And, I was using a drooper base! What that means is that this 45 is a heck of a drooper! It's in the same severe class of droopers as the Diana 34 I used when testing these bases for Leapers.
Fortunately, I have several other prototype bases to choose from. I selected one with a real steep angle. The scope and base came off the rifle and were replaced in 5 minutes. These UTG drooper bases are nice that way.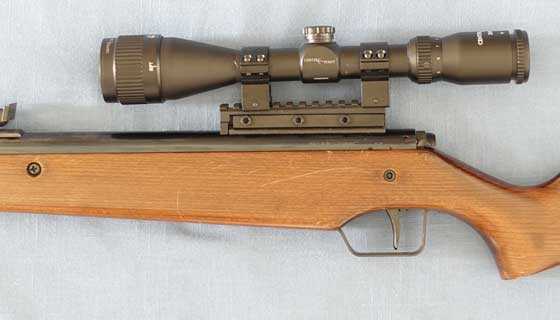 The second UTG scope base I used has a steep slope — more than needed, but not too much.
Shot 2 was level with the center of the bull I had aimed at. So, the gun was now shooting high at 25 yards; but like I said in the last Back to the basics — scope tips report, I can always adjust the scope down — it's up that I don't want to deal with!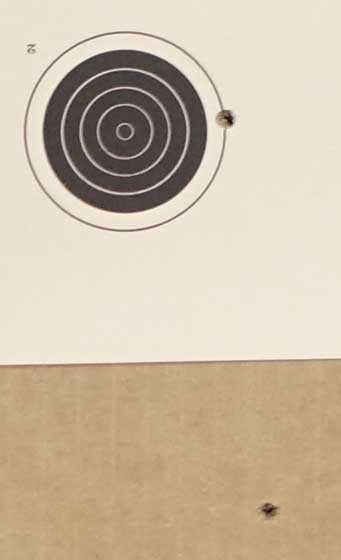 The first shot landed 3-1/2 inches below the aim point and to the right. When I installed the second drooper base, it brought the shot up and level with the center of the bull without adjusting the scope.
Firing behavior
I also noticed for the first time how the 45 really feels when shot. Up to now, I'd just been holding it and pointing it into a pellet trap, but this time I was actually concentrating and shooting at a target! The rifle is MUCH smoother than it was before! The tuneup has removed 90 percent of the vibration the rifle had. I didn't expect to be able to say that, but I'm glad I can. The tuneup was nearly a complete success — much better than I originally thought.
At 25 yards
The rifle shot high and right at 25 yards. The second drooper base slopes too much, but it's not impossible to work with. I adjusted the scope down and to the left. Then I spent several shots getting the group where I thought I wanted it. Now, it was time to shoot a group.
First group
The first group started with the conventional artillery hold. My off hand touched the front of the triggerguard. The shots were together, but not tight. Then, I slid my off hand out to the start of the cocking slot and fired 2 more shots that almost touched. They went higher but were so close together that I thought I'd found the hold. I then adjusted the scope down several clicks and several clicks to the right and proceeded to shoot a group.
First group
I couldn't believe how close the pellets were hitting! I kept waiting for that stray shot that ruins the group, but it never came. Ten RWS Superdomes went into 0.392 inches at 25 yards. If you remember, a couple days ago I shot my Beeman R8 and was pleased with a 0.403-inch ten-shot group, so this group pleases me as well. And, once you know the right hold, this gun is very consistent.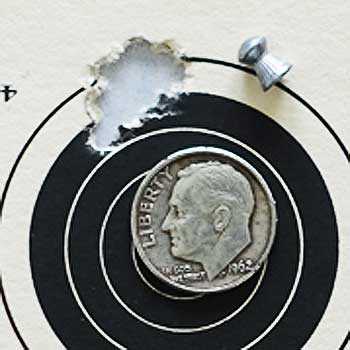 Are you kidding? Ten RWS Superdomes in 0.392 inches at 25 yards. Yes, I'd say this 45 can shoot.
After this group, I adjusted the scope down and to the right and fired 2 shots at a different target to correct for any scope stiction (the scope's tendency to remain in the old place until jarred loose by several shots). Then, I was ready to shoot another group.
Second group
By this time, I'd already fired about 30 shots — and was getting tired. On the next group, I lost my concentration and allowed my off hand to slide further forward on the cocking slot for a couple shots that landed higher on the target. This group measures 0.779 inches between centers, which is still good for 10 shots at 25 yards. But I now know the exact hold this rifle prefers.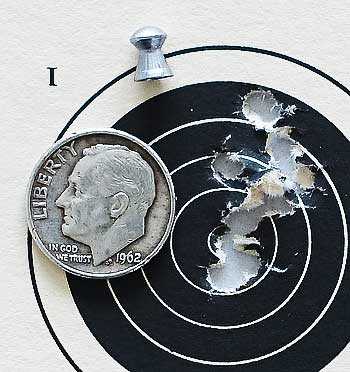 The second group is larger because I used 2 different hand placements. I was tired and lost my concentration for a couple shots.
Velocity retest
Besides accuracy, I said I would retest the velocity if I found one or more pellets that shot well in this rifle. Before this test, RWS Superdomes were averaging 800 f.p.s. with a spread of 24 f.p.s. I thought the rifle would slow down a bit as it broke in. Let's see how it shoots the Superdomes today.
The average for 10 shots is now 799 f.p.s. with a spread from 791 to 814. That's a spread of 23 f.p.s. So, the gun is still shooting about where it was before. I did get a couple spurious shots in the 400+ f.p.s. range; but looking at those small 25-yard groups, I know the gun is shooting fine. I now know what's happening, but I'm saving it for a blog of its own.
Why didn't I shoot several other pellets? I had them ready to go, but it seemed after these 2 groups that I'd done what I set out to do. I proved that the Diana 45 is an accurate air rifle after the tune — as it was before.
Overall evaluation
This report has certainly been an education for me. I learned all about the insides of the Diana 45, plus I applied several tuning techniques that seem to have worked pretty well.
The Diana 45 is a classic air rifle that I never really appreciated until now. Others have rold me how much they like their rifles; but until I tested this one both before and after a light tuneup, I didn't really appreciate it. I hope this series has been as interesting to you as it was to me!