by Tom Gaylord
Writing as B.B. Pelletier
This report covers:
My HW35
Hannusch display
Early BSA Airsporter
A missed deal
HW85
USFT
Vulcan
Other guns
Summary
I made part 1 of the report on the Malvern airgun show about the 3 new products I saw. I did that because I've never seen 3 entirely new products at an airgun show before. I have plans to test each of these for you, because I think they're all very important to the future of airguns.
Today, I want to tell you about the regular things that went on at this show. I will talk about the guns I saw and shot and some of the people I got to meet and know. Because Malvern is a small show, it does give you a chance to meet and talk to people. I had more people introduce themselves and tell me they read this blog or watched American Airgunner than at any other show I've attended. That's nice, and I think it indicates that the airgun community here in the United States is beginning to open up. People are no longer surprised by what modern airguns can do.
My HW35
But Malvern had lots of vintage airguns, too, and today I want to talk about them. The first one was the HW35 that I bought at the Findlay show a couple weeks before, and Dennis Quackenbush was kind enough to bring it to Malvern. It had been some time since I'd seen this rifle, but it still looked as good as I remembered.
Ironically, there were 3 other HW35 Luxus rifles for sale at Malvern! I've gone several years without seeing a single one (the 35 Luxus, I mean), and now there were 4 at the same show. I'm not showing a picture of it today because I plan to start reporting on it Monday. There will be plenty of pictures then.
Another vintage rifle I've been watching for about 2 years is a very clean BSF S54 Bayern Deluxe that Larry Hannusch has been showing. I started trying to negotiate with him at last year's Texas Airgun show and we finally reached an agreement at Malvern. I'm glad, too, because neither of us wanted this beautiful example of a vintage target rifle to endure the dangers of commercial shipping from his house to mine.


I bought this beautiful BSF S54 Deluxe at Malvern and will test it for you in the future.
Of course, I'll review this rifle for you in detail. But we still have a lot of other reports to cover first.
Hannusch display
Speaking of Larry, he usually brings something nice and old to these shows. This year it was a case of pneumatic air pistols from the early 1800s. Rather than just tell you about them, I shot a short video.
Early BSA Airsporter
After my report on the Don Robinson BSA Airsporter, one of our blog readers was kind enough to bring his early Airsporter rifle to Malvern to show me. His rifle is so early that the loading tap opens automatically when the cocking lever is pulled down. BSA did that on the very early guns, but stopped after a short time. So, any gun you see that does it that way has to be an early one.


A nice, early BSA Airsporter showed up at my table.
A missed deal
While I was sitting at my table on Friday, a man came by carrying a scoped breakbarrel. When I learned it was an HW 50S I became interested. The man was asking a reasonable price, I thought. If I had the money, I would have tried to buy it, but I was in negotiations on the BSF at the time, so I had to let it walk. As luck would have it, the man at the table behind me bought the rifle for less than the asking price.
This is how all airgun shows work. People walk around with guns for sale and deals are made in both directions over the tables. Often the people walking around are trying to raise the cash to buy something else at the show, so there are bargains to be had.
HW85
The missed deal started another deal of which I would become an integral part. On the table of the guy who bought the 50S lay an HW85 — a breakbarrel spring rifle that was also called the Beeman R10. It was the first rifle Weihrauch made after they purchased the BSF company and combined the parts for their guns into the Weihrauch lineup.
The HW85 is an upgraded BSF S70 fitted with a Rekord trigger. There's a lot more to it than just that, but that's the essence of the gun. Beeman called the R10 the "son of the R1" because it produced R1 velocities in a much slimmer, lighter spring gun. There was just one problem. The R10/HW85 buzzed like a jar of angry hornets! And, while the R1 could be tuned to deliver even higher velocities, the R10 came out of the box maxed out.
I overhead the owner telling someone that this was the smoothest spring rifle he'd ever shot — he just wasn't shooting it very much. I've heard things like that so many times that I give them no credit. When David Enoch purchased the rifle (David's table was next to the table of guy who owned the HW85 and also behind mine) and David said something similar, I listened. David knows airguns; and if he thinks something is smooth, then it is.
I asked David if I could take it out back to the range and he agreed. That's when I shot the one of smoothest spring rifles I have ever experienced.
David's brother, Bryan, did the tune. Come to find out Bryan has tuned a number of spring guns and is known for how smooth he makes them. He buttons the piston front and rear, he makes new spring guides front and rear — he even buttons the cocking linkage so you cannot feel the movement as the barrel is broken!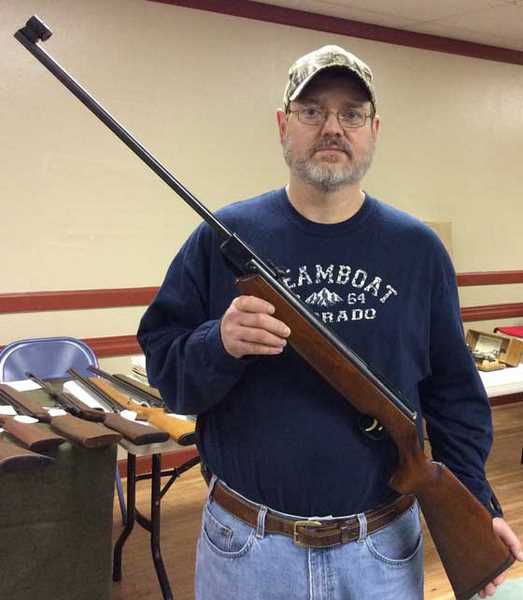 Bryan Enoch holds the HW85 he tuned. It's so smooth that it shoots like an R7.
Bryan tuned the rifle years ago and sold it to someone in the southeast. The guy his brother bought it from got it from the original owner, although why anyone would let go of a gun like that is beyond me. Maybe it came from an estate?
When I returned to my table, it took only a brief time to make up my mind. I made a deal to have Bryan tune a rifle for me. Nobody builds their own hot rod when Carrol Shelby is in town! I've shot spring rifles tuned by Paul Watts and Ivan Hancock and this one is fully their equal.
We initially decided Bryan would tune my new HW35, which is why I was so surprised to find that it was already shooting very smooth. It's so smooth that it would be a shame to do anything to it. Whether it's been tuned or is just a very smooth airgun from the factory remains to be seen, but I now have Bryan scheduled to tune my Beeman R1. That's right — THE R1. The one I wrote the book about. The one I said at the end of the book would someday get the ideal tune. Well, I've found that tune!
What's in it for you is that Bryan will take pictures as he goes, and I'll blog the tune. And if you attend the Texas Airgun Show on Saturday, August 29, I'll let you shoot the rifle — assuming it's finished by then.
USFT
I mentioned in part 1 that Malvern was a small show. Yet there were things here that you seldom see at big shows. On one table sat a scoped USFT rifle that was offered for the very reasonable price of $2,200.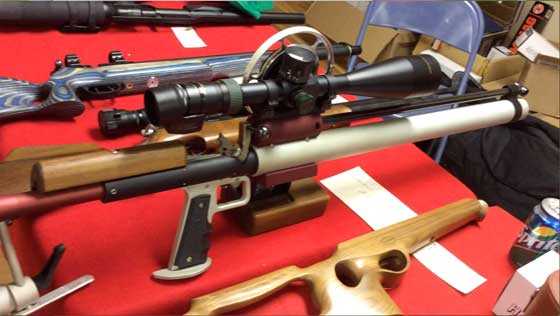 The USFT field target rifle from Mac-1 Airguns is a purpose-built competition air rifle. You don't see them for sale at shows that often.
I've seen USFT rifles for sale at airgun shows in the past, but not often. This one was set up and ready to go for any aspiring field target shooter.
Vulcan
On the same table as the USFT sat a strange-looking bullpup rifle called a Vulcan. It's made in the Czech Republic, and the .22-caliber version I saw was producing 30 foot-pounds. The owner said anyone could shoot it, so I availed myself of the opportunity and took it out back to the range.
I have several things to say about shooting the Vulcan. First, it's very powerful. The small gun actually recoiled when it was fired. Second, it wasn't difficult to hold. Third, the gun is silenced very well. It did make some noise, but nothing like 30 foot-pounds would suggest.
And, finally, I was warned that the trigger was very light. It was! Light and crisp. How they do that in a bullpup is beyond me, but this trigger is as nice as any PCP trigger I've tested. All in all, the Vulcan is a sweet little hunting carbine!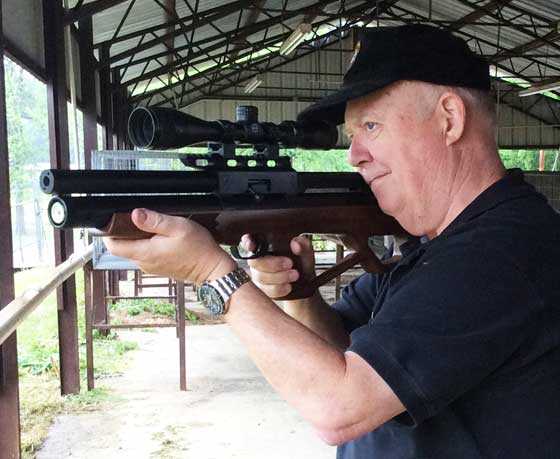 The Vulcan bullpup proved to be light, compact, powerful and a delight to shoot. It was so addictive it was like eating peanuts.
Other guns
Of course, there were plenty of other vintage and modern guns in the hall. Byran Enoch displayed a nice IZH 61 with steel breech that so many of you want to get. It wasn't cheap, but it was very complete with extra metal clips.
I already mentioned seeing 3 HW35 Luxus rifles for sale. But there was American iron for sale, as well. On one table sat a gorgeous Sheridan Blue Streak with a Williams peep sight. My impression was that this rifle has the rocker safety, but I can't see the rocker in the picture I took. It may be an earlier thumb-safety Sheridan.
Over the years, I have seen several Blue and Silver Streaks with gorgeous figured walnut stocks. I even owned one. You get that when thousands of board feet of walnut are cut each year to stock one of America's most popular multi-pumps. But I never saw one with dark figured walnut until this one.


This Sheridan Blue Streak has a gorgeous piece of figured walnut for a stock.
The good news here (I hope) is that I think one of our own readers got this gun. I didn't watch the transaction, but I believe I saw Jerry Cupples (yes, the pellet gauge man) stalking this rifle, and I think he pulled the trigger — both figuratively and literally. I certainly hope so! That rifle is a gem, and I hope it stayed in the family — if only with an extended cousin.
Then there was the inevitable table that had everything I wanted — all tagged Not For Sale. Of course, they weren't for sale! If I owned them, they wouldn't be for sale, either!
On that table was a small multi-pump I have never seen before. There are no markings on the gun and we made several guesses as to where it might have been made. I guessed the Philippines, the owner guessed China and the man he bought it from had guessed Indonesia. Regardless of where it was made, the workmanship is nice and even — and the gun is in new condition. Find another one!


Compare the length of the mystery pump gun to the Benjamin 392 below. It's just half as long!
The other guns on this table were all beauties. Only one had a pricetag, and that was a Daisy wire stock reproduction BB gun. I chanced to photograph a young man as he was putting it back on the table.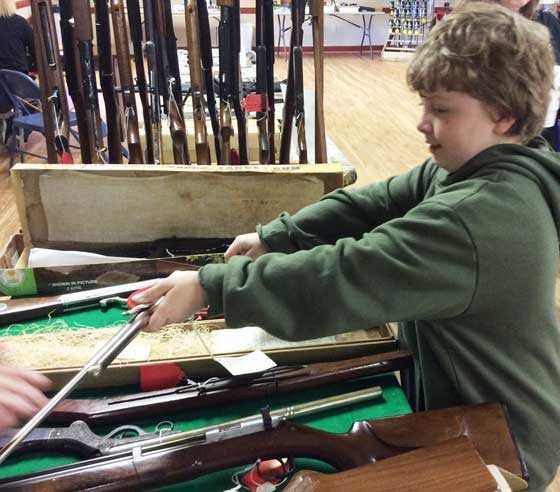 That's what you want to see! This is the only way airguns will continue.
Summary
Malvern is a quiet show. The tables are few, but they're loaded with the kind of stuff that gets people to drive 1,000 miles just to see it. There's enough time at this show to meet and talk to people and to try out those guns you have a hankering for.
At the show's end, there was a big door prize drawing and show organizer, Seth Rowland, thanked the companies who were so generous — AirForce Airguns, BKL, Daisy, Umarex USA, Mike Melick (who not only donated a door prize, he also bought it back from the winner in a raffle and donated the money to the show). If I forgot anybody, my apologies. Seth also thanked Pyramyd AIR for all the help they've given his show in years past.