by Tom Gaylord
Writing as B.B. Pelletier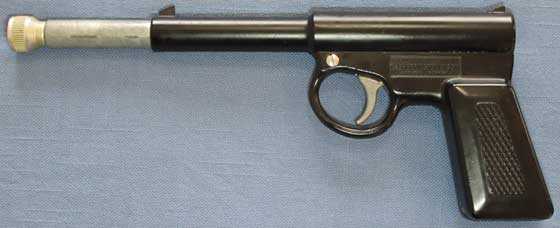 The Gat is a timeless classic air pistol. Shown uncocked here.
Hard cocking!
Air Arms Falcon pellets
RWS Hobby pellets
H&N Finale Match Pistol pellets
RWS R10 Pistol pellets
RWS HyperMAX pellets
Darts
Took longer to shoot
2016 Texas airgun show
Today we look at the Gat's power. I was also going to combine an accuracy test with today's report, but I spent so much time just determining the velocity that I will only report that.
Hard cocking!
I reported in part 1 that the Gat is hard to cock. To cock the gun the barrel is pushed straight back, like a Quackenbush or a Crosman M1 Carbine. By the time I had tested 5 pellets and a series of darts, my left palm was sore!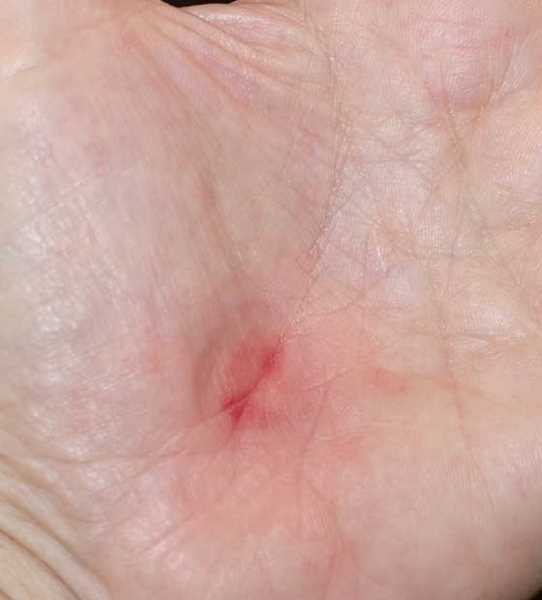 After about 31 shots, my hand was sore! I had to stop shooting.
Air Arms Falcon pellets
First up were Falcon pellets from Air Arms. These fit the breech rather loosely, though I didn't know that until I had tried other pellets. They averaged 186 f.p.s. The spread went from a low of 165 f.p.s. to a high of 197 f.p.s. I had guessed that the Gat was a 200 f.p.s. pistol, so this was very close.
RWS Hobby pellets
Next up were RWS Hobby pellets. These fit the breech extremely tight and were what taught me that the Falcons were actually loose. In fact, they fit so tight that I didn't fire an entire string of them. I only shot 3 of them that went 165 f.p.s., 196 f.p.s. and 179 f.p.s. With such a wide variation I have no hope for any accuracy with Hobbys.
H&N Finale Match Pistol pellets
I though that H&N Finale Match pellets might be smaller than Hobbys, so I tried them next. Not only were they not smaller, they were actually tighter in the breech than the Hobbys. I had to hammer in the loading pin to get one of them seated. So I only tried 2 pellets. They went out at 164 f.p.s. and 168 f.p.s. I gave up after that.
This test wasn't turning out like I imagined. The velocity was where I expected it to be, but the difficulty of cocking was something I wasn't prepared for. I can see why kids used to push the muzzle against furniture and woodwork.
RWS R10 Pistol pellets
Okay, RWS R10 Pistol pellets are light weight and (I thought) small. Turns out they were light but not that small. I only fired two pellets. They went out at 180 and 197 f.p.s. My hand was now starting to really hurt, and I wanted to test darts, as well. One more pellet to test and then I made the switch.
RWS HyperMAX pellets
I wanted to see some speed, and nothing I had tried thus far satisfied that urge. So I broke out the RWS HyperMax lead-free pellets. Weighing just 5.2 grains, these lightweights promised to speed things up. They also fit the breech very loose, which sounded good after all the problems I'd had.
HyperMAX pellets averaged 204 f.p.s. with a low of 197 and a high of 209 f.p.s. The spread of just 12 f.p.s. was the smallest of the test. I think I will have to try them in the accuracy test, too!
Darts
Next up were darts. All I have are some vintage darts of undetermined origins. Some were too large for the breech, though they are .177 darts. But I found 5 that did fit. The velocities I got were 114, 111, 117, 107 and 110 f.p.s. That is more consistent than any of the pellets. That's probably because the darts do not have the friction that the pellets have. Will that make them more accurate? Who knows?
Took longer to shoot
I was unprepared for how long it takes to shoot a Gat. That breech pin has to be unscrewed for every shot, then the pellet pressed into the breech and the pin insrted and screwed tight again. It's a real time-waster! Boy — did I ever learn a lot about this airgun from this abbreviated test! I will need to use a glove when I test the pistol for accuracy, and I'm not looking forward to it. That's the end of today's test, but I have some additional information for you.
2016 Texas airgun show
The Texas airgun show will be held on Saturday, August 27, 2016. It opens to the public at 9 a.m. and runs until 4 p.m. It will be held at the Arlington Sportsman's Club, located in Mansfield, Texas. Eight-foot tables are $30 each (maximum of 2 per dealer) and admission is $5 for everyone over 12. The tables are limited, so if you want one get cracking now. They will all be reserved long before the show.
They will have a website up soon with show information. Look at Texas airgun show.
There will not be a big bore airgun match this year, but the club is working on a silhouette-type match called the Pyramyd Air Gunslynger where the timing is accelerated. More about this in the future. I am also working on a couple novel ideas for other airgun events.
To reserve a table call this number: 469-369-2539. Right now we are just getting started. When there is more to tell, I will tell you.