Dan Wesson 715 6mm airsoft revolver: Part 3
by Tom Gaylord
Writing as B.B. Pelletier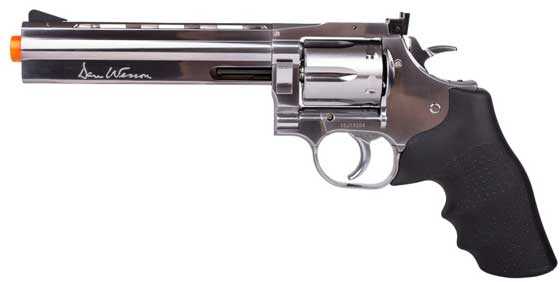 Dan Wesson 715 airsoft revolver looks and operates just like the BB revolver.
Dan Wesson 715 BB revolver Part 1
Dan Wesson 715 BB revolver Part 2
Dan Wesson 715 BB revolver Part 3
Dan Wesson 715 airsoft revolver Part 1
Dan Wesson 715 airsoft revolver Part 2
This report covers:
Sight-in at 10 meters
Sight-in at 25 feet
Hop-Up and the sights
Adjusting the Hop-Up
Thoughts on sighting-in an airsoft gun
Today is a first look at the accuracy of the Dan Wesson 715 6mm airsoft revolver. Lots to cover today, so let's get to it.
Sight-in at 10 meters
I began this test at 10 meters, shooting off a sandbag rest with the underlug of the revolver barrel resting on the bag. All shooting was done single action. After shooting two groups and adjusting the sights once I discovered the gun was shooting what I felt was too large a group at 10 meters (6 shots in about 4 inches), so I moved the rest to 25 feet and continued.
Sight-in at 25 feet
The first group at 25 feet was about the same size as from 10 meters — 5 shots in about 4 inches and one flier that missed the target altogether. I expected 1.5-inches at this distance. The thing that's different about airsoft guns is once the Hop-Up is adjusted well, they hold their group size over a long span of distances. I'm saying there might not be much difference between a group shot at 10 yards and one shot at 20 yards.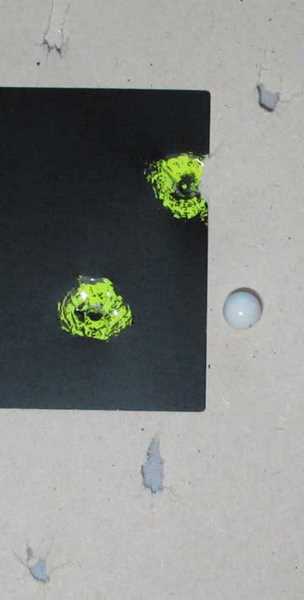 Five shots in 4 inches at 25 feet and one BB missed the target altogether. I need to adjust the Hop-Up.
If you recall in Part 2 of this report the revolver was grouping around 4 inches at 20 yards offhand. That was when I first started shooting outdoors. I was just watching for sharp curves in the flight of the ball at that point. I wasn't that concerned with accuracy. Apparently the BBs from the Dan Wesson stabilize at about 25 feet and don't spread much as they fly out to 60 feet (20 yards), because I shot about 4-inches offhand at that distance. The Hop-Up had to be adjusted.
Hop-Up and the sights
The thing about adjusting the Hop-Up in an airsoft gun is it usually moves the point of impact at the same time. So sighting-in takes on an extra dimension. You have to find the one good BB you want to shoot, then get the Hop-Up adjusted where you want it and only than can the sights be adjusted. Do it out of order and you will never get sighted-in.
Adjusting the Hop-Up
The Hop-Up adjustment screw was turned all the way down tight. I backed it off 1/2 turn and then shot a 6-shot group that measures 2.057-inches between centers. This was more like it! Not only were all the BBs on the target, they were much closer together.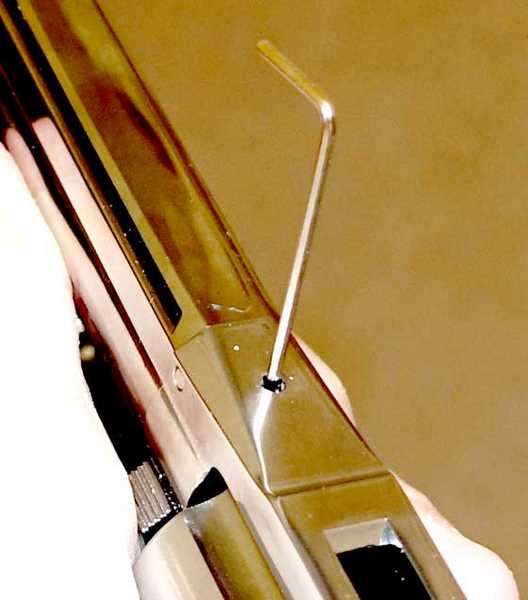 Loosen the Allen screw to adjust the Hop-Up.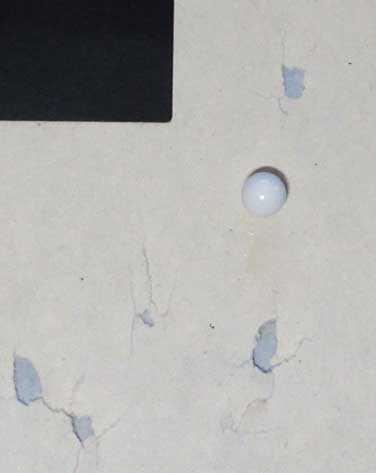 The second group measures 2.057-inches between centers. This is more like it!
This group was low and to the right, so I adjusted the sights up and left and shot a second group with the same Hop-Up setting. This group is more centered on the bull, but it measures 3.059-inches between centers.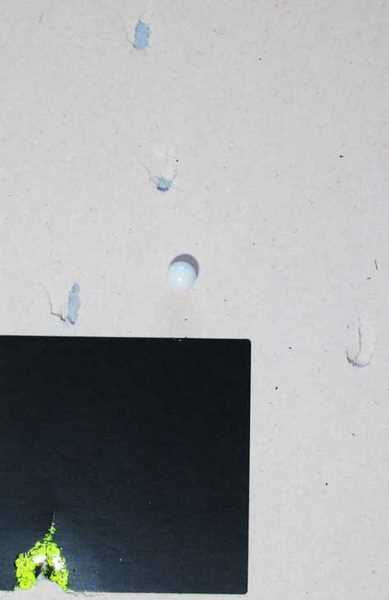 After adjusting the sights but leaving the Hop-Up alone, this group is more centered on the target but measures 3.059-inches between centers.
This third group was one-third larger than the group shot just before it. The sights were adjusted but the Hop-up was still in the same place it was for the last group, so apparently it isn't as well-adjusted as I had hoped. I thought I was finished for the day, but curiosity caused me to load 6 0.28-gram Tactical BBs from TSD I just hoped they would be on the target paper. What they did, instead, was cluster all 6 shots in 1.443-inches at 25 feet. This is the BB I should have been shooting! And this is the one I will shoot from now on.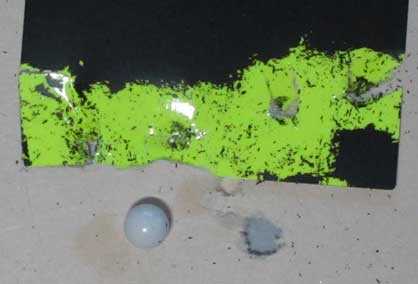 This last group was an afterthought. Shot with TSD 0.28-gram Tactical BBs, it wasn't supposed to do this well. Since BBs in 1.443-inches at 25 feet. This is what I was after!
Thoughts on sighting-in an airsoft gun
The Hop-Up adds a dimension of complexity to the process of sighting-in. The first thjing you have to do is make up your mind what level of accuracy you are looking for. And be reasonable! otherwise you will chase after something you can never achieve. Second is to find the most accurate BB for the gun. Forget the cost — find the best. Anything else is a waste of time and money. This will be the most difficult step because each BB reacts differently to different Hop-Up settings. I found a good BB today through sheer trial and error, but it happened too late in the testing to help me much. However, I am prepared for next time. After that, spend some time adjusting the Hop-Up on the gun to get a reasonable grouping at close range. I had hoped to do that at 10 meters (33 feet) today, but my plans were scuttled and I had to settle for just 25 feet. However now that I'm on at 25 feet with a good BB things should work well at 10 meters, so the effort wasn't all wasted. After all this is done you can think about adjusting the gun's sights so it hits where you aim. This is a long process but it does work and if you follow it you'll get good results. Just remember — there is no way you can adjust the gun to shoot more accurately that what it is capable of doing. So be reasonable. Next time I'll start with the TSD BBs and go from there.
Tom Gaylord is known as The Godfather of Airguns™ and has been an airgunner for over a half-century, but it was the 
Beeman
 company in the 1970s that awoke a serious interest in airguns. Until then, all he knew were the inexpensive American airguns. Through the pages of the Beeman catalog, he learned about adult airguns for the first time. In 1994, Tom started
The Airgun Letter
 with his wife, Edith. This monthly newsletter was designed to bring serious reports about airguns to the American public. The newsletter and
Airgun Revue
, a sister magazine about collectible airguns, was published from 1994 until 2002, when Tom started
Airgun Illustrated
-- the first American newsstand magazine about airguns. Tom worked for three years as technical director at
AirForce Airguns
, the makers of the 
Talon, Condor, and Escape
 precharged air rifles. Today, he writes about airguns and firearms for various publications and websites. He also makes videos, and you'll find short clips embedded in some of his artices on Pyramyd Air's website. Tom is a consultant to Pyramyd Air and writes under the name of B.B. Pelletier.