by Tom Gaylord
Writing as B.B. Pelletier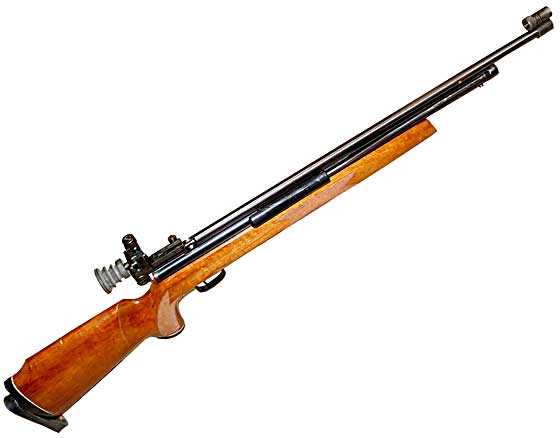 Sharp Ace Target Standard is a sidelever multi-pump 10 meter target rifle.
This report covers:
This rifle is not an Ace Pan Target
Today's test
What happened
Finale Match Light
Sig Sauer Match Ballistic Alloy
Qiang Yuan training pellets
RWS R10 Match Pistol
JSB Match
Evaluation
This rifle is not an Ace Pan Target
I received an email from advanced collector, Don Raitzer, who said he was sure this rifle was a Sharp Target Standard model. What he keyed on was the bolt handle I showed you last time. The Pan Target has a pushbutton bolt release and a spring-loaded bolt, similar to the Innova. That was a feature I overlooked when researching this rifle in vintage Sharp catalogs, but now that Don has brought it to my attention I see he is right. So I changed the title starting today. I will leave the previous reports as they are.
One benefit of the change is, according to the Blue Book, the Ace Target Standard is a little more valuable than the Ace Pan Target. So I profited by the mistake. But it also means the entries in the Blue Book are correct, after all.
Today's test
Today we look at the accuracy of this air rifle. I shot it rested at 10 meters, and though I described in Part 2 how I planned to test the rifle for accuracy, things happened that changed everything.
What happened
I told you I planned on shooting it on 2 pumps today and then on 3 pumps. The first shot on 2 pumps failed to fire, so I went right to three pumps and did not plan to try any testing on 2 pumps. Then the rifle acted very strange on 3 pumps as I was refining the sight picture. It had a double bang release — almost as if it was a flintlock rifle. And a couple times there was just a pop follower by a hiss of air. Something was wrong and I wasn't going to be able to shoot it on 3 pumps, either. So — 4 pumps is was! And I was able to finish the test on 4 pumps per shot.
I also only shot 5 shots per group instead of 10. I normally do that when testing target airguns. And I had to shoot left-handed to see the bull through the front aperture. My right eye can't see well enough anymore.
Finale Match Light
The first pellet I tried was the H&N Finale Match Light. Five of them went into 0.168-inches at 10 meters. The group wasn't centered on the bull, but I decided to press on with the test and leave the sights where they were.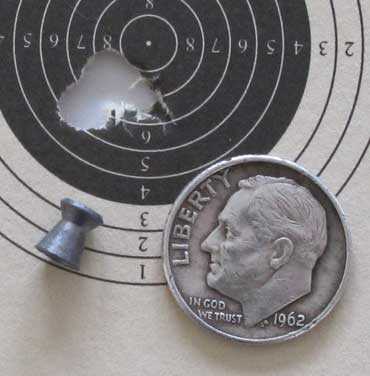 Five H&N Finale Match Light pellets went into 0.168-inches at 10 meters.
Since I was only shooting 5 shots, I thought I would test a few more pellets. I will say this — pumping the rifle 4 times per shot was tiring, so I'm glad I only shot 5-shot groups.
Sig Sauer Match Ballistic Alloy
Next up was the Sig Sauer Match Ballistic Alloy pellet that has done so well in past tests. In the Ace Target 5 of them went into a horizontal 0.434-inches. I don't think the Ace likes this pellet.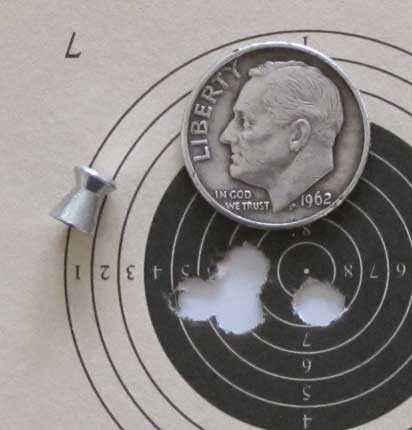 Five Sig Match Ballistic Alloy pellets made this 0.434-inch group at 10 meters.
Qiang Yuan training pellets
Next I tried 5 Qiang Yuan training pellets. These have been very accurate in recent tests of target airguns. In the Sharp Ace 5 of them went into 0.302-inches at 10 meters. That's okay, but nothing to get excited about.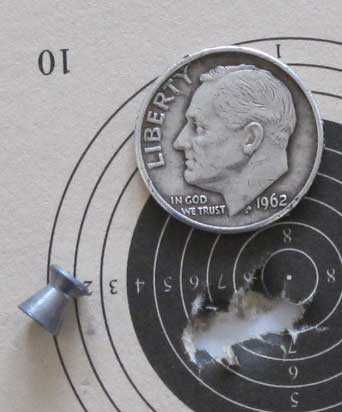 Five Qiang Yuan Training pellets went into 0.302-inches at 10 meters. It's good, but not great.
RWS R10 Match Pistol
I tried 5 RWS R10 Match Pistol pellets next. The group shrank to 0.180-inches. That's almost as small as the Finale Match group. The R10 Pistol pellet seems like a good choice for the Ace Target.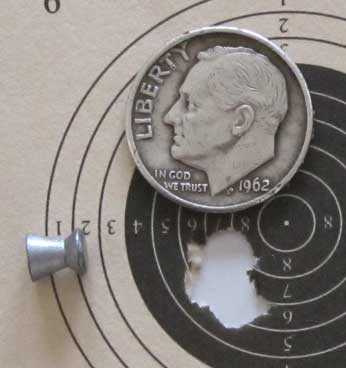 Five RWS R10 Match Pistol pellets went into 0.180-inches at 10 meters. A possible contender?
JSB Match
The last pellet I tested was the JSB Match. Now, don't get confused. JSB calls almost every pellet they make a match pellet, but only wadcutter pellets are allowed in 10-meter matches. That was the one I tested. Alas, they didn't do that well. Five went into 0.323-inches at 10 meters. That's not worth it, given the performance of the R10 and Finale Match.
1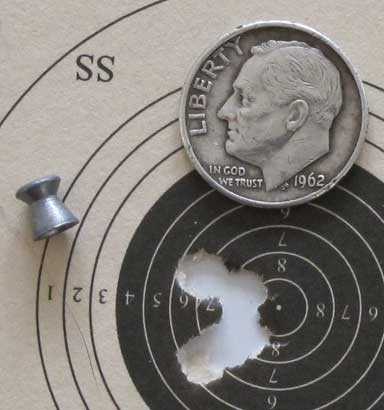 Five JSB Match pellets made this 0.323-inch group at 10 meters.
Evaluation
Today's performance disappointed me. I have shot regular Sharp Aces that were more accurate than this, and their triggers aren't nearly as nice as this one. I think the trigger might need some adjustment to stop the problems mentioned at the start of the report. Perhaps the former owner tried to make it as light as possible to the detriment of everything else. Or maybe there is something I haven't figured out yet.
The rifle is a curiosity, I'll say that! I'm not finished testing it yet, either. I plan to shoot it with a scope from 25 yards as well, so we get a thorough look at this odd Asian multi-pump.