by Tom Gaylord
Writing as B.B. Pelletier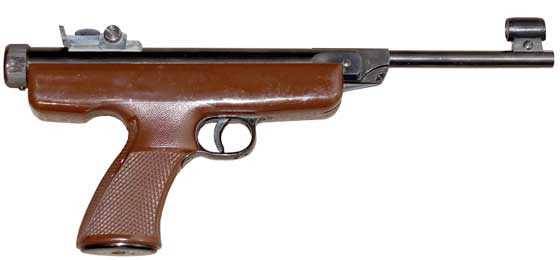 This Diana model 5 air pistol is marked as a Winchester model 353.
This report covers:
The test
Hobbys
A couple observations
Air Arms Falcon
Crosman Premier lites
Qiang Yuan Training pellets
Summary
Today is accuracy day for the Diana model 5 air pistol I'm testing, which is labeled a Winchester 353. We heard from several owners who like their pistols, so let's see what this one can do.
The test
To get right into it, I didn't know where the sights were adjusted. You may remember I mentioned that the rear sight was adjusted all the way over to the right. I decided to shoot the first group as the gun was set up. After that I could adjust the sights. All shooting was done from 10 meters with a 2-hand hold and my arms rested on a sandbag. I used a 6 o'clock hold.