by Tom Gaylord
Writing as B.B. Pelletier
This report covers:
Why hard to scope?
Stock extension
The test
Sight in
Air Arms Falcon pellets
Sig Match Ballistic Alloy
Journey pellets
Discussion
Today I will finish the report of the Embark air rifle from Umarex. This is the rifle that's used in the Student Air Rifle (SAR) program. I tested it for accuracy at 25 yards with open sights last time. Today I will scope it.
Why hard to scope?
The Embark has a small-diameter spring tube, with the scope base dovetails cut directly into the tube. That means there is a high crown between the dovetails that many scope mounts will bottom out on. Their jaws will not be able to reach the dovetails on the rifle because of this. But I knew that BKL mounted would work, because it has nothing that gets in the way of that high crown. I selected BKL 263 MB 2-piece scope rings to attach the UTG 3-12X32 AO Bug Buster scope. I had planned to use a 3-9 power Bug Buster, but the 3-12 came to market in time for today's test.
Stock extension
Umarex also sent me a stock extension for the Embark. It adds one inch to the pull, boosting it from 12 inches to 13 inches on the nose.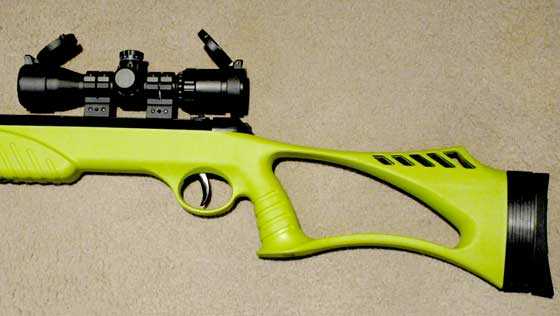 Here you see the Bug Buster 3-12 mounted to the Embark rifle. The one-inch stock extension is also shown.
The test
I shot from 25 yards, with the rifle rested directly on the sandbag. That's the same way the rifle was rested in the test with open sights. I used all the same pellets, so we have the former test as a direct comparison.
Sight in
I sighted in at my usual 12 feet (when using a scope) and was pleasantly surprised. This Bug Buster will focus even closer than that. Usually I sight in at fuzzy black blobs, but this time everything was crystal clear. That Bug Buster focuses down to 9 feet!
I also want to report that the Bug Buster adjusts without stiction. Turn the adjustment knobs and the reticle moves instantly. That's a huge plus for this scope. The 1/3 MOA steps of each adjustment knob made adjusting so much easier. I think this scope is ideal for this kind of application.
Air Arms Falcon pellets
I sighted in and started the test with the Falcon pellet from Air Arms. I had forgotten how smooth the Embark's trigger is. I could feel it move through stage 2 but there wasn't one bit of creep. [Trigger creep is an uneven starting and stopping of the trigger as it is pulled.]
Ten Falcon pellets went into 0.87-inches at 25 yards. In the previous test where open sights were used 10 of the same pellet went into 1.723-inches at the same distance. This group is slightly less than half that size, which is significant.

Ten Falcon pellets went into 0.87-inches at 25 yards.
Sig Match Ballistic Alloy
Next up were 10 Sig Match Ballistic Alloy pellets. At 25 yards they went into a group that measured 1.273-inches between centers. In the test with open sights they made a 3.048-inch group, so this one is less than half the size. That's another significant decrease.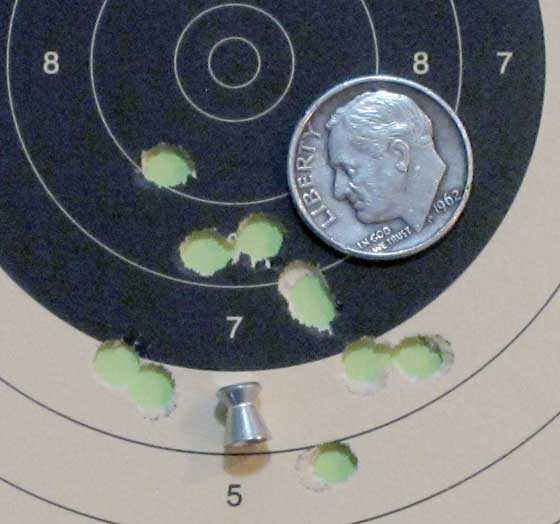 Sig Match Ballistic Alloy pellets made a 1.273-inch group at 25 yards.
Journey pellets
The last pellet I tested is the one that was paired with the Embark rifle — the Journey pellet. You may not remember but if you look back to Parts 3 and 4 you will see that the Journey pellet was always the most accurate in those tests. In this test with the scoped rifle at 25 yards the Embark put 10 Journey pellets into a 1.076-inch group. It's not the smallest group of the test, but it is a decent one. In the test with open sights at 25 yards, 10 of the same pellets went into 1.357-inches. This time the group is not cut in half with the scope, but it is reduced significantly.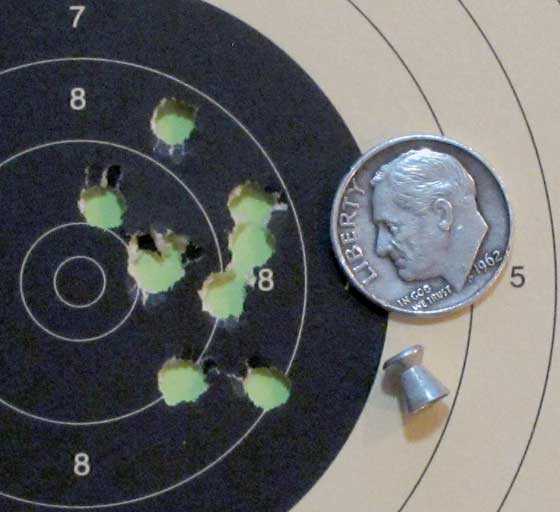 Ten Journey pellets went into 1.076-inches at 25 yards.
Discussion
It's obvious that I shot better with the scope. In fact, this is the largest difference I have ever seen between me shooting with iron sights and with a scope. There is always some difference but never this much.
I'm going to have to blame my eyes this time. The eye doctor says both of my new lenses that were implanted have clouded over and need to be cleaned with a laser. It's a common thing for those who have had cataract surgery and I'm scheduled to have it done in February.
Looking at the Embark, though, I would say that it's quite a nice little rifle! And the same goes for the BKL rings and the new 3-12 Bug Buster scope. All things said, this is a winning combination!