by Tom Gaylord
Writing as B.B. Pelletier


Diana Stormrider Generation II precharged pneumatic air rifle.
Stormrider Gen 1 Part 4
Part 1
Part 2
This report covers:
Open sights
The test
Sight-in
Crosman Premier Heavy
JSB Exact Beast
RWS Superdome
H&N Baracuda Match with 4.53mm head
JSB Exact Heavy
Summary
Last week reader Krasi asked me when I would do Part 3 of the Gen. II Diana Stormrider. I had to be honest with him — I had totally forgotten it! It's sitting here in my office and I never gave it a second thought. So, today I make up for the oversight and start reporting the accuracy of the Gen. II Stormrider.
Open sights
The Stormrider has good-looking open sights and I wanted to try them first. It's a very good thing I did, which I will discuss in a moment.
The test
I shot off a rest at 10 meters. I shot 5-shot groups that gave a rough idea of the accuracy and also allowed me to test more pellets. I decided that if there was a pellet that was particularly accurate I would also shoot a group of 10 with that one.
Part 2 told us how many good shots to expect from a fill (17 that were really tight and probably a good 20-25 shots in all, depending on the range), so I did refill the rifle during the test. And I was careful not to go over 2900 psi on each fill.
Sight-in
Here is an interesting part of this report. I noticed that the front sight was glued on to the barrel with a tilt to the left, which means the shots will go to the right. I sighted-in with Crosman Premier Heavys. Let me show the sight-in group and then discuss it.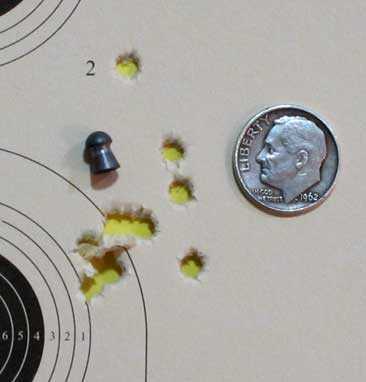 The first 4 shots are the vertical string on the right that begins at the top and moves down. I adjusted the rear sight down and to the left for each shot. The bullseye that you can barely see on the left was the aim point.
The Stormrider was shooting too high and too far to the right. I adjusted the rear sight down and to the left. That's the first string of 4 on the right. The last of the first 4 shots was shot with the sight adjusted as low as it would go. Then I cranked it as far to the left as it would go and the next 8 shots or so were fired without further adjustment. That's the group that is to the left of the vertical string.
The open sights on the rifle I'm testing cannot be adjusted to the point of aim at 10 meters. I doubt they will ever get to the point of aim at any distance. I'm still going to finish this test, though, because it will show us which pellets are good and which are not. I can use that information in the next test. So, let's get started.
Crosman Premier Heavy
My first group was shot with Premiers Heavys. Five shots went into 0.462-inches at 10 meters. The group is not bad but it's a little too open for my tastes.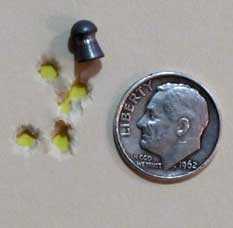 Five Crosman Premier Heavy pellets went into 0.462-inches at 10 meters.
JSB Exact Beast
Next I tried 5 JSB Exact Beast domes. These super-heavy .177 caliber pellets weigh 16.2 grains. Wouldn't it be wonderful if they are accurate, because the Stormrider Gen II is a reasonably powerful PCP. Heavy pellets do well in powerful PCPs.
Five pellets went into 0.307-inches at 10 meters. I'd call that a good group!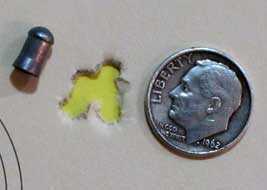 Five JSB Exact Beasts made this 0.307-inch group. Yeah — I'd call that a good one!
RWS Superdome
Next to be tested were 5 RWS Superdomes. They made a group that measures 0.376-inches between centers at 10 meters. It's another really good group.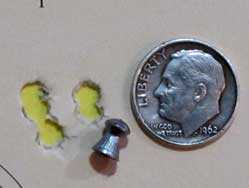 Five RWS Superdomes made this 0.376-inch group at 10 meters. Another good pellet!
H&N Baracuda Match with 4.53mm head
Next up were 5 H&N Baracuda Match with 4.53mm heads. I had to link to 4.52mm heads because Pyramyd AIR was out of the 4.53mm heads when I wrote this report. These gave a vertical group that measures 0.679-inches between centers. That's not as small as I would like.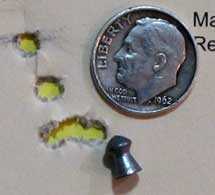 Baracuda Match pellets with 4.53mm heads went into 0.679-inches at 10 meters.
JSB Exact Heavy
We have come to the last pellet I tested — the 10.34-grain JSB Exact Heavy dome. The heavier Beast was very accurate. How would these do? Not so well, as it turned out. Five made an open group measuring 0.902-inches between centers at 10 meters — the biggest group of the test! This is definitely not the right pellet for the Stormrider Gen. II.

Five JSB Exact Heavy pellets made this 0.902-inch group at 10 meters.
Okay, which pellet should I select for the 10-shot group? I don't think there is any contest; the JSB Exact Beast wins the honor, hands down. That said, I was getting tired by this time and my concentration failed on the final shot of the 10-shot group. I called a pull to the left on that shot, which opened a 0.612 nine-shot group into 0.843-inches for ten.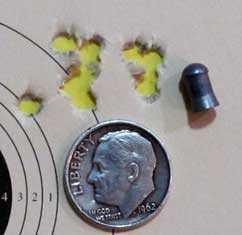 I pulled the last shot to the left and 0.612-inches for 9 became 0.843-inches for 10.
Summary
We learned a lot on this test. First, the open sights on this rifle, while nice to look through, are not mounted correctly on this example and cannot be sighted-in. Next, we found the JSB Exact Beast to be a very accurate pellet in the Stormrider. The RWS Superdome isn't far behind and even the Crosman Premier Heavy is worth consideration.
I want to try the Stormrider with the UTG Micro Reflex dot sight dot sight next. The small size of both the rifle and the sight looks like a winning combination to me.
I also want to try it with a scope. Something like a Bug Buster comes to mind, but after I see how it does with the dot sight I'll decide.
So there is a lot more story to tell. I'll try not to let so much time pass before the next one.