by Tom Gaylord
Writing as B.B. Pelletier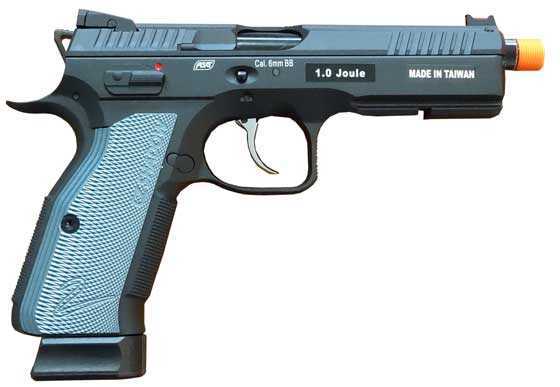 ASG's CZ 75 Shadow 2 airsoft pistol.
This report covers:
A good use for airsoft
Not a gun guy
Enabler
The test
GameFace Maximum Precision 0.25 gram
Valken Infinity BBs
Metal Tac BBs
Accelerate BBs
TSD 0.26-gram Bio 180 BBs
Did not shoot 10
One BB revisited
Summary
Today will be the last report on the ASG CZ 75 Shadow 2 airsoft pistol. I told you at the end of Part 3 that I was going to test the pistol with other ammo and today is that day. But first, a practical word.
A good use for airsoft
Like me, most of you don't skirmish, which is the principal use for airsoft today, though the pistol we are testing is also good for collectors and target shooters. But there is another good use for airsoft — critter control.
My neighbor, Denny, asked me if I had anything to discourage a pesky robin from pooping on his truck. This bird is apparently from the shallow end of the gene pool and likes to perch on a sideview mirror. When he does, he sees his reflection in the window glass and thinks it's competition. He will peck at it for some time, and then get frustrated and poop on the side of the car. Sounds funny but he makes a real mess because he keeps coming back for more.
So Denny asked me if I had an airgun that would discourage the robin from hanging around his truck. I did! I had just completed the first accuracy test of the ASG CZ 75 Shadow 2 airsoft pistol, and I had it shooting to the point of aim at 10 meters. I gave him a quick rundown of how it works and how to load it and sent him on his way.
The first couple times he shot real close to the robin who flew away, but as I mentioned, this bird is very persistent, so he kept coming back. On his third visit Denny smacked him in his red breast with an airsoft ball that sent dust flying up from the feathers. He got the message and flew away. No more robin at Denny's!
After that Denny saw the robin doing the same thing to a truck across the street! And I found some thank-you poops on my truck and bed cover. But the bird hasn't been back to visit Denny for many days.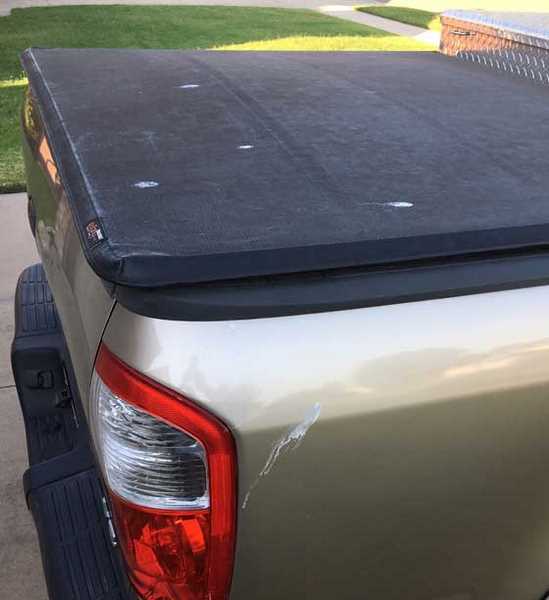 Somebody left me a couple thank-yous!
Not a gun guy
Denny told me at breakfast yesterday that he is no gun guy but he wanted me to tell all of you that this CZ 75 has a gorgeous trigger. I must agree, because as I shot it yesterday for this report I, too, was amazed all over again. I wish very much that this pistol was made to shoot steel BBs, too! Or even, dare I say it, pellets through a rifled barrel?
Enabler
You guys call me the Great Enabler. Well, I want you to know — Denny is my Enabler. After listening to him I have upgraded my television, DVD player, my couch and easy chair. And with good stuff, too — the kind you would advise someone else to buy! Thank the Lord I drive a Toyota or he'd be after me there, too! I just felt you ought to know that what goes around on this blog also comes around in my life — so quit yer whinin'!
The test
I shot today at 10 meters from a rest. I will describe the holds as we go. I wore my reading glasses to see the front sight clearly.
I shot 5 shots at each target. The hold is at 6 o'clock on the bottom of the black bullseye. If I had gotten any remarkable groups, like 5 balls in one inch, I planned to keep shooting until there were 10 shots in the group.
GameFace Maximum Precision 0.25 gram
First up were GameFace Maximum Precision 0.25 gram BBs. They are not biodegradeable and I mention that because the majority of airsoft BBs seem to be biodegradeable these days. That's a big change from when I was testing airsoft 15-20 years ago. Back then biodegradeable BBs were not that good and people tended not to shoot them. These BBs are made in Taiwan.
I rested the bottom of the pistol grip against the sandbag for this first target. Five BBs went into 3.256-inches at 10 meters. It was not as good as I had hoped, so I tried the same BB a second time with a different hold.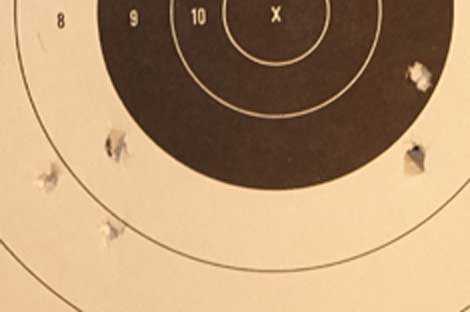 Gameface BBs gave this open 3.256-inch group at 10 meters when the base of the pistol rested directly on the sandbag.
The second time I shot the Game Face BBs I held the pistol with both hands off the sandbag. The pistol was free to move. That tightened the group to 2.12-inches between centers and it also brought all the BBs to the aim point. This is obviously the right way to hold the gun for this BB.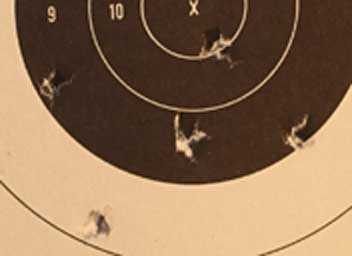 That's more like it! When the pistol was held in the hands 5 Gameface BBs went into 2.212-inches at 10 meters.
Because of the dramatic difference in group size I hand-held the pistol for the rest of the test. Next up were Valken Infinity BBs
Valken Infinity BBs
These are 0.25-gram biodegradeable BBs that are also made in Taiwan. Five went into 2.363-inches at 10 meters, They are also right at the aim point.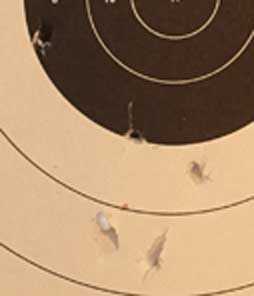 Infinity biodegradeable BBs did well, too. They went to the aim point in a 2.363-inch group at 10 meters.
Metal Tac BBs
Next up were five Metal Tac 0.25-gram BBs from China. Metal Tac is just their name I think. They look like white plastic to me. Five of them went into a 2.58-inch group at 10 meters. This group is a little higher than the aim point and slightly off to the left.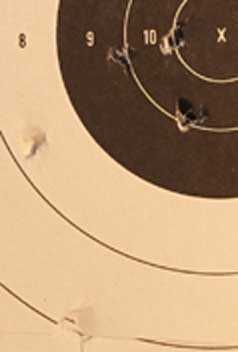 Five Metal Tac non-biodegradable BBs went into 2.58-inches at 10 meters.
Accelerate BBs
Next to be tried were 5 Valken Accelerate 0.25-gram BBs from Taiwan. These are also non-biodegradable and instead of being white or black they are a medium gray color. Five made a group that measures 3.456-inches between centers. It's the largest group of the test.
0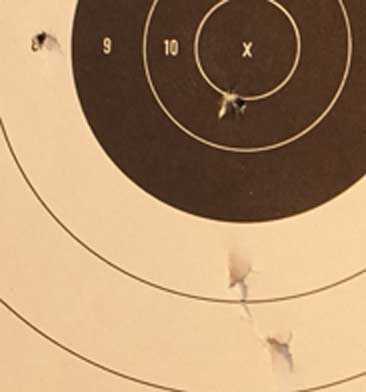 Five Accelerate BBs went into 3.456-inches at 10 meters. I know it looks like only 4 BBs hit. I think two went through the bottom hole. This is not the BB for this pistol.
TSD 0.26-gram Bio 180 BBs
Next I tried a slightly heavier 0.26-gram biodegradeable BB from Team Specialized Distribution (TSD). These went right to the point of aim and stayed in a small 1.954-inch group at 10 meters. It was the smallest group of the test. These BBs are made in Taiwan.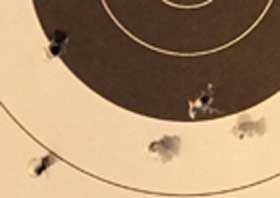 Five TSD BBs went into 1.954-inches at 10 meters. It's the smallest group of the test and it went right to the aim point. This would be a BB to try!
Did not shoot 10
I told you I would shoot 10 BBs at a target if there was a tight group of five. On the target above, if all 5 BBs were in the area where the three on the right are, I would have shot five more. But that didn't happen.
One BB revisited
In Part 3 the 0.25-gram TSD Tsunami BBs made the two smallest groups of the test. I felt they deserved a second chance with the pistol held in the hand, so I shot five of them today. Unfortunately, they do not like being hand-held and what had been good groups before expanded to a poor group this time. Five BBs went into 5.067-inches at 10 meters. It was the real worst group of the test, though we know from Part 3 that it shoots much better when the gun is rested against the bag.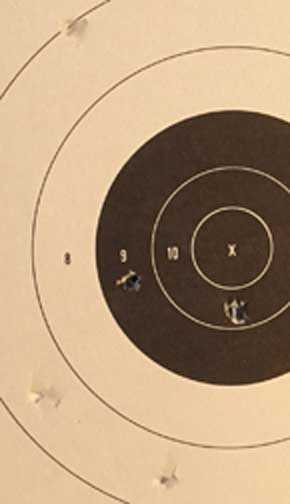 Ooops! TSD Tsunami BBs don't like it when the pistol is hand-held! Five went into 5.067-inches at 10 meters. This is the real worst group of the test.
Summary
The CZ 75 Shadow 2 airsoft pistol from ASG is absolutely delightful! The trigger is superb, the pistol is very realistic and it's also reasonably accurate. I hate to send it back to Bob Li of ASG — who, by the way, is another of my enablers. The problem with Bob is whenever he tells me something is good, it really is, so I have no defense. I like good airguns!
I haven't written about a lot of airsoft guns in the past several years, but I can do more. I just don't want to loose sight of the main purpose of this blog, which is airguns, defined as pellet and BB guns.