by Tom Gaylord
Writing as B.B. Pelletier
This report covers:
Back to the Edge
Changeover
Muzzle extension replaced
HOWEVER
Loud!
RWS R10 7.7 grains
H&N Finale Match Rifle
RWS Meisterkugeln Rifle
Discussion
Shot count
What now?
Summary
I didn't write today's report about the AirForce Edge for anyone in particular, but I do know that reader William Schooley coaches a youth marksmanship program and, if I remember right, he likes the Edge. I also know that reader RidgeRunner likes them a lot.
Back to the Edge
I reported on my AirForce Edge last May, so it's been awhile. I said at the start of that report that I traded for the rifle because I always wanted to own an Edge. I own a Crosman Challenger PCP that I enjoy, and the Edge is its closest competitor. Both were created for junior marksmen to learn competitive target shooting and also to compete at the local to national level.
These two rifles are the main reason the Daisy 853 has vanished from the market, as they effectively replaced it. That is a whole story of its own that I have told several times and will again if there is enough demand. But today I begin testing my Edge for the purpose for which it was designed. Read parts 1 through 3 to see what can be done to hotrod an Edge, if you are interested.
Changeover
The Edge had a custom-made plenum that held more regulated air, plus it had an 18-inch barrel. It was shooting at just over 12 foot-pounds, or about double what it should. The last stock Edge I tested was back in 2010 and that one shot a rifle target pellet in the 480s and a pistol pellet in the 520s. I had not tested a stock rifle since then, so today will be a day of discovery. But first, that plenum had to be removed. Here is what had to be done to turn it back into a target rifle.
0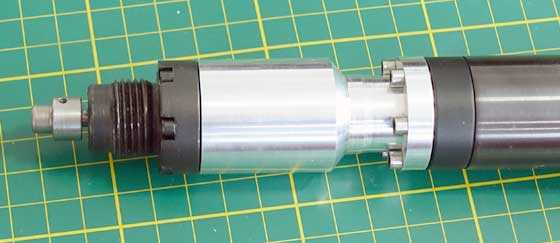 The plenum (silver part) that Lloyd Sykes installed turned the Edge from a target rifle into a respectible plinker and pest gun! It has to come off.
Muzzle extension replaced
The Edge I got in trade has a beautiful anodized aluminum silencer with baffles. It's permanently installed inside the muzzle extension — where the front sight is attached. There is no way to attach the front sight with the silencer installed so I was going to heat it up and drive the silencer out, but after examining the workmanship Lloyd Sykes put into it I decided to buy a replacement extension. I was stunned that AirForce only charged me $9.95 for the part. I may have been given dealer pricing and you might have to pay $13.50, but still!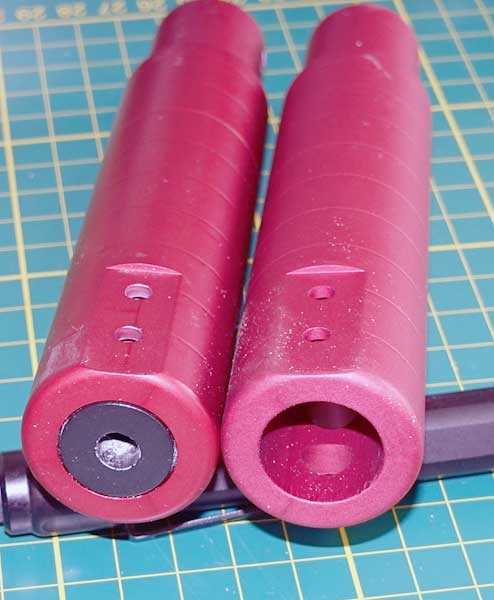 Lloyd Sykes internal silencer (left) was so well done that I simply replaced the part and kept that extension as is.
When I picked up the new part at AirForce they apologized that the color wasn't an exact match to my serial number 10 extension that was produced over a decade ago. Imagine that! That is one of the benefits of being red-green colorblind. Please don't adjust your screen. I am aware the two parts don't look exactly the same — and what colorblind target shooter cares?
HOWEVER
There was more to the job than I envisioned at first. When I removed the plenum I discovered that Lloyd had moved the rear parts of the firing valve to the rear of the plenum, rendering the valve that was in the rifle's tank unworkable unless it was rebuilt. I happened to have an original Edge valve on hand from a generous blog reader (thank you, Gene) so I simply replaced it in the rifle's tank and left the plenum built up as it was. All together it took about an hour to turn the rifle back into a target rifle. But, would it work?
Loud!
Yes, it did work on the first shot, but I got a surprise. Lloyd's silencer was really effective because the little target rifle now barked loudly at me! I guessed this new valve was hotter than the original I had tested back in 2010, so the remainder of this report will be a velocity test of my new/old target rifle.
Not knowing exactly what to expect I selected three pellets to test. As it turned out, my choices worked well. I selected all wadcutter pellets because when the rifle is in the target configuration they are all I will shoot.
RWS R10 7.7 grains
The first pellet I tested is one that's not available any longer. It's an RWS R10 target pellet that weighs 7.7 grains. Ten of them averaged 621 f.p.s., so we see that I wasn't mistaken. The stock Edge valve I installed in the gun is running quite a bit hotter than the stock valve I tested in 2010. It's in the same velocity range as the vintage 10-meter target rifles of the 1970s. That also probably means the shot count per 3,000 psi fill will be lower than the 107 shots I got in my 2010 test. I will test that after I have completed testing the three pellets.
The velocity spread went from a low of 616 to a high of 624 f.p.s. That's a spread of 8 f.p.s., so the regulator is still doing its job. At the average velocity this 7.7-grain pellet generates 6.6 foot-pounds, so it is on the warm side of where it should be. I am so pleased that my rebuild of the tank went as it was supposed to.
H&N Finale Match Heavy
The second pellet I tested was the H&N Finale Match Heavy, which weighs 8.18-grains. Ten of them averaged 623 f.p.s. with a 10 f.p.s. spread that went from 618 to 628 f.p.s. Heavier and also faster? They must fit the bore looser.
At the average velocity this pellet developed 7.05 foot-pounds. That makes this Edge a little screamer, though velocity in a target rifle is meaningless after you pass about 425-450 f.p.s.
RWS Meisterkugeln Rifle
As a final test pellet I chose the RWS Meisterkugeln Rifle wadcutter that weighs 8.2 grains. While I was writing this report I realized how close the last pellet was to the Finale Match Heavy. This pellet averages 611 f.p.s. from the Edge. The spread went from 607 to 619, so a difference of 9 f.p.s. That makes all three pellets pretty close in their velocity spreads. At the average velocity this pellet generated 6.8 foot-pounds at the muzzle.
Discussion
Well the Edge is back to being a 10-meter target rifle, but it's a hot one — especially for 2020. Maybe not back in 1970, but today's 10-meter rifles are coming in at around 575 for the purpose of air conservation. And, speaking of that, let's check the shot count now. My guess is I will get 50-60 shots on a fill.
Shot count
I filled the rifle yesterday and fired three pellets before this test began to test the success of the valve exchange, so there are now 33 shots on the fill. I will use the 7.7-grain R10 pellet that was tested first. The low for that string was 616 and the high was 624 f.p.s.
Shot…….Vel
34………645 wow!
35………627
36………629
37………626
38………627
39………624
40………629
41………632
42………629
43………631
44………627
45………624
46………617 off the reg!
45………610
46………601
47………591
48………589
I stopped there because it's obvious the rifle fell of the reg at shot 46 If you don't understand why it is possible for me to say that I will explain, but if not I won't. So there are about 45 shots per fill at this velocity.
What now?
The next thing to do is to slow rifle rifle down. I want at least twice as many shots per fill, which would be 90. A men's match is 60 shots and I like to allow at least 10 shots for checking the zero, so a cushion of 20 shots makes me comfortable.
I measured the top hat clearance (the part of the valve that makes contact with the hammer and also limits the length of travel of the valve stem) and found it to be 1.35mm or 0.053-inches, which is very short. An AirForce technical representative told me the clearance should be about 0.070-inches which is 1.778mm. There should also be three small o-rings under the top hat and there are none on this valve. I don't think the power is coming from the top hat, but I could be wrong.
The only other explanation I can think of for the extra power is either the weight of the hammer or the strength of the hammer spring has been increased. Or perhaps both were done. They determine how long the valve remains open, which affects velocity and also consistency, shot-to-shot. I need to check some specs before I start changing things there, so for today the test is over. I have the Edge performing like a 10-meter target rifle again, but it's a hot one that needs to be tamed just a little more.
Summary
I'm glad to be back working on the Edge again. It was always my plan to turn the rifle back into a 10-meter target rifle, though the excursion with the potential for power was eye-opening! Who knew you could do so much to such a weak PCP?
Once I get the rifle shooting like it is supposed to I plan to test it for accuracy and then I plan to re-test the Crosman Challenger and we will have a side-by-side comparison of the top two youth marksmanship target rifles in the airgun world.