by Tom Gaylord
Writing as B.B. Pelletier
This report covers:
Background
Buy used
Airguns
But I can't afford…
Let's talk
BB's lesson in life learned late
Dealers sell used, too
Summary
Happy New Year!
Before I start I have an update for you. There was a lot of interest in my Part One report on reloading rimfire cartridges, and I was inspired, as well. I have been working behind the scenes to get the next report ready but it involved a lot of different things that each took time to do. There will be a Part Two for that report next week and I have lots of interesting stuff to show you. I wanted to do that report today, but this topic hit me hard this week and I have to get it off my chest!
Background
I had some friends over for the holidays and while we were talking I showed them my metal detector and some of my finds. They were super excited because metal detecting is something they have wanted to do for a long time. So they asked me to name a good detector for them to buy.
Metal detectors are like everything else these days — they have gone from analog to digital. Instead of using your brain to operate the detector and find targets (analog) you rely on software that was programmed by someone for you (digital). That someone doesn't know you, doesn't know where you hunt or what you want to find, so they wrote the program to cover everything from a formal dinner at a 5-star restaurant to eating beans from a can with hobos along the railroad tracks. Pardon me for mixing metaphors, but when my new car won't start because I haven't gone through the correct startup sequence of steps and then it locks me out altogether — I don't want it! I want a machine to do what I want it to do — not what a committee thought I should want it to do!
Buy used
So I recommended that my friends buy used. I know metal detectors and can tell when they are okay or not, so I said I would help them buy a nice used detector on eBay. They were thrilled.
The next day they texted me with two machines of the same model I had recommended. Both were priced very low, and when I looked at each of them I could see they were worn out! I recommended passing on both of those. Later that same day I discovered another used detector of the same model only much newer. This one was pristine and was selling for more than twice as much as either of the other two. My friends thanked me and told me that it was more than they wanted to pay.
This is why I don't sell cars! I will not sell somebody something that I know they won't like or be able to use. I could have recommended a new detector to my friends on the first day and they would have bought it, used it twice and stuck it in the back of the closet until their next garage sale! Instead I wanted them to get a detector that had some chance of finding the things I knew they were interested in.
Airguns
It's the same for airguns. I might not be the guy to ask about a new house or a stock market investment, but I do know something about airguns. So, two days ago when I received a cryptic message from my website that said, "What's the best gas ram? Is it the Nitro Piston 2 or what?" I recommended buying a Sig ASP20. Why? Because I have tested a lot of breakbarrels with gas springs and I know which one is the best.
But I can't afford…
I know that not everybody has the money to buy the best. That's why I recommend buying used. I knew my friends couldn't afford a new detector, or that good new ones may not even be available anymore. But a nice used one will suit them fine.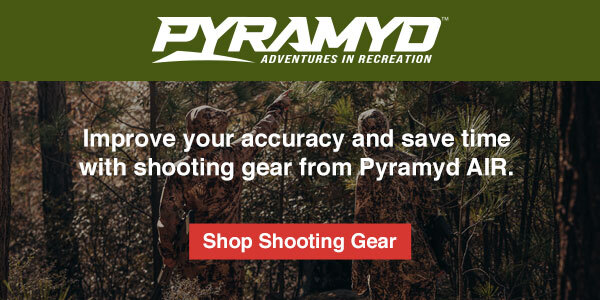 Let's talk
What happened to all those new "turkey" airguns that BB Pelletier wouldn't recommend? They became used "turkeys." I'm not suggesting buying one of them, nor am I suggesting that you pull the trigger on an air rifle I have already tested and found to be fowl, just because Southwest Distressed Airguns is selling them for 50 cents on the dollar!
Instead of breaking open your piggy bank to decide what you can afford, I suggest going at it from the other way around. Here is a set of steps I recommend following.
1. Decide what airgun you want. Here is a short list of guns I think are great.
I could go on and on, and so could you. What is on the "good airgun " list will vary from person to person — but let's all stay away from the hyper-velocity Buzzalot Breakbarrel, as well as from the Chinese underlever built in Village Number Two.
2. Don't limit your choices of what you might buy to a single model. You might pine away for a Diana 27 in .22 caliber and wind up a year from now paying far more than one is worth, just because it was the first one you saw that somebody else didn't snatch away before you could open your wallet. And, during all the time that transpired while you waited you missed getting a Slavia CZ 634, two Slavia 630s, An Air Venturi Bronco, an older Beeman R7 with peep sights and an HW 77. Any one of them might have satisfied you, if they were on your long list, but tunnel vision made you hold out for that elusive Diana 27.
3. Be prepared to do some work. Older airguns may not be in perfectly tip-top condition. I hope this blog has revealed that to you. I also hope you have seen that most of these older guns still have the parts available in some way so they can be rebuilt.
Maybe you have decided that Diana ball bearing triggers are beyond your capability and maybe you also don't want to buy or build a mainspring compressor. So, factor that into your search! In other words, try to buy a used gun that's ready to go right now. Or, try to find one that is more easily overhauled. Weihrauch spring guns are generally easy to work on. BSAs are more complex.
4. Try to have the money set aside, so when the buy of a lifetime comes along, you're ready! Several years ago blog reader Carel contacted me when I made a comment about wanting to someday detune a Diana 35 to make a nicer rifle out of it. He had a very nice older one he was willing to part with. And after a short email conversation I learned that he also had a Diana 26 and something called a Diana 27S. I bought the lot of them at a very reasonable price and he shipped them — FROM THE NETHERLANDS!!!
Today the Diana 35 that I tuned is the nicest, most accurate vintage Diana I own! And I can sell the other two rare (in the US) Diana models at the next airgun show, if I want. With luck I will come close to breaking even and still have my nice old 35. That is an illustration of saving my money until the right deal presented itself, and also that dealing with an honest person like Carel is as low-risk as buying something from a best friend. I can name others, like Mr. Marvin, from whom I have bought several vintage airguns. And he is from Canada. The world is a small place when you shop online!
Here is what I have learned. When you take the time to set the money aside, the buys will come to you. Of course that doesn't mean that you should lower your guard, but that's always going to be true.
BB's lesson in life learned late
When I recently learned that rimfire cartridges could be reloaded, a whole new universe opened up! For years I have passed by beautiful firearms because they were chambered for rimfire cartridges — and YOU CAN'T RELOAD RIMFIRE! Or so I thought for 73 years and a few months. Now I know different. Not only can rimfire cartridges be reloaded, but old BB Pelletier is one of those smart buyers who recognizes a great deal when he sees one.
Besides what I tell you about reloading .22 rimfire cartridges I will be expanding the report to include reloading .41 rimfire and also .32 rimfire. We will look at several alternative methods of achieving the same goal. I already told you that this report will be a long one. Now it's going to be super-long. Don't worry — I will stretch it way out, so if it isn't your cup of tea you shouldn't be bothered. I see a possible book in this.
At any rate, when BB learned that rimfires can be reloaded a world of fine and vastly under-appreciated firearms came into focus. Can the same thing happen for you as the result of today's report?
Dealers sell used, too
Don't forget to watch the dealers. And I mean all of them — not just Pyramyd AIR — though their volume does generate a lot of used inventory. When you deal with a dealer "used" may take on a different meaning. It might even be an airgun that someone bought before coordinating with his resident Chancellor of the Exchequer. That happens a lot! It probably means a squabble for him but what it could mean to you is a discount on a gun that's really never been out of the box! I am currently looking at a RAW in .22 caliber that was returned as a "blem." Well, my eyes cannot find the blemish. Perhaps the problem was in the buyer's bank account and not on the gun at all!
Dealers also have older used airguns. I remember buying a rusty old FWB 124 Sport from a dealer for $35 and tuning it up to be a solid performer. It may not have looked good but the FWB pedigree sure showed through when it was shot. You might think that dealer was naive but his main business was selling new airguns and fixing pneumatics and CO2 guns. A breakbarrel springer just wasn't in his wheelhouse.
Summary
This report is not finished. Today I talked about spring guns in general and breakbarrels in particular. There are other powerplants we can discuss.
I know this topic tugs at your heartstrings, so please enlighten the rest of us with what you have learned about buying used.