by Tom Gaylord
Writing as B.B. Pelletier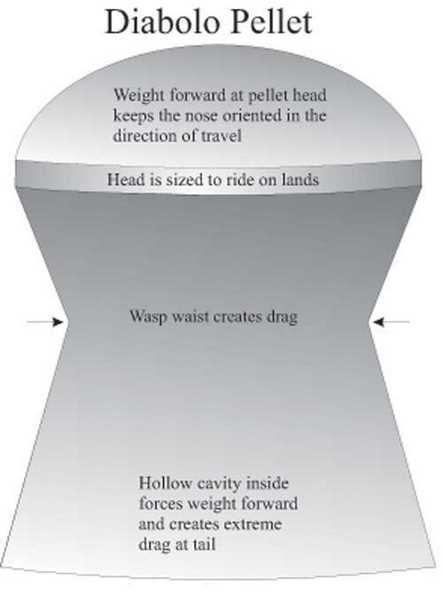 This report covers:
Not a diablo
Accuracy
What does stability mean?
Conical bullet stability
So what?
The other hand
Why are some diabolos unstable?
Mechanical destabilization
Gas turbulence
BUT!!!!!
Overstabilization problems
My main point
The take-away
As airgunners we shoot diabolo pellets without giving much thought to their design, but if it weren't for that design our entire shooting experience would be different. The diabolo shape is what makes the accurate pellet rifle and pistol possible.
Not a diablo
Let's start by defining the name. diabolo is pronounced de-Ah-bo-lo. It is not the same word as diablo, which is the Spanish word for devil. Diabolo refers to a toy by the same name that's sometimes used in juggling acts. When it spins fast its two flared ends act like flywheels, keeping the device balanced on a string passing under its center shaft.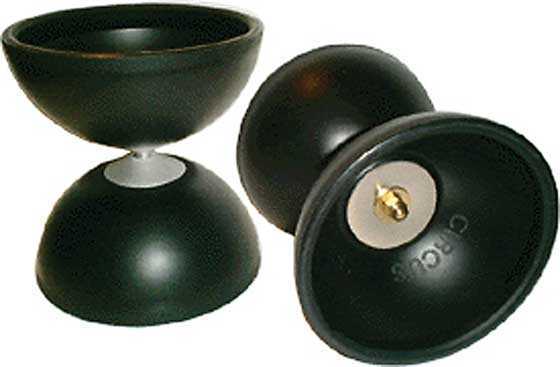 When these diabolos are spinning, they will balance on a taut string that passes under the narrow shaft in their centers.
The diabolo is the shape of our pellets, with some exceptions. The name is so universal that in many languages pellets are not even called anything besides diabolos.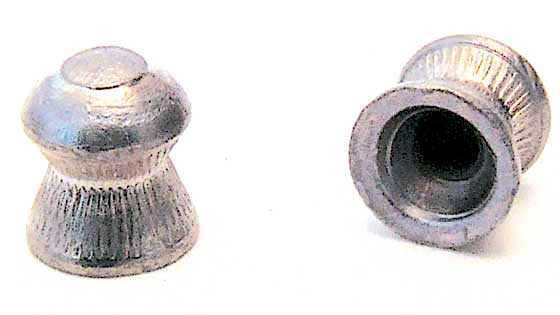 The Eley Wasp is a typical diabolo pellet. It's not that pretty but it has all the features of the diabolo design.
Accuracy
What I'm about to say now constitutes the remainder of this report. The diabolo pellet design is the principal reason that pellets are accurate. That's important to understand if you want to shoot accurately. The weight-forward design and the high drag at the tail keeps the pellet oriented forward as it flies downrange. Just yesterday we saw good accuracy from a Crosman 760 Classic that has a smoothbore barrel. Nothing other than the design of the pellets was keeping them together as they went downrange, yet with a couple pellets they managed to stay very close together over the 10 meters to the target. Why is that important?
It's important because the other principal way to ensure accuracy is by spinning the projectile so it revolves on its axis as it flies. Today we think of elongated bullets made of different heavy materials like lead and copper alloys, and they are so common that we don't think of them as strange. There was a time, however, when the elongated bullet was a novel idea because until then bullets had all been spherical. A sphere doesn't need to spin nearly as fast as an elongated projectile to remain stable.
What does stability mean?
Stability for any ballistic projectile means that it will travel along a course that can be calculated very closely. A spinning top is stable if it stands upright and remains in one place while it is spinning. Stability does not relate to the shape of the projectile, because all shapes can be both stable and unstable in flight.
Conical bullet stability
Where a round ball needs only to be spun a little to stabilize, a conical bullet needs to be spun much faster. If it isn't spun fast enough, it will begin to move off its axis while flying and that will lead to uneven air pressures around it in flight. When that happens the bullet will fly off the intended trajectory. At close range we can see this on target paper sometimes — when the bullet passes through sideways. Let's see.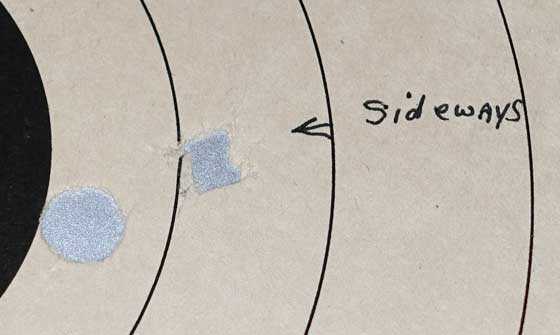 Here you see two holes. Both were made by the same type of "collar button" bullet, but the bullet on the right was spinning out of control and hit the paper sideways, while the other one hit head-on. 
I can show you a similar collar button bullet, though it is not exactly the same as the ones that made those two holes.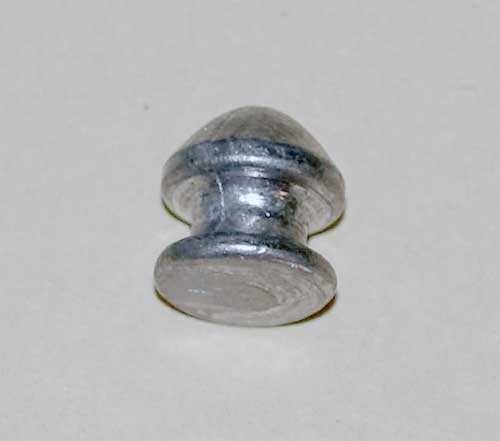 This is a different collar button bullet than the one that made those holes, but the shape is similar.
So what?
This report is about diabolo pellets, so why am I blathering on about conical bullets? Here is why:
Airgunners and airgun retailers persist in calling conical bullets, pellets. I'm referring to the so-called "solid pellets." Solid they are, but in no way should you think of them as pellets, because they don't stabilize in flight in the same way that diabolos do. They are bullets by another name, and it takes spin to stabilize them. They will be stable within a narrow range of revolutions per minute, which is affected by both the velocity at which they are shot and by the twist rate of the rifling in the bore they pass through. You can chase your tail a lot, trying to get these "pellets" to stabilize and be accurate at the distances you shoot.
The other hand
On the other hand, the diabolo will stabilize across a broad range of twist rates and, for short distances, with no twist at all, as we have seen. But I have a question.
Why are some diabolos unstable?
If you have read this blog for more than a year you have seen targets with pellet holes that are elongated. We know that pellets can yaw (tilt away from the long axis of the projectile) in flight and destabilize as they travel downrange. Why is that?
Mechanical destabilization
The most common reason for the destabilization of a pellet is when it comes in contact with something just before leaving the gun barrel. A misaligned silencer is often the reason for this. The pellet hits part of the silencer and leaves the muzzle wobbling on its axis.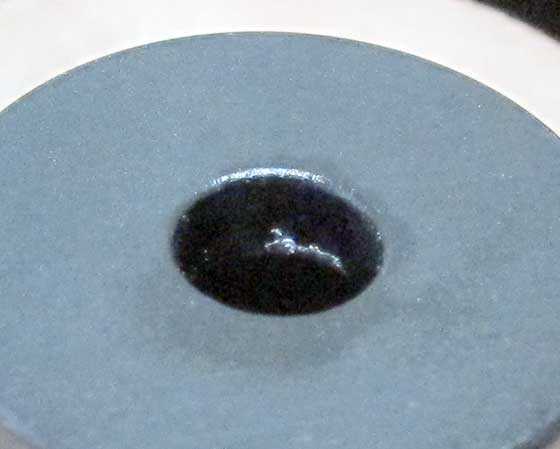 You probably remember seeing the lead buildup inside the muzzle cap of the Diana Bandit pistol I'm testing. There is no way a gun can be accurate when the pellets are hitting this way.
The Diana Bandit pistol leading was actually a blessing, because the pellet was striking the back side of the muzzle cap. If it had been hitting a baffle deeper inside the silencer we might not have seen it as easily.
Gas turbulence
But the pellet or bullet may not have to contact anything to be affected. Back when I tested the Ruger 10/22 rifle for Shotgun News I discovered that putting a silencer on the standard carbine degraded the accuracy a little. It wasn't a huge difference — perhaps a 10-shot group that should have been 1.4 inches at 50 yards would grow to 1.8-inches, or so. However, people say that adding the silencer changes the vibration dynamics of the rifle barrel, so it's hard to say whether it was gas turbulence or harmonics that opened the group. I just knew that it got larger with the silencer on. So, I can't prove that gas turbulence affects a projectile's stability, but if it does then a lightweight diabolo pellet will be affected sooner and more than a heavier bullet.
BUT!!!!!
I think I have a really cool way of testing this. I'm about to test the Edge target rifle for accuracy. What if I test it first with the silencer out and then take the two most accurate pellets and test it again with the silencer installed? That will show us something, plus the way that the silencer is installed in the Edge, it shouldn't change the harmonics at all. I will explain why that is the case when I do the test. This is something I have always been curious about and this seems like a great way to test it.
Overstabilization problems
There are obviously other accuracy problems with diabolo pellets that have nothing to do with hitting things or interference with gas. I have watched pellets spiral downrange through my scope and I know many of you have as well. This is obviously a pellet that is unstable, but it is unstable in a very consistent way. It's almost like a baseball pitcher throwing a curveball, except I never heard of a curveball curving up. Maybe a knuckleball with control? That goes against the definition of the knuckleball. The point is — I don't know why pellets do it and I'm not about to make something up.
My main point
I haven't said this yet, but here is what I have been leading up to. I think the diabolo pellet design is so flexible that its accuracy potential far exceeds that of any bullet. Yes there are points at which a given pellet will be at its best — just as there are for bullets. But I think a heavyweight pellet like an H&N Baracuda Match can be reasonably accurate when leaving the muzzle of a Diana 27 at 400 f.p.s. and also exiting at 800 f.p.s. from a more powerful air rifle. You aren't ever going to see anything like that range with bullets.
And here is why it matters. Some company will claim that their big bore air rifle gets up to 900 foot-pounds of energy, but we all know that to do it the rifle will have to shoot the longest pure lead bullet that can be loaded! It probably won't even hit the target at 50 yards, because the heavier the bullet is, the slower it goes. And the slower it goes, the slower it spins. Yet the longer and heavier a bullet is, the faster it needs to spin to stabilize. With bullets — longer and heavier is the enemy of stability, unless there is high velocity — which is exactly what an air rifle doesn't have!
And THAT, my friends, is why I keep insisting that we call a bullet a bullet — so the guys on their couches will wake up and smell the instability, instead of shopping by the numbers!
But our little friend the diabolo pellet gives us a warm cuddle of forgiveness, no matter what we shoot him in. I'm toying with a second experiment of shooting light and heavy pellets in a number of rifles to compare the results. I haven't worked out all the details of such a test yet, so I will be interested in your thoughts.
The take-away
What I'm saying today is that the diabolo pellet design gives airgunners a much broader range of tolerance than bullets do. We "get away" with shooting pellets that are not well-suited to the guns we shoot them in.
Yes the diabolo design means a shorter distance, due to how soon the pellets slow down. That dynamic changes the entire shooting situation and makes 100 yards a thrilling long distance for airgunners, where for bullets 100 yards is just a warmup for the real thing.
Here is what I am NOT saying. I am not saying that heavy pellets and light pellets are equally accurate in the same airgun. They obviously are not equally accurate and, yes, certain pellets will always be the best in certain airguns. I'm just saying that with diabolo pellets we airgunners have a lot more flexibility.