by Tom Gaylord
Writing as B.B. Pelletier
Part 1
Part 2
Part 3
Part 4
Part 5
This report covers:
The goal
The test
Sight in
Air Arms pellets
First group
Second group
Discussion
Air Arms Falcons
Discussion 2
Summary
The goal
Today I'm doing something I don't normally do. I am comparing airguns. Today my goal was to determine whether mounting the Meopta Optika6 scope on the Air Venturi Avenger would give better accuracy with that rifle than the Bug Buster I used in parts 4 and 5. Also, could the Avenger possibly equal the accuracy of the Air Arms S510XS? I learned a lot of things in today's test.
The test
The test was to shoot the rifle from 25 yards. The rifle was rested directly on a sandbag for this test and I loaded each pellet singly. I shot 10-shot groups. Let's get started.
Sight in
I shot one pellet at 12 feet and then backed up to 25 yards. The Optika6 scope adjusts positively with absolutely no stiction! I was on target in 4 more rounds. I sighted to hit the bull below the aim point, so I could preserve it for the entire group. Remember that the Optika6 is so clear that I can see its central dot and cover the 10-dot of a target.
Air Arms pellets
The first pellet I tested was the 16-grain dome from Air Arms. They did well at 10 meters and were the best at 25 meters in Part 5. Before I started shooting I thought I might shoot five 10-shot groups with this pellet and wow you. But that was before I looked through the Meopta scope! I had forgotten just how clear this scope is and that the dot at the center of the crosshairs is the same size at 18 magnifications as the 10-dot on a 10-meter rifle target at 25 yards. Trying to keep the black scope dot on top of the white target dot turned out to be frustrating, as small movements of less than 1/10-inch were constant and clearly visible.
Before I tell you what happened — how well did the Avenger do when the Bug Buster was mounted? The best group with this pellet using the Bug Buster scope was 10 shots in 0.348-inches at 25 yards. Anything significantly better than that would be noteworthy.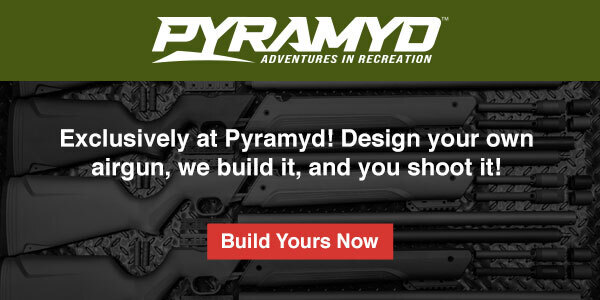 First group
The first 10-shot group of Air Arms pellets using the Meopta Scope measures 0.242-inches between centers. That is significantly smaller than the best group shot with the Bug Buster scope. I must admit — the Meopta scope did make the Avenger more accurate! Until now I did not think that was possible, but the results are clear to see. But there's more.
The first group I shot with the Meopta scope was significantly better than the best group shot with the Bug Buster. Ten Air Arms 16-grain domes are 0.242-inches apart.
Second group
I didn't like how the scope dot was moving during the first group so I shot a second group. This time I gave it my all. Every ounce of concentration and discipline went into shooting this group. The pellets didn't seem to wander as much this time and when I finished ten pellets had gone into a group that measures 0.17-inches between centers. That is smaller than the best group I shot with the Air Arms S510XS, back on October 2nd of 2019, in Part 5 of my 7-part test. That group measured 0.18-inches between centers.
6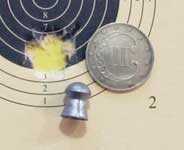 The Avenger put 10 Air Arms domes into 0.17-inches at 25 yards.
Now these groups are subject to errors in measurement, so the 0.17 I shot in this test might actually be the same size as the 0.18-inch group in the 2019 test. The point is — the two groups are similar in size. That means that the Air Venturi Avenger is just as accurate as the Air Arms S510XS.
Was luck involved in shooting both of those great groups? Yes — beyond question it was. Could a better shot do better with either rifle? Yes, again. But I am a constant in these two tests. This is as good as I was able to do on both days in question with both rifles shooting the same pellet.
Discussion
This result was unexpected, though it was the very thing I was trying to accomplish. I am as surprised as the rest of you by what has happened. But let's take nothing away from the Air Arms S510XS. Could I do even better with it on another day? Undoubtedly I could. All I am saying is the Avenger — a price-point PCP — is just as accurate as a $1,500 PCP from a respected major maker! That's real news in my book!
Air Arms Falcons
I wasn't through testing the Avenger. I switched to the Air Arms Falcon pellet — another dome that's similar to the 16-grain dome, but lighter at 13.43 grains. The first three shots went into the same hole that seemed to have no relative size. But then the concentration thing caught up with me and by the end of ten shots I had a 0.245-inch group at 25 yards.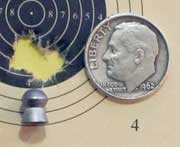 The Avenger put 10 Falcon pellets into 0.245-inches at 25 yards.
Discussion 2
Do you realize were are discussing three 10-shot groups shot at 25 yards that are all under a quarter-inch? This kind of accuracy isn't common and deserves our attention.
I have learned that a scope can increase accuracy when it is as sharp and clear as the Meopta Optika6. It's the difference between cutting something with a knife or cutting it with a scalpel.
I wouldn't have believed it but a PPP has delivered the same accuracy as a fine premium PCP. At this point I appear to be the limiting factor.
Summary
I have to say that the Air Venturi Avenger is a world-class PCP and a best buy. It may even be the best air rifle I have tested in decades.
I also have to say these results do not mean that I will not buy the Air Arms S510XS rifle. There is so much to like about that rifle that I now face a difficult decision.
Given yesterday's blog on The Great Enabler , I am doing it again. Spouses — beware!