by Tom Gaylord
Writing as B.B. Pelletier
Part 1
Part 2
Part 3
Part 4
Part 5
Part 6
This report covers:
Summary
What we know
Why are we doing this?
The test
Is it still on baseline?
Highest power?
Summary 2
Today I keep my word by testing the AirVenturi Avenger at lower fill pressures — say 2,500 and 2,000 psi. My thanks to reader Brent who reminded me of this test.
Summary
Let's skip to the end — I hope. Filling this regulated air rifle to a lower pressure should be exactly like putting less gas in a car. It should still go just as fast — but not as far. In this case the Avenger will get fewer shots on the fill but the velocity and accuracy should remain the same, give or take. I won't test the accuracy again until the 50-yard test, but today we will look at the velocity.
What we know
In Part 3 we discovered that the Avenger is still very powerful when the regulator is set to its lowest setting and the hammer spring that is also adjustable is set to its lowest setting. When everything was set as high as it will go the power was in the 36 foot-pound range and there were a total of 55 shots before the rifle needed to be refilled. When everything was set as low as it will go the power was just under 25 foot-pounds and the rifle gave 96 shots before I stopped shooting. With so much adjustability we can argue whether there are even more useful shots on a fill but at least there are this many.
What we learned is the Avenger is very careful with its air. We also learned that on the lowest power settings it is extremely accurate, besides providing decent power. That makes today's test a valid one.
Why are we doing this?
We are testing this concept because the 300 bar fill the Avenger requires is beyond the ability of many who want to own the gun. To get pressures that high means they either have to have a 4,500 psi carbon fiber air tank or a compressor, or both. In recent times the cost of compressors has dropped dramatically, but carbon fiber tanks have remained expensive. The Avenger retails for just $300, so the shooters looking to buy one are probably not willing to spend the extra $700-1,000 to get everything they need. But if the rifle can be filled conveniently with a high-pressure hand pump and if they get a reasonable number of good shots from it then the need for all that stuff goes away.
We don't need to test the gun on low power and again on high power. Whatever it does at one power level it will do at all power levels.
The test
I wondered how to proceed. Should I empty the rifle and then fill it with a hand pump? I could do that, but what would I gain?
When I looked at the onboard gauge it was reading just under 3,000 psi. That was left over from the test in Part 6. So the airgunner in me did the easiest thing — I released the reservoir pressure until the onboard gauge read 2,500 psi.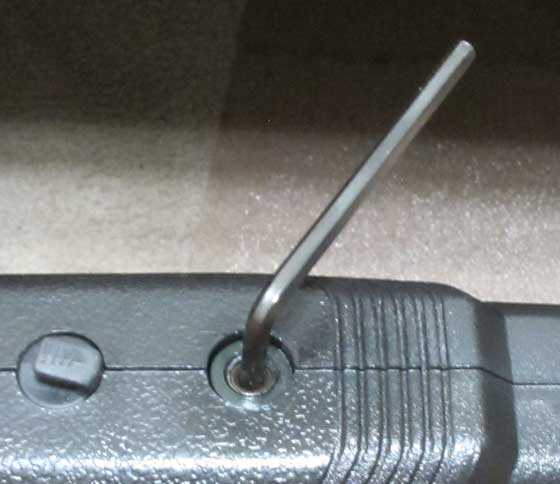 The 3mm bleed screw releases air from the reservoir.
I released the air very slowly, watching the needle on the gauge carefully. I know that these gauges take time to settle in so I gave it plenty of time. When I finished it looked like this.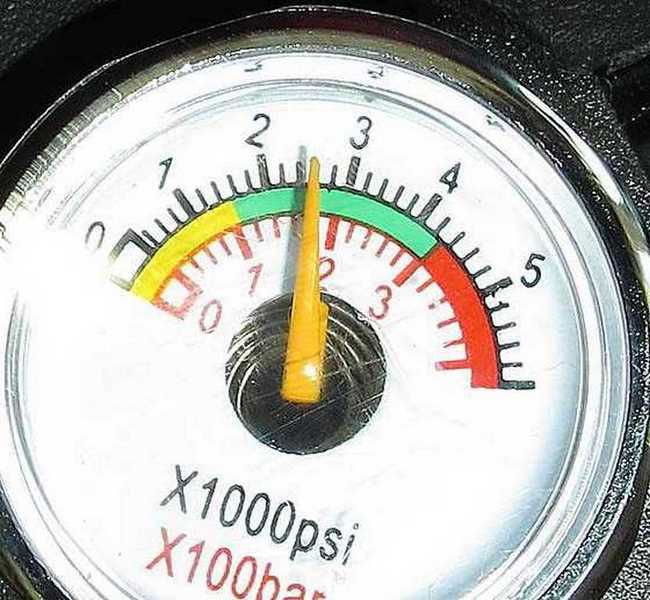 The test was started with the onboard reservoir gauge reading as close to 2,500 psi as possible.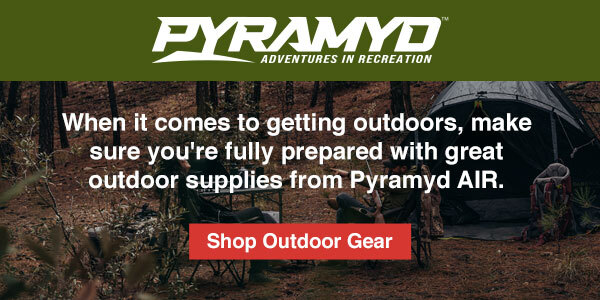 Is it still on baseline?
First I wanted to fire 5 JSB Exact Jumbo Heavy pellets to see if the Avenger was still shooting at the velocity recorded previously. In Part 4 we established the average velocity at 782 f.p.s. at this lowest power setting, with a spread from 768 to 790 f.p.s. We learned that by waiting for the regulator to fill the velocity did increase, so there was some special testing done (waiting a full minute between shots) to get all 96 shots last time on a fill. I may need to do some of that today and I will tell you as the test progresses. Now let's look at the velocity of 5 JSB Jumbo Heavys with a minute between each shot.
2500psi fill
Shot……….Vel.
1…………..793
Then I shot the second shot while waiting only 30 seconds after the first.
2…………..769
After that I waited at least 60 seconds between shots.
3…………..777
4…………..775
5…………..771
I am almost out of JSB Exact Jumbo Heavys so I switched to Beeman Kodiaks to continue the test. Also waited 60 seconds between shots.
6…………..712
7…………..704
8…………..698
8…………..709
10…………704
11…………699
12…………702
13…………717
14…………710
15…………708
16…………708
17…………707
Now I shot one JSB Exact Jumbo, just to show where the rifle was.
18…………772 JSB Exact Jumbo
Back to Kodiaks.
19…………716
20…………707
21…………714
22…………719
23…………718
At this point the onboard pressure gauge read exactly 2,000 psi. So from 2500 psi down to to 2000 psi I got 23 shots that were consistent.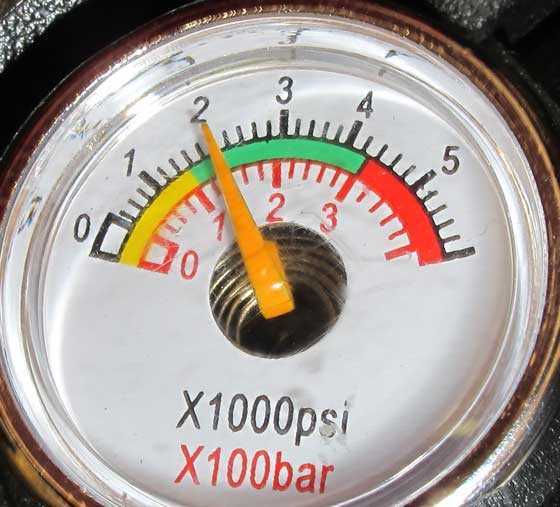 When I started the shot string that follows the gauge read 2000 psi.
24…………710
25…………703
26…………698
27…………714
28…………706
29…………702
30…………709
31…………707
32…………702
33…………705
34…………699
35…………703
At this point I fired another JSB Exact Jumbo Heavy, just to check.
36…………771 JSB Exact Jumbo Heavy
And back to Kodiaks.
37…………703
38…………711
39…………700
40…………711
41…………698
42…………703
43…………701
44…………699
45…………694 off the power curve
46…………710
47…………695
48…………695
That's 21 shots on 2,000 psi and another 23 if you go up to 2,500 psi. If you can pump to 2,500 psi you get 44 good shots when the rifle is set to the lowest power settings. The pressure gauge had just dropped off the green when the power curve ended.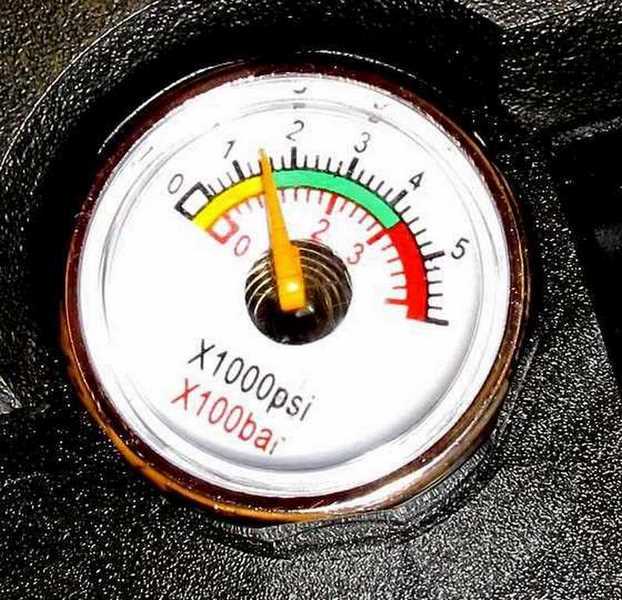 When the power currve was through the gauge read like this.
Highest power?
We got 55 shots per fill on the highest power settings and 96 shots on the lowest settings when I filled to 300 bar. So, take the numbers in this test and chop them in half and that's roughly how many shots you'll get when shooting at the highest power and filling to these pressures.
Notice that filling to 2,500 psi gives a lot more shots than filling to 2,000 psi. So, if you fill with a pump go as high as you can.
Summary 2
The Avenger gives a lot of useful shots even when you don't fill it all the way. I don't know what else I can test — other than accuracy at 50 yards which is coming. I think this air rifle is the best buy of the millennium!