Diana 75/Beeman 400 recoilless target air rifle: Part 3
by Tom Gaylord
Writing as B.B. Pelletier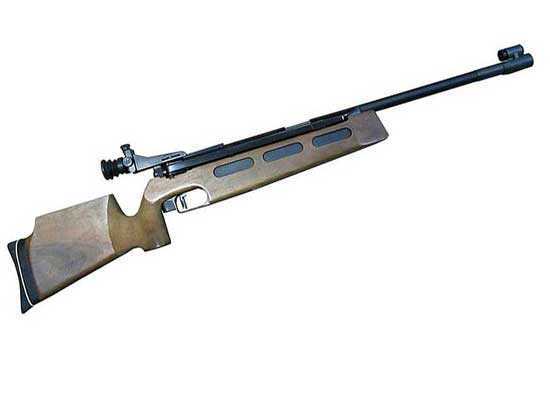 The Diana 75.
Let's make lemonade
Part 1
Part 2
This report covers:
The sights
No clear inserts
The test
Sight in
RWS Meisterkugeln Rifle
RWS R10 Match Pistol
Vogel Match
Discussion
H&N Finale Match Heavy
H&N Finale Match Light
RWS R10 Match Heavy
Something more
Discussion 2
Summary
Today we start testing the accuracy of the Diana 75/Beeman 400 target air rifle.
The sights
I first had to mount the rear sight and change the front sight post insert for an aperture. The Diana rear sight is straightforward, except this one has adjustment directions in English rather than German. You simply adjust the knob in the direction you want the pellet to move. Simple! I had the rear sight on the rifle, positioned and clamped tight in about 15 seconds. But the front sight…!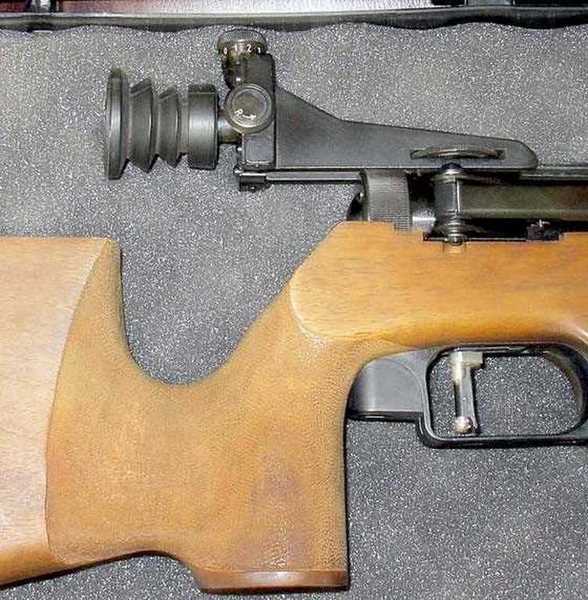 The Diana 75 rear sight is conventional except the adjustment markings are English and not German.
The front sight, on the other hand, is a real piece of work! I didn't pay much attention to it until this morning, just before I shot the rifle. I knew I needed to switch inserts because it had a tapered post and I wanted an aperture. Wayne Johnson who sold me the rifle sent all the sight inserts in a small jar, along with some other stuff that I need time to research.

There's a whole lotta magic inside this Diana 75 front sight.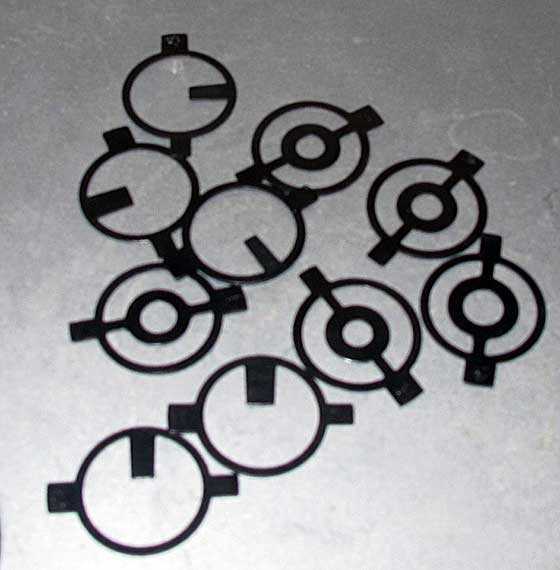 The conventional sight inserts.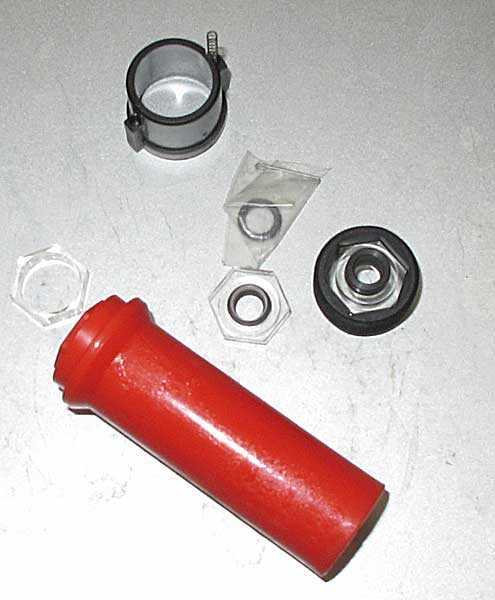 … and there was also this stuff. I think it's an adjustable front sight aperture, but I need time to research it. The red tube appears to be a wrench for the sight.
No clear inserts
I had hoped to install a clear plastic front sight aperture today, but the ones I have don't fit. At least I wasn't able to get them to fit. So I used a 3.5mm steel aperture insert from the ones shown above. It works well so far.
The test
Today I'm just getting used to this new target rifle and finding out what sort of pellets it likes. I shot from a rest at 10 meters with the rifle rested directly on a sandbag. I shot 5 shots per group.
Sight-in
There was no sight-in! Perhaps for the second time in more than a half century of shooting, the sights were on target from the get-go. That's odd because I store this rifle in a case with the rear sight removed and today I also swapped the front sight insert. I felt lucky to just be on paper at 10 meters, and never expected to hit in the bull I aimed at! The pellet was not perfectly centered but since I'm testing a lot of different pellets I left the sights set where they were.
RWS Meisterkugeln Rifle
I chose RWS Meisterkugeln Rifle pellets to sight in for no particular reason. When the first pellet landed in the black I decided to just finish the first group. Unfortunately it isn't very small. Five pellets made a group that measures 0.526-inches between centers. Ugh!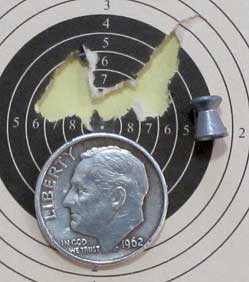 The Diana 75 put 5 RWS Meisterkugeln Rifle pellets in 0.526-inches at 10 meters. It is the largest group of the test. This group isn't as big as it looks because there was some tearing of the target paper.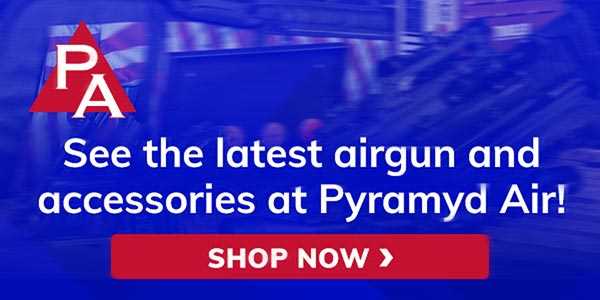 RWS R10 Match Pistol
The second pellet I tested was the RWS R10 Match Pistol wadcutter. Five of them went into 0.162-inches at 10 meters.

That's the stuff! Five R10 Match Pistol pellets went into 0.162-inches at 10 meters.
When I shot this group I wasn't aware how small it is because of some paper tearing. This is the smallest group of today's test.
Vogel Match
This was the pellet I hoped would do best because I just ordered 5,000 of them on a bulk buy at a fabulous low price. They come in different head sizes and the ones I tested today are nominally 4.50mm. But, yucky-poo, they grouped in 0.403-inches between centers! And paper tearing makes the group look larger than it is. These pellets weigh 8.3-grains nominally.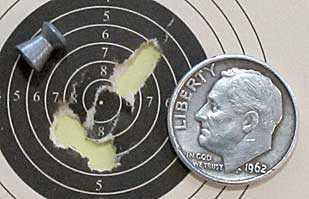 Five Vogel pellets with 4.50mm heads made two groups that measure 0.403-inches between centers.
Discussion
Okay — I'm startin' to figure this out. The heavy pellets are moving so slow that they are tearing the paper. I probably need to visit Neal Stepp to get this rifle put right again. And heavy pellets aren't as accurate as the light ones.
Also I want to report that the 75 doesn't come back at me when it fires, so I can put the rubber eye shield against my glasses for every shot. That's a reminder to myself for next time. Let's shoot some more.
H&N Finale Match Heavy
The next pellet I tried was the H&N Finale Match Heavy wadcutter. I still didn't know about the rifle's aversion to heavy pellets. Five of these made a group that measures 0.259-inches between centers. That's not too bad except the Diana 75 is a target rifle that should put them into a group of half that size.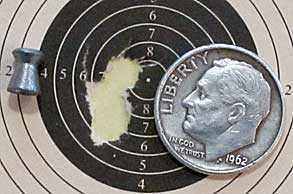 The Diana 75 put five H&N Finale Match Heavy pellets in 0.259-inches at 10 meters.
H&N Finale Match Light
The next pellet I tested was the H&N Finale Match Light. Given how well the Heavys did I expected this pellet to do well and it did. After I saw the group I thought this was the smallest group of the test, though after measuring I discovered it wasn't. Five pellets are in 0.186-inches at 10 meters. Another trime!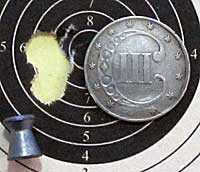 The Diana 75 put five H&N Finale Match Light pellets in 0.186-inches at 10 meters. It's good enough for another trime!
RWS R10 Match Heavy
Next up were five RWS R10 Match Heavy pellets. Care to guess how they did? Given what we now know it was no surprise that five of them went into a group that measures 0.329-inches between centers.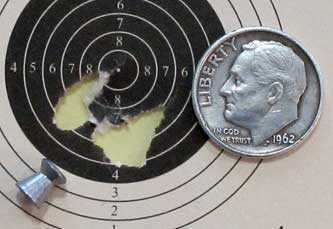 Five R10 Heavy pellets made this 0.329-inch group at 10 meters.
Something more
At this point I had not measured the groups and I thought that the H&N Finale Match Light pellets were the most accurate. So I adjusted the rear sight for them. When I did I discovered that I can't hear or feel the clicks on this target sight, so I have to watch the numbers on the knobs. It's the only way to know that you've made an adjustment. Based on where the first group landed I moved the rear sight up and to the right.
The second group I shot with the H&N Finale Match Light pellets measures 0.351-inches between centers. I had hoped to do a lot better than that, so maybe I was starting to get tired. The group was higher than the last but still needed to go right.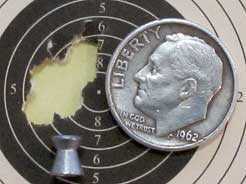 The second group of Finale Light pellets measures 0.351-inches between centers.
I adjusted the sight a little more to the right for the next group. It already seemed high enough.
For the third and final group of Finale Match Light pellets I pulled out all the stops and concentrated as hard as I could. This time five pellets made a 0.272-inch group. It's very horizontal and I realized I had come to the end of my test for this day.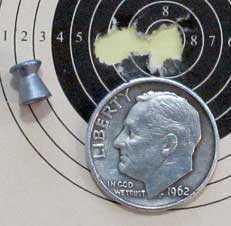 The final group of Finale Match Light pellets is five in 0.272-inches at 10 meters.
Discussion 2
Well I didn't do as well as I had hoped. Certainly at this point my FWB 300S is more accurate in my hands than this Diana 75. But the Diana is more pleasant to shoot because the action doesn't move when it fires. It doesn't come back into my glasses.
At this juncture I am pondering what comes next. Do I continue to shoot this rifle, try different pellets and see if I can do better, or do I get it back to speed, so to speak? I think most of you will want me to get it looked at.
It probably isn't fair to put it up against my FWB when it's not performing as it should. The FWB 300S has already shot several groups smaller than one-tenth-inch and it gets an average 658 f.p.s. with the R10 Pistol pellet, where this Diana only gets an average 543 f.p.s. at the present.
Summary
I still need to learn about that strange front sight setup that appears to be an adjustable-diameter aperture. I kinda want to hang onto the rifle long enough to write that up.
But not to worry — you're going to see this Diana 75/Beeman 400 many more times in the future!
Tags In
Tom Gaylord is known as The Godfather of Airguns™ and has been an airgunner for over a half-century, but it was the 
Beeman
 company in the 1970s that awoke a serious interest in airguns. Until then, all he knew were the inexpensive American airguns. Through the pages of the Beeman catalog, he learned about adult airguns for the first time. In 1994, Tom started
The Airgun Letter
 with his wife, Edith. This monthly newsletter was designed to bring serious reports about airguns to the American public. The newsletter and
Airgun Revue
, a sister magazine about collectible airguns, was published from 1994 until 2002, when Tom started
Airgun Illustrated
-- the first American newsstand magazine about airguns. Tom worked for three years as technical director at
AirForce Airguns
, the makers of the 
Talon, Condor, and Escape
 precharged air rifles. Today, he writes about airguns and firearms for various publications and websites. He also makes videos, and you'll find short clips embedded in some of his artices on Pyramyd Air's website. Tom is a consultant to Pyramyd Air and writes under the name of B.B. Pelletier.