by Tom Gaylord
Writing as B.B. Pelletier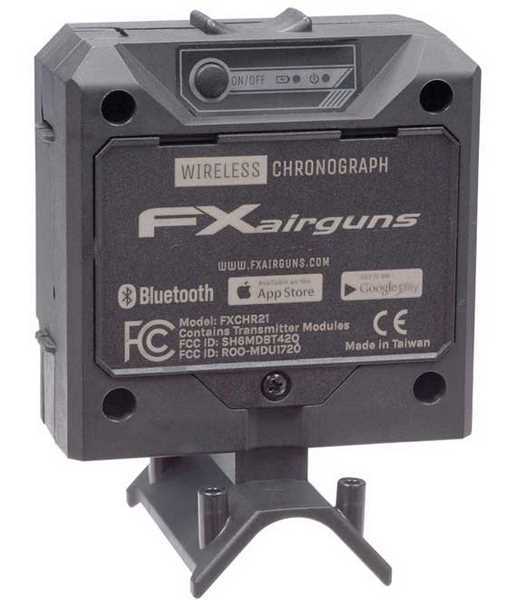 The FX Radar Pocket Wireless chronograph.
This report covers:
Something different
Working with the 397
Can't restore lost pages
One path only
The deal
So — who is it for?
Sensitivity
Random recorded "shots"
Hostile software
Discussion
Summary
Today will be one of discovery, as I try to find out how this FX Radar Pocket Wireless Chronograph works.
Something different
I had planned a much different report about the FX chrony, using it with the new Benjamin 397. Well that failed, and I will describe some of what happened in a little bit.
Like I told you — there is no manual. So to find out anything about the unit I have to turn it on. And the radar has to be on for my smart phone app to work. That's the first dilemma. I would like to study the pages of the app to discover what they do, and more importantly, what they don't do. But the radar has to be turned on to do that.
Now there is something in the app that calls itself a "manual" but it's not. It's an FX advertising brochure like we saw with the FX Dreamlite rifle. It does give a little information in the form of outdated videos of the chronograph app. Either they are outdated or the app I'm using is outdated because the information they show is different from what is on my screen. Or they are a European app and I'm using an American one.
Working with the 397
Now let me tell you a little of the saga of trying to record the velocity of the Benjamin 397. Several of you mentioned in Part 1 that when I used the FX chrony with the Benjamin 397 that I'm testing I used the wrong profile/velocity setting. You were right. I had left the chrony set up for the Air Arms S510XS that was shooting .22-caliber RWS Superdomes in the mid-to-high 900s. We know from the velocity test in Part 2 that the Benjamin shoots right in the 600s on 4 pumps. I tried several profiles whose velocity was okay, but only the UK airguns profile worked. The fastest velocity the FX Radar chronograph is set to record is found in a profile the app calls Airgun High Power. That's a range of velocities from 590 to 1099 f.p.s. That is as fast as this chronograph can handle.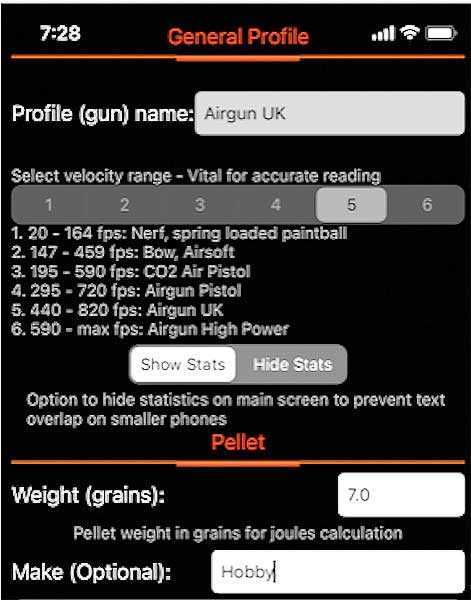 Here are the profiles with their velocity ranges. The chronograph will not work well outside these ranges.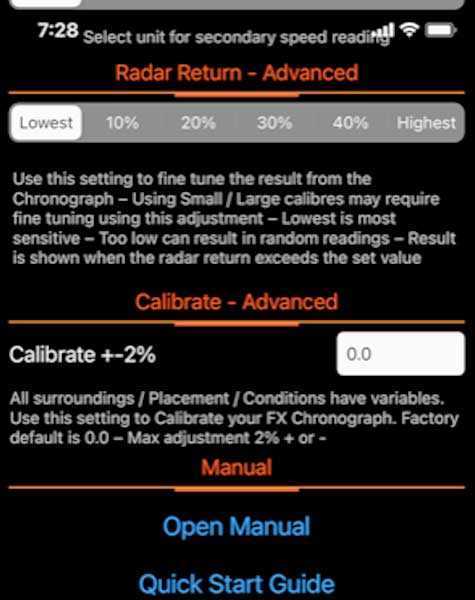 This is most of the bottom half of the profile page. I have not yet found any reference to what the "calibrate" means — but of course, there is no manual. Yeah — I see the word on the screen. It's a sales brochure.
Now there ARE some videos on the chronograph to watch. Naturally they all come with cutesy music. I watched one and got very little from it.
Can't restore lost pages
Each time you go from a recording screen back to the Profile page to change something you lose connectivity with the chronograph and have to reestablish it. All the information from your last string is not lost, but it is VERY difficult to retrieve, and there are no friendly prompts to help you. You are supposed to know this and to save each string before doing anything else, but when you save a string — well, I don't know what happens because every time I tried to save one I lost it. If I hadn't taken screen shots off the smart phone you wouldn't be able to see them, either.
Some of you are saying, "That's no problem." but it really is. Because if you get into some screens/pages in the app, the software will freeze up unless it sees the one or two responses it's looking for. There are no forward and backward (navigation) icons that I can find. It's like Facebook, when they REALLY want you to look at something. The only way out is to go back to the Home page and all your data will be terminated. Not lost, just terminated. Want a 10-shot string? Don't EVER leave the page while you are recording it! The data will still be there but you won't be able to see it in that format again.
One path only
What I discovered so far is when using the software with this chronograph there is one path to take and only one path. Deviate slightly and you have to do it all over. At least that's how it seems to me right now. There may be navigation tools but if so I haven't found them.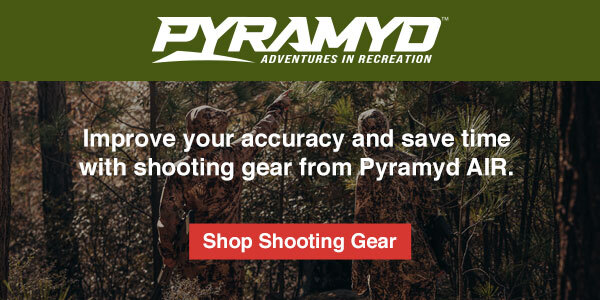 The deal
And here is what that matters. Some of you new readers don't know me that well, but the old-timers know that I'm not just testing the FX chronograph today — at least not how well it does what it was specifically designed to do. I am also testing it as a new user, to learn how it looks to a guy who has never seen one before. There are folks who have worked with this chronograph for many years and they know everything I'm explaining and much more. They know it so well that they no longer make the mistakes I'm reporting.
Does the FX chronograph work? Yes, it does. Does it work like every other chronograph? Not really. For example — If I wanted to test the 397 with differing numbers of pump strokes like I did in Part 2 of the 397 test, I would have to stop after every few shots and change the profile of the software. And then I would loose that string. Look at this table from that report:
I'll start with the 7-grain RWS Hobby wadcutter.
Pumps……….Vel.
2……………..471
3……………..551
4……………..604
5……………..648
6……………..680
7……………..716
8……………..737
9……………..758 no air remaining in gun
10……………773 no air remaining in gun
To make that table withg the FX chronograph I would have had to have selected at least two different profiles and the software would have wiped out the first string of information. The numbers would still be present, just not in the list they were in before — with no way to get that list back — that I know of at this time.
On this day, though, the Benjamin 397 wouldn't work on the lowest velocity profiles. I got it to work on the "UK airgun" profile some of the time, but not always.
Not only that, I would have to GUESS what the velocities would be for the number pumps I wanted to record, in order to select the right profile to even record a shot. If the rifle happened to shoot slow on that shot for some reason, I could be out of the velocity range for the profile I selected, even though most shots would be just inside the range! Guys — this isn't how a chronograph should work!
So — who is it for?
The FX Radar chronograph works best for a shooter who has just one airgun to test. It's like a scope — adjusted for and useful with a single airgun or on multiple airguns that perform within a narrow band of velocities. The way reader Cloud9 is using it to test just one rifle, it's ideal. It may take him some time to get the settings correct, because besides the profile, he also needs to set the chronograph's sensitivity. But once he sets that, he's good to go.
Sensitivity
The instructions tell you that the "Lowest" setting is the most sensitive, but there may also be some random recordings that the chronograph generates all on its own.
Random recorded "shots"
I set the chronograph to the lowest setting (the most sensitive) for the 397 and it recorded the shots most of the time. But it also recorded shots that were never taken!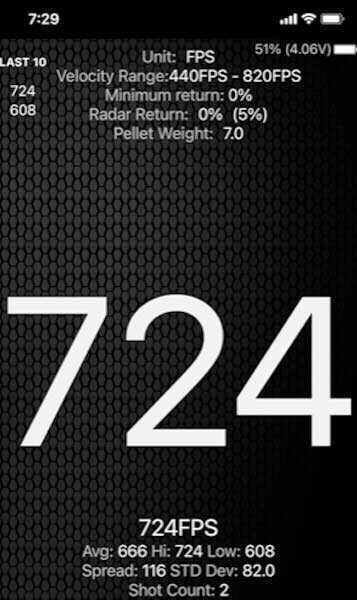 This "shot" occurred as I was pumping the 397 for the next shot. FX does warn that setting the sensitivity to the lowest setting can cause this. There is no way the 397 put out a Hobby pellet at 724 f.p.s. on just 4 pumps — even if I did shoot the rifle, which I didn't.
Then, at some time during my testing the chronograph reset the sensitivity to 30 percent and I had to start all over.
Hostile software
I was playing around in different screens and I came across a page that had an "add profile" button at the top. So I clicked it twice, to see what would happen. The only thing it did was create two buttons with "My gun" and the date. I was hoping I could somehow shape the velocities within a profile and there still may be a way, but as there is no manual, how would I know? So I decided to delete the two "My gun" buttons I had created. The first one was no trouble to delete but the second one is like a misspelled tattoo that refuses to go away. Let me share with you what the software said.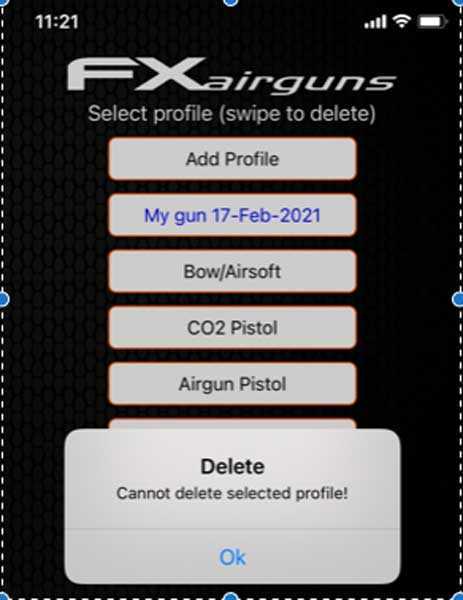 This meaningless "My gun" profile that is highlighted cannot be deleted! Oh, joy!
Discussion
I'm bypassing a lot of things that happened during this test that were my own mistakes. I'm just mentioning the things I believe I did right and how they turned out.
But I tried it with an air pistol whose velocity I don't know and there was nothing. Did I have it set on the right profile? Who knows? I need a real chronograph to tell me.
In the beginning I couldn't even get the FX chronograph to work with the 397, so I dragged out my Air Arms S510XS that I know it likes. It took only one shot to prove the chronograph was working as it should.
Then I set the profile to the CO2 Air Pistol range and recorded a couple shots from a Winchester 423 (Diana 23). So the unit was working. But it didn't like the 397 for some reason.
Summary
BB — don't leave us hanging! Tell us how you fixed everything and got the FX Radar chronograph to work right again.
Sorry guys — that didn't happen. This thing is a complicated piece of equipment that doesn't work the way I think a chronograph should work. When it's working for you everything is wonderful and it's a lot of fun to use. But when you get out on the fringes like I did today with the 397, it starts coming apart.
If today's report seems a little confusing and disjointed it is because that's the way I felt when I tried to do the test.
Am I finished? Is this the final report? I really don't know. I want to continue to try to understand the FX Radar chronograph, but I'm not going to make it my life's work. I have used many different chronographs over the past 26 years and this one is the hardest one to use that I have ever seen.