by Tom Gaylord
Writing as B.B. Pelletier
This report covers:
BB cylinder
The test
Crosman Black Widow
Air Venturi Smart Shot
The trigger
Marksman BBs
Beeman Perfect Rounds
Daisy Match Grade Avanti Precision shot
Get a good dot sight
Summary
Today we shoot the Crosman Vigilante CO2 Revolver with BBs. Some real surprizes are in store!
BB cylinder
To shoot BBs we have to use the BB cylinder that holds 6 BBs, instead of the ten pellets we have been used to. So the groups today will be 6 shots.
The BB cylinder is loaded outside the gun from the front. The rear of the cylinder is too small to accept a BB of any size.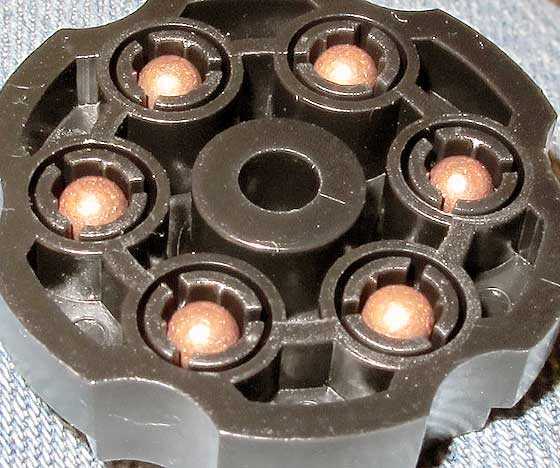 The Vigilante's BB cylinder is loaded from the front. Three plastic "fingers" apply tension to hold the BB in place. These are 6 Marksman BBs.
The test
I loaded a fresh CO2 cartridge for this test because I plan to shoot a lot. I shot at 5 meters seated with the revolver rested on the UTG Unipod. I shot 6-shot groups so I could test more BBs.
The Vigilante has the UTG Reflex Micro Dot sight mounted, because it did so well in the pellet accuracy test.
Crosman Black Widow
First up were Crosman Black Widow BBs because the Vigilante is a Crosman airgun, after all. And we have learned through testing that Black Widows are premium BBs that usually test among the best in any gun.
Six Black Widow went into a group that measures 0.923-inches between centers. I watched the group grow and I knew this test was going to turn out well.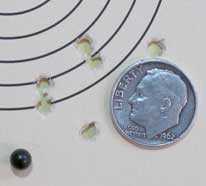 Six Crosman Black Widows went into 0.923-inches at 5 meters when shot from the Crosman Vigilante.
After shooting this group I adjusted the dot both up and to the left.
Air Venturi Smart Shot
Next up were six Smart Shot copper-plated lead BBs from Air Venturi. We know that these are on the large side for BBs, measuring about 0.173-0.1735-inches in diameter. And they are lead, so we are safer from rebounds than we would be from steel BBs.
Six Smart Shot went into 1.496-inches at 5 meters. Three of them went into the same hole that looks like two BBs instead of three.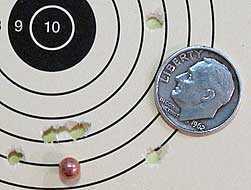 The Vigilante put 6 Smart Shot lead BBs in 1.496-inches at 5 meters.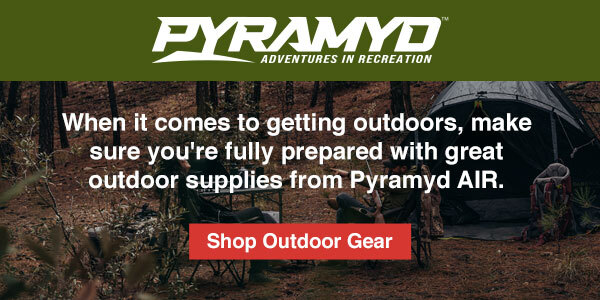 The trigger
The Vigilante trigger breaks at 5.5 lbs. in the single-action mode. This is a bit too heavy for such a light revolver. Even though I was steadied by the monopod, the dot was dancing all around the bull, and sometimes it was outside.
Marksman BBs
The Marksman BB is a steel BB that we don't know what to do with. They measure 0.176-inches in diameter, which is super-large for a steel BB. I tried them because the Vigilante has a rifled barrel for lead pellets, so it should be fine with these. And, it is! Six of them went into 0.841-inches at 5 meters. I was impressed!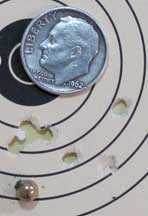 Six Marksman steel BBs went into a group measuring 0.841-inches between centers.
Beeman Perfect Rounds
The next "BB" I tested isn't really a BB. It was supposed to be shot in rifled pellet guns and H&N made them for Beeman. Perfect Rounds measure 0.176-inches in diameter, like the steel Marksman BBs, but these can take the rifling of the barrel. The Vigilante put them into a group that measures 1.04-inches between centers at 5 meters.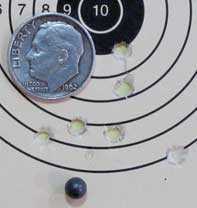 Six Beeman Perfect Rounds went into 1.04-inches between centers at 5 meters.
After the Perfect Rounds I adjusted the dot up another three or four clicks. The Perfect Rounds landed lower because of their weight, but the Marksman steel BBs had also landed low on the target.
Daisy Match Grade Avanti Precision shot
The last different BB I tried was the Daisy Match Grade Avanti Precision shot. The Vigilante is shooting so well that you guys would have been after me to try it if I hadn't. And they were great! Six of them went into 0.907-inches at 5 meters.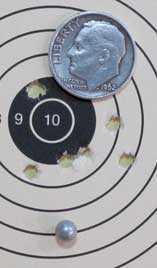 The Vigilante put 6 Daisy Avanti Match Grade Precision BBs into this 0.907-inch group at 5 meters.
This revolver can really shoot — BBs. And that's my recommendation. Buy the Vigilante for BBs and be pleased that it can also shoot pellets. But it's perfect for BBs.
Get a good dot sight
And get a dot sight that works! This Reflex Micro Dot is expensive; I understand that. But ASG, Crosman (Centerpoint) and UTG all make less expensive reflex dot sights that should work as well. They may not be as small as the UTG Reflex, which is one of its chief selling points, but these don't cost more than the Vigilante.
One more time
The Markman BBs were the best thus far, so I fired a second group of them. Now that the sight was adjusted they should go into the bull, or close. Six BBs went into 0.693-inches at 5 meters. It is the smallest group of the test!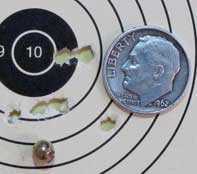 The last group of 6 Marksman BBs was the smallest of the test. Group size is 0.693-inches between centers.
Summary
I always wanted to shoot a Crosman 357, and with the Vigilante I feel I have done it. The revolver is red-hot with most BBs and okay with pellets. If a lookalike CO2 revolver is what you want, this is one I recommend.